We have taken note that there seems to be a significant number of big events likely to occur in June. Any one of these, or all of them, have the potential to materially move markets in either direction. A few include:
The Fed meeting on June 15 – since the previous meetings minutes were released yesterday, the probability of a rate hike went from almost 0% to 33%. This has caused a big move in the US dollar, bond yields and the markets.
Brexit Decision on June 23 – The UK referendum on whether to stay in the EU will be market moving, especially for credit, currencies and global banks.
Other central banks (ECB June 2nd, BOE & BOJ on June 16th) – Market volatility has increased in response to various central bank policies including negative rates and varying levels of QE.
OPEC on June 2nd – Currently nothing is expected to come from this meeting, that can often lead to the biggest surprises for the market.
June could be a hot one, time to prepare
How the markets react to any of these events will depend on a combination of market expectations going in and the actual event. We think the only certainty is the coming volatility, either good or bad, or a bit of both.
Connected Wealth Tactical has a solid track record of reducing portfolio volatility, especially during periods of market distress. This side-car strategy was specifically designed to help portfolios manage big market swings. The charts below are based on SMA performance since launching in 2011 and help demonstrate the risk reduction capabilities.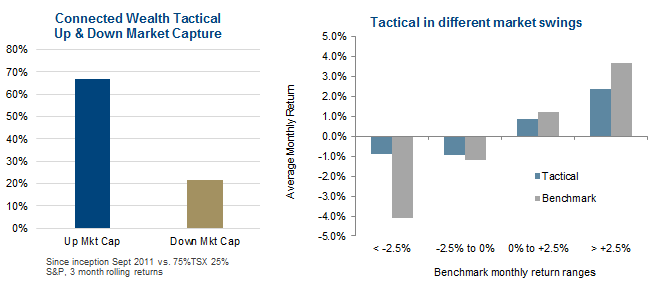 This strategy is also available in a fund version launched in December of 2015. Fund codes are CWC100 for A-class and CWC101 for F-class. If you have any questions or would like to learn more about this strategy, don't hesitate to reach out.
Regards
Connected Wealth