2015 turned out to be one of the most volatile and challenging years we have seen since the 2011 European financial crisis and it all happened with decent economic growth. The IMF and Bloomberg consensus among economists has global GDP expanding at 3.1% in 2015, down marginally from 3.4% in 2014 yet still respectable. The 3.1% does mask some big movements during the year. Emerging and developing economies weighed on the global economy, losing momentum and dropping from 4.6% to 4.0% growth in 2015. Improving developed economies, 1.8 to 2.0%, were not enough to tame markets and commodity prices. Perhaps the biggest story in 2015 was the almighty dollar. The trade-weighted US dollar, based roughly on America's largest trading partners, has risen 23% over the past two years. This combined with slowing growth in emerging economies weighed heavily on commodity prices. The Thomson Reuters CRB Commodity Index declined 23% during the year, negatively impacting the markets and economies most resource sensitive.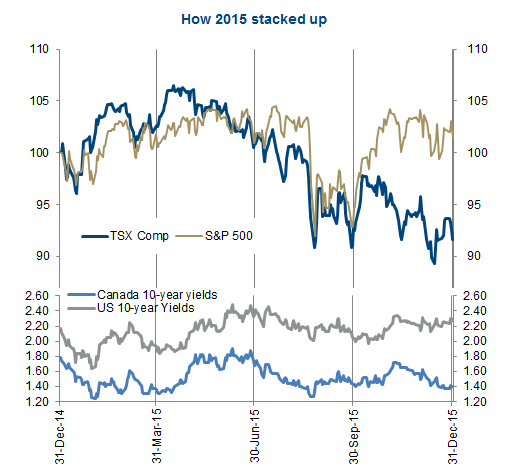 2015 had the official start of divergence among global central banks as the U.S. Fed started a tightening cycle in December while the European Central Bank (ECB) and the Bank of Japan (BOJ) are still in easing mode. Although we would argue this started when the Fed stopped their QE bond buying program, it is just semantics at this point. As this move has been a long time in coming and clearly well telegraphed to the markets, it is difficult to ascertain how much central bank divergence has been priced into the currency, bond and equity markets already. Still, divergence is change and change can have dramatic impacts not just on overall markets but can also alter who are the winners and losers.
From an investment perspective, there were clearly more losers than winners in 2015. The big winners for Canadian investors were non hedged positions in most other currencies due to the drop in the Canadian dollar, which fell from 86 to 72 cents. I hear Tofino is a nice place to visit, certainly much more economical than Scarsdale. This helped lift returns in the S&P 500 from a meager 1.4% to 20.7%. Or EAFE, including Europe, Australasia and Far East, from -0.6% to 17.1%. Ignoring currency, Europe finished up nicely, +7.3%, while Japan's Nikkei rose 11.0%. Emerging markets, measured by the iShares MSCI Emerging Market ETF were down 15%. Bonds held up nicely, the FTSE TMX Canadian Universe Bond rose 3.5%, but this does mask some significant divergence. Governments and investment-grade corporate bonds did well while higher risk bonds and preferreds were taken down considerably. The iShares S&P/TSX Canadian Preferred Share ETF was down 15.6% on the year, even with a strong rally in late December. U.S. High Yield ETFs suffered a 6.9% drop as credit spreads widened. Then there is the TSX. The bellwether for Canadian equities finished down 8.3%, the worst year since 2011. Energy (-26%) and Materials (-23%) were the biggest drags. But 8 of 10 sectors finished lower including the heavily weighted Financials (-5.5%). The two bright spots were Information Technology (+15%) and Consumer Staples (+11%) but given they started the year with a combined weight of about 7% that simply was not enough to offset much of the pain from the losers.
Just for fun, and accountability, here are our key themes for 2015 we published a year ago: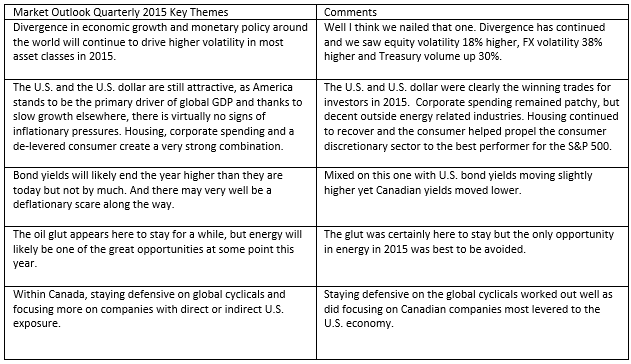 But this is history, in the coming weeks we will be blogging our thoughts and positioning as we head into 2016. This will be culminated in our Market Outlook report.
The views and opinions in this report are that of the author and are not necessarily representative of those of Richardson GMP Limited. The statements and statistics contained herein were obtained from sources believed to be reliable, but we cannot represent that they are accurate or complete. This material is published for general information only. The author and Richardson GMP assume no liability for financial decisions based on this information. Readers should obtain professional advice before applying any ideas mentioned to their own personal situation to ensure their individual circumstances have been properly considered. Please note that the comments contained throughout this report are general in nature and are not intended to be, nor should be construed to be, legal or tax advice to any particular individual. Accordingly, individuals should consult their own legal or tax advisors for advice with respect to the tax consequences to them, having regard to their own particular circumstances. Past performance is not indicative of future results. . Richardson GMP Limited is a member of Canadian Investor Protection Fund. Richardson is a trade-mark of James Richardson & Sons, Limited. GMP is a registered trade-mark of GMP Securities L.P. Both used under license by Richardson GMP Limited.