Global markets are feeling the impact of a No vote in Greece, rejecting further austerity. This morning we are looking at U.S. markets down about 0.8%, much improved from the 1.4% decline last evening but still down. Europe is taking the brunt of the damage as the Euro Stoxx is off 2.3%. This puts Europe officially in correction territory, down over 10% from their recent high. Asian markets are lower by about the same. The U.S. dollar is moving higher by about a penny against the euro, which means the euro is handling this vote in decent fashion. The Canadian dollar has dropped below $0.80 again, with a 5% drop in crude prices this morning not helping our currency nor will it help the TSX. This drop is a combination of concerns over China's stock market in bear territory, Iran talks, a strong U.S. dollar and some impact from Greece.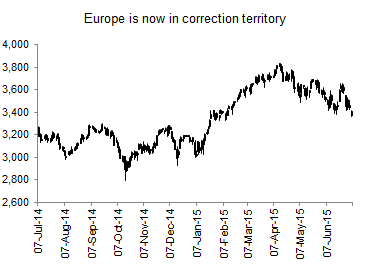 This is triggering a broad based risk-off trade. Safe haven currencies such as the U.S. dollar, pound and Swiss franc are moving higher. Safe haven bond markets are seeing yields drop (prices rise), including the U.S., Canada, UK, France and Germany. Meanwhile bond yields are moving higher in the more 'at risk' Eurozone members including Italy, Spain and Portugal. However we would point out the moves are rather muted, lending support to the view that is simply bad news risk, not something that could cause contagion or material spillover into broader markets.

Our View
Headlines will likely drive the markets in both directions as more news and information come out. Key factors include whether the ECB will continue to provide Greek banks with aid. ATMs are expected to start running dry shortly, even with the 60 euro limit on withdrawals. The ECB, finance ministers and country leaders are all having meetings this week. Then we have a steady calendar of various debt payments and refinancing for Greece. Those will prove difficult. This kind of news heavy flow will continue to be the driving force on the markets. And many of it will not even be news, just simply more information that will be gobbled up by the markets and media as this tragedy plays out. If this is a game theory or brinkmanship taken to the next level, the danger for Greece may be that Europe may want an exit to be a very painful path to discourage other countries from considering. Voting no to austerity makes it very difficult for European leaders to strike a deal with Greece.
We won't attempt to assign probabilities for Greece exiting the euro, nobody really knows. It continues to be our view that while the markets will gyrate on Greek news, it is not a cycle killer and at worse will create a short term period of weakness. The reasoning is pretty straight forward, the worst case of a Greek exit from the euro, while tragic for its citizens and unfortunately for the Eurozone, is not a new threat or scenario. The vast majority of debt is held by government agencies greatly reducing any risk of contagion. Plus, this has been a five year odyssey and even those banks still with some exposure would certainly have enough capital to handle any dire outcomes for the Greek paper. If there is no contagion or systematic risk, this may contribute to a buying opportunity. But only contribute, there some other factors afoot.
The S&P 500 is down 3.5% from its all-time high. The TSX is a little more bruised, down about 7% from its recent high in April (chart on next page). While Greece is the media grabber, there are other elephants in the room. China has moved from the darling of global equities to one of the quickest reversals in history. The CSI 300 was up 55% since January 1 but is now only up 13%. And the government is throwing all sorts of things at the equity markets to try and stem the declines. They have changed shorting / margin rules, cut interest rates, injected capital to banks and now have created a fund to go out and buy stocks. It is very evident today they are buying the A shares (those restricted to local investors) and not the B shares (those available for international investors). The Shanghai A index is up 2.4% today while the Shanghai B is down 5.8%. There is more risk of China contagion than Greece.
The other items to consider are U.S. earnings season that starts Wednesday with Alcoa. Economic data has improved in the U.S., which bodes well for earnings. However the U.S. trade weighted dollar is 20% higher than the levels of a year ago. That will continue to have an impact on earnings to various degrees. Then there is the Fed and the bond yields. While best guess would have this a 2nd half event, it has placed added emphasis on economic data. Our concern would center on how sensitive the capital markets have become after years of super low bond yields and zero overnight rates.

While there are certainly risks, we still see very few signs the end of the current bull cycle is close at hand. Limited excesses in the economy, improving data, strong corporate profitability and conservative balance sheets. Valuations are a bit elevated but given the backdrop, not really out of the norm for the latter half of a bull cycle.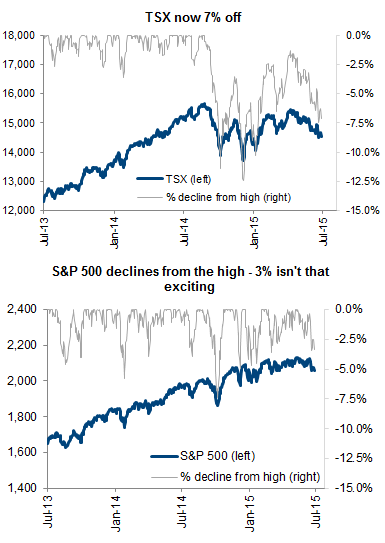 So where to look and when? We would remain patient and see if more weakness develops. The TSX, down 7%, looks more interesting but given how energy has weighed on this index, we would still wait. And for the U.S. a 3% decline just isn't exciting enough to reposition capital. Areas of the market on which we remain more constructive include North American cyclical companies, found predominantly in Industrials and Technology. Along with U.S. financials. In Canada, we remain tilted more towards companies with greater U.S. operations or leverage.