We continue to believe we are in the early stages of the late bull market this is phase characterized by several features, such as an emergence of market leadership that is reflected in healthcare and consumer discretionary stocks, increased spurts of volatility and a growing amount of capital market activity. The influx of IPOs and M&A activity has increased three fold since 2009 and is on pace to set a new all-time record this year. Foreseeing a transition into this stage of the economic cycle, we increased our exposure to the thematic. Stocks within our portfolios that have exposure to this theme are JP Morgan, Goldman Sachs and Lazard on the U.S. side and a variety of Canadian banks here at home.
M&A activity is cyclical and closely tied to the strength of economy. GDP growth tends to be highly correlated with deal making. It drives demand for capital and ancillary services from investment banks such as, advisory services, distribution and syndication. In addition to M&A activity accelerating into this phase of the business cycle, activity typically peaks as the market transitions into the early bear stage.
Mergers and acquisitions are important for the aforementioned companies because it generates roughly 5%-10% of revenue for global investment banks. Thankfully, being seven years into a bull market has C suite executive's overly bullish and chasing deals to grow their business; as CEO's become more confident, they go out and invest.
This phase of the market cycle is typically coupled with increased volatility. Although the VIX index may seem relatively subdue, markets have been experiencing elevated volatility in commodities, bonds and currencies over the past year. We foresee the trend continuing and escalating into 2016, this comes with elevated levels of sales and trading. This division tends to be the largest component of the revenue pool for these banks.
One of the largest headwinds holding back the share price of the peer group has been the overhanging litigation costs. JP Morgan and Goldman Sachs have been running at about $5bb and $3bb respectively in legal expenses per year for the last four years. Litigation costs are nothing new, banks have set aside large amounts of capital to rectify these issues. The vast majority of these charges have finally been realized or reasonably estimated, this should mitigate the headwind faced in prior years. Litigation cost are estimated to trend lower in the coming years;, this will be a boom for shareholders as it will free up capital for dividend hikes and stock repurchases. We continue to remain heavily exposed to this theme and will remain so until we see leading indicators rolling over, signaling a transition into the early stage of a bear market.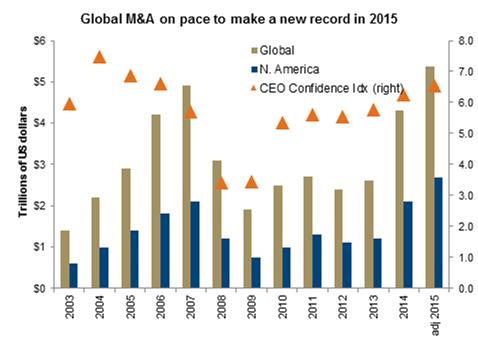 *source Bloomberg
The opinions expressed in this report are the opinions of the author and readers should not assume they reflect the opinions or recommendations of Richardson GMP Limited or its affiliates. Assumptions, opinions and estimates constitute the author's judgment as of the date of this material and are subject to change without notice. We do not warrant the completeness or accuracy of this material, and it should not be relied upon as such. Before acting on any recommendation, you should consider whether it is suitable for your particular circumstances and, if necessary, seek professional advice. Past performance is not indicative of future results. The comments contained herein are general in nature and are not intended to be, nor should be construed to be, legal or tax advice to any particular individual. Accordingly, individuals should consult their own legal or tax advisors for advice with respect to the tax consequences to them, having regard to their own particular circumstances.. Richardson GMP Limited is a member of Canadian Investor Protection Fund. Richardson is a trade-mark of James Richardson & Sons, Limited. GMP is a registered trade-mark of GMP Securities L.P. Both used under license by Richardson GMP Limited