Longtime internet analyst Mary Meeker from KPCB presented the 20th iteration of her Internet Trends report at the popular Code Conference. It's a broad ranging report that focuses on big picture issues and trends regarding all things technology. There are a 197 slides in the full report (explains why it is an annual event), but we would like to point out a few key pieces that caught our eye.
Click here to view her comprehensive report in its entirety.
How big is the Internet? This is a good question as it has grown from 35MM+ users in 1995 to over 2.8B users in 2014. That's an incredible amount of growth in close to 20 years, 39% of the global population are internet users. The next leg in growth will be in mobile where there are over 5.2B mobile phone users, of which only 40% are smartphones. This is the internet of today vs. twenty years ago. It's dominated buy a handful of household names, but perhaps surprisingly some not so familiar Chinese companies.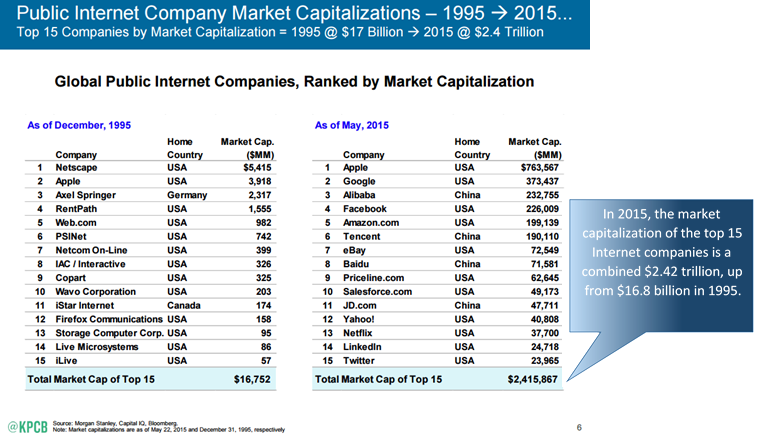 In the Key Internet Trends section the focus is on advertising, since ad spend remains one of the primary revenue streams for most internet companies. The argument for mobile remains very compelling for advertising and monetization. Traditional print ad spending far outstrips mobile ad spending as a proportion time spent observing. Given an equal proportion to time spent, there is a +$25 billion mobile ad spend opportunity.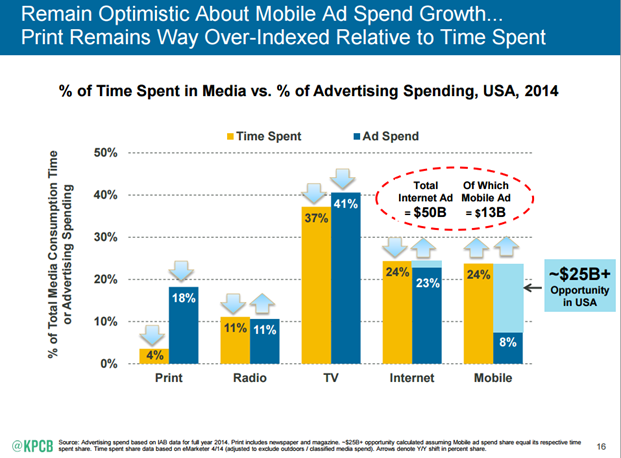 Messaging was another focus, as six of the top 10 apps are messaging focused, and remain the most used on mobile devices. Facebook and WhatsApp (also owned by Facebook) are the top two apps by usage. Today's messaging apps are tomorrow's multi-purpose hubs.
What we'll see in the near future is new innovative ad formats optimized for mobile, one click 'buy' buttons to minimize the friction to purchase @ the precise moment of interest. Facebook has already begun testing this.
Meeker pointed out a few accelerating trends — video, for instance. Video accounted for 64 percent of consumer Internet traffic in 2014 (versus 62 percent in 2013). Facebook now gets four billion video views per day, up four times in six months. Mobile video specifically is an ever-growing portion of video viewing, and it's emerging as a different, vertical video medium, because of the way people hold their phones.
We recently added Facebook to our Connected Wealth U.S. portfolio. Facebook dominates the global messaging landscape and is aggressively taking market share away from Google in video. They have also proven to have an optimal platform to take advantage of and most importantly successively monetize many of the key internet trends. The stock is reasonably valued given its rate of revenue growth. It has largely been range bound since last fall, as it consolidated its rapid advance and we consider it an opportune time to add a position.
The opinions expressed in this report are the opinions of the author and readers should not assume they reflect the opinions or recommendations of Richardson GMP Limited or its affiliates. Assumptions, opinions and estimates constitute the author's judgment as of the date of this material and are subject to change without notice. We do not warrant the completeness or accuracy of this material, and it should not be relied upon as such. Before acting on any recommendation, you should consider whether it is suitable for your particular circumstances and, if necessary, seek professional advice. Past performance is not indicative of future results. The comments contained herein are general in nature and are not intended to be, nor should be construed to be, legal or tax advice to any particular individual. Accordingly, individuals should consult their own legal or tax advisors for advice with respect to the tax consequences to them, having regard to their own particular circumstances. Richardson GMP Limited is a member of Canadian Investor Protection Fund. Richardson is a trade-mark of James Richardson & Sons Limited. GMP is a registered trade-mark of GMP Securities L.P. Both used under license by Richardson GMP Limited.