The U.S. housing market is gaining steam and poised to post some of the best numbers since before the Great Recession. Sales for existing homes are up 6.1% year over year, new home sales up 26.1% and housing starts hitting a seven year high last month. Home builders are becoming more confident as most are breaking more ground and guiding higher for the rest of the year. Despite a fragmented market with a variety of regions and market segments, we are beginning to see signs of a homogenous recovery.
First quarter earnings were mixed for the home builders with just over 50% topping consensus estimates. D.R. Horton (DHI), our preferred builder led the peer group in Q1, with increased order growth that was 30% higher than last year.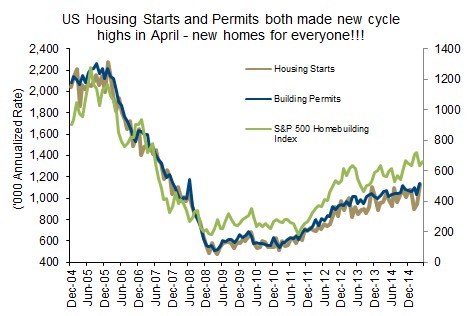 Mortgage lending remains relatively prudent despite government efforts to expand credit. Despite innovative new products, making easier for first time buyers, underwriters are still making it hard for millennial buyers to enter the market. A long period of weak demand from the first time buyer market, coupled with stringent lending standards has caused a supply shortage from builders not willing to risk entering the segment. But with promising signs of entry-level buyers increasing their presence in the market, builders have ramped up construction. This will not be an overnight transformational shift in product mix and likely not to have a meaningful impact until this time next year. DHI is a market leader in this space, being one of the country's largest builders, with over 40% of the sales already coming from the entry-level segment.​
Home builders are the most direct play on this recovery, but many others are also levered to this recovery. After another strong quarter, surpassing analysts' estimates, I was inclined to take a deeper look at Home Depot. Despite back to back impressive top and bottom line results the stock has trended downwards since February. But perhaps this pause is justified as even after rolling forward EPS estimates it is challenging to justifying paying nearly 3x as much today as the peak in 2007; which was also a flourishing time for housing.
The theme resonates in our other portfolios in less obvious ways. In both U.S. portfolios we own Wells Fargo, the largest mortgage originator in the country. And in Canada our investment in West Fraser Timber benefits from U.S. housing considering 50% of the wood the sell goes south of the border. Clearly there is more than just U.S. home sales impacting these second and third derivative plays on the theme, but a continued recovery is a primary motive behind our capital allocation.
Outside of an economic collapse, rising interest rates would be the largest risk to this investment theme and performance of the aforementioned securities. If you took the time to read this piece, you are probably already aware the market expects Janet Yellen and co. to raise rates at some point by the end of the year. Our thoughts are that is will be a "one and done" hike or a very gradual pace. This would not be great for the housing market but should not derail the momentum given the rising pent up demand and still conservative starting point.
To de-risk our portfolios we constantly analysis the interest rate sensitivity of all our underlying holdings and ensuring we have a variety of stocks that will benefit in a rising rate environment. Portfolio diversification is crucial to capital preservation and at the forefront of our money management style. Hopefully this piece gave insight into our top-down holistic money management process.
The opinions expressed in this report are the opinions of the author and readers should not assume they reflect the opinions or recommendations of Richardson GMP Limited or its affiliates. Assumptions, opinions and estimates constitute the author's judgment as of the date of this material and are subject to change without notice. We do not warrant the completeness or accuracy of this material, and it should not be relied upon as such. Before acting on any recommendation, you should consider whether it is suitable for your particular circumstances and, if necessary, seek professional advice. Past performance is not indicative of future results. The comments contained herein are general in nature and are not intended to be, nor should be construed to be, legal or tax advice to any particular individual. Accordingly, individuals should consult their own legal or tax advisors for advice with respect to the tax consequences to them, having regard to their own particular circumstances. Richardson GMP Limited is a member of Canadian Investor Protection Fund. Richardson is a trade-mark of James Richardson & Sons Limited. GMP is a registered trade-mark of GMP Securities L.P. Both used under license by Richardson GMP Limited.