The proliferation of online shopping (e-commerce) and smartphones has been the biggest disruptive change to retailing since the 1990s rise of mass merchants and club warehouses. However, the impact smartphones have had on the industry has been much less devastating than the effects of e-commerce. Morningstar estimated that e-commerce has displaced nearly 1bb square feet in physical retail space, or 13% of all available. However the adoption of smartphones can be helpful to both e-commerce and brick and mortar companies utilizing its market reach.
The e-commerce giant Amazon has proven their first mover advantaged challenging for others to compete with. Even Wal-Mart recently installed minimum dollar amounts to qualify for free shipping. Amazon's world class fulfillment capabilities come from their inventory productivity, breadth of products and geographic reach.
E-commerce is no longer in the early innings it now accounts for 8.5% of all retail sales, less autos and gasoline. The speed of market share loss from brick and mortar to e-commerce is subsiding.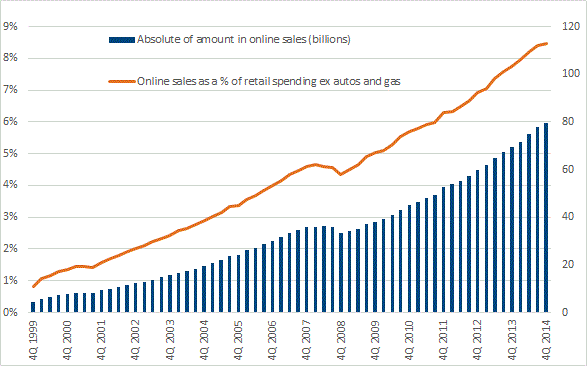 Those that successfully adapted and invested early are now reaping the benefits. Retailers with a strong omni-channel are the best positioned to defend and steal market share from competitors commoditized operations. Omni-channel refers to a symbiotic relationship between online and physical store commerce, an integrated approach between various sales channels. We search out companies that take this approach as omni-channel customers tend to be the most valuable kind, it enhances loyalty, cross-selling opportunities and ticket size. A creative example is Loblaw who recently teamed up with Uber providing downtown consumers a free ride to and from anyone of several locations across the city; so long as you pre-ordered your groceries using their new "Click and Collect" service. This is an order online and pickup in store offering.
The explosion of smartphones will likely also have a transformative impact on retailing but unlike e-commerce should be less disruptive and an opportunity for companies that effectively execute. As of October, 68% of American's owned a smartphone, this gives a ubiquitous opportunity to connect with consumers at any time of day across a plethora of platforms. Another holding of ours that has proven success in both mobile and omni-channel commerce is Macy's. They use mobile applications, email campaigns, exclusive in-store and online offers and leverage their department stores as distribution hubs. Recently they announced the shuttering of 14 stores; they will use all of the free cash flow to invest further into technology.
The opinions expressed in this report are the opinions of the author and readers should not assume they reflect the opinions or recommendations of Richardson GMP Limited or its affiliates. Assumptions, opinions and estimates constitute the author's judgment as of the date of this material and are subject to change without notice. We do not warrant the completeness or accuracy of this material, and it should not be relied upon as such. Before acting on any recommendation, you should consider whether it is suitable for your particular circumstances and, if necessary, seek professional advice. Past performance is not indicative of future results. The comments contained herein are general in nature and are not intended to be, nor should be construed to be, legal or tax advice to any particular individual. Accordingly, individuals should consult their own legal or tax advisors for advice with respect to the tax consequences to them, having regard to their own particular circumstances. Richardson GMP Limited is a member of Canadian Investor Protection Fund. Richardson is a trade-mark of James Richardson & Sons Limited. GMP is a registered trade-mark of GMP Securities L.P. Both used under license by Richardson GMP Limited.