The rails have been selling off this week, down 6% in the U.S. and 3% in Canada, which was exacerbated by Kansas City Southern (KSU) lowering guidance for the remainder of 2015. We believe the rails may lose some steam for a couple quarters as impact of energy, currency and the port strike work thru the industry. While transportation and logistics remain one of our key themes, in our Canada mandate we reduced the long standing overweight in rails to slightly underweight earlier this month.

Lower energy prices are net negative for rails. On the surface it should be positive as fuel costs comprise about 23% of rail cost structures and diesel prices are off roughly $1 per gallon off the peak last spring. However there are three negatives that come with this.

1) Lower energy benefits rail's largest competitor even more, the trucking industry. For every penny drop in a gallon of truck fuel, the breakeven length between shipping a container by train or truck shortens by 2.6km. Intermodal is more important to rail growth and profitability than energy shipments.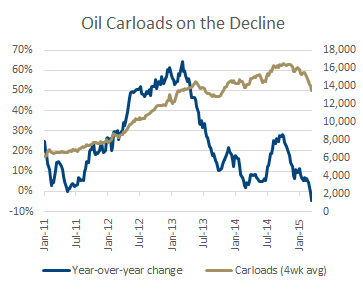 2) Falling oil prices has also led to a decline in shipping crude-by-rail. Average carloads of oil have fallen from 16,124 per week at its peak to 13,500 in March. While staggering, this is not egregious as oil accounts less than 4% of carload volume for CP Rail, the most exposed major. More impactful than the fall in oil has been the fall in gas prices. This has made natural gas an economically attractive substitute for coal power generation. Coal is a much larger component of overall carloads and has declined significantly year to date. In the first 10 weeks of the year coal shipments for CNR -10.3%, NSC -9.0% and KSU -8.9% have been the most adversely effected.

3) The rails use fuel surcharges which are accounted for in revenue, so this mitigated the negative when fuel prices were rising and will mitigate the benefit of lower fuel prices. As fuel surcharge pricing has a 60 day lag, we believe Q1 results will see the first significant decline in this line item, and even more so in Q2. Although not really a factor on profitability, how the market reacts to lower sales momentum may be a headwind.

Although we have lightened our exposure, we are ready to re-up on significant weakness. Secular trends in the industry still support long-term growth for the constituents. The proliferation of on-line shopping, globalization of trade, the return of the US consumer and bureaucratic headwinds in new pipeline construction will all be long-term benefits to the industry.
The opinions expressed in this report are the opinions of the author and readers should not assume they reflect the opinions or recommendations of Richardson GMP Limited or its affiliates. Assumptions, opinions and estimates constitute the author's judgment as of the date of this material and are subject to change without notice. We do not warrant the completeness or accuracy of this material, and it should not be relied upon as such. Before acting on any recommendation, you should consider whether it is suitable for your particular circumstances and, if necessary, seek professional advice. Past performance is not indicative of future results. The comments contained herein are general in nature and are not intended to be, nor should be construed to be, legal or tax advice to any particular individual. Accordingly, individuals should consult their own legal or tax advisors for advice with respect to the tax consequences to them, having regard to their own particular circumstances. Richardson GMP Limited is a member of Canadian Investor Protection Fund. Richardson is a trade-mark of James Richardson & Sons Limited. GMP is a registered trade-mark of GMP Securities L.P. Both used under license by Richardson GMP Limited.