An exciting path forward -
Shareholders approve Richardson GMP transaction
Over the past few months, I imagine most of you have seen GMP mentioned in the news and therefore I wanted to provide you all with an update prior to diving into our quarterly newsletter.
A major milestone has been reached as Richardson GMP is moving forward with exciting new plans to grow our firm. These plans include the same outstanding wealth-planning services and support for you and your family, but with the additional conviction and clarity in our corporate future and long-term mission.
This follows a critical vote by GMP Capital shareholders on October 6, 2020 at the annual general meeting where, in a resounding decision, they approved a plan to allow GMP Capital to acquire the remainder of Richardson GMP that it does not already own. The merger will solidify our position as one of Canada's leading wealth management firms. This means there will be additional funding put into improving statements, online portal, new professionals at Richardson to help with tax and estate planning and of course better applications to help us provide the best investments and solutions for all clients.
With the full support of the Richardson Family, the firm also plans to change our name to Richardson Wealth as of November 16, 2020. The Richardson brand has a 163-year history of achievement including over 90 years of success in the financial services industry. This long-standing history provides us with unique insight into the goals, interests, values and different challenges of affluent individuals, professionals, and business owners.
My team and I are proud to work for a fiercely independent firm that prioritizes the needs of families, like yours, and is a committed proponent of family-run businesses.
Market Update
It's tough to decide where to start as we continue to navigate a global pandemic that seems to be picking up speed with new infections, a US election around the corner and the on-again-off-again conversation of yet another stimulus package in Congress/Senate.
Although it may have been a much smaller gathering than normal, I hope everyone was able to enjoy the Thanksgiving weekend. I, for one, am thankful my friends and family are healthy and relatively happy considering it has been a difficult year for many. I know many of my clients have this question on their minds lately, "With the impending second wave, is it time to sell?" As we have touched on many times throughout our past market updates, there is no perfect time to sell and go to cash. We continue to shift and rebalance portfolios but still believe that moving to cash is a sure way to hurt your portfolio over the long term. So, what do we do and where do we go from here?
The markets have made an amazing recovery since the lows of March, with September being the first negative month for most indices around the world. This market pullback is not only warranted but necessary for the markets to continue their upward trajectory. The US markets have moved positive on the year over the last quarter, but Canada still lags. This is mainly due to the nature of companies in Canada vs. US. In the US, you have some of the most successful technology companies who have really come to life throughout this stay-at-home economy. In comparison, Canada has a large percentage of companies in the energy, real estate, and financial sectors. Each of these sectors have been hit hard this year and have not rebounded the way technology has.
I wanted to share this below chart with you all as I believe it demonstrates some of the reasons why we have seen such a rebound in the markets – markets are based on expectations, more specifically earnings expectations. Back in March, no one knew what would happen globally and in response expectations came off at a staggering rate. The fear of the unknown took over and drove earnings expectations down for each of the future quarters. As companies stopped providing guidance, these expectations continued to stay low. For instance, the second quarter or the Q2 2020 line, which is along the bottom, had expected earnings of -45% but we saw companies report earnings closer to -30%. Although this is still devastating for companies, it is much better than initially expected.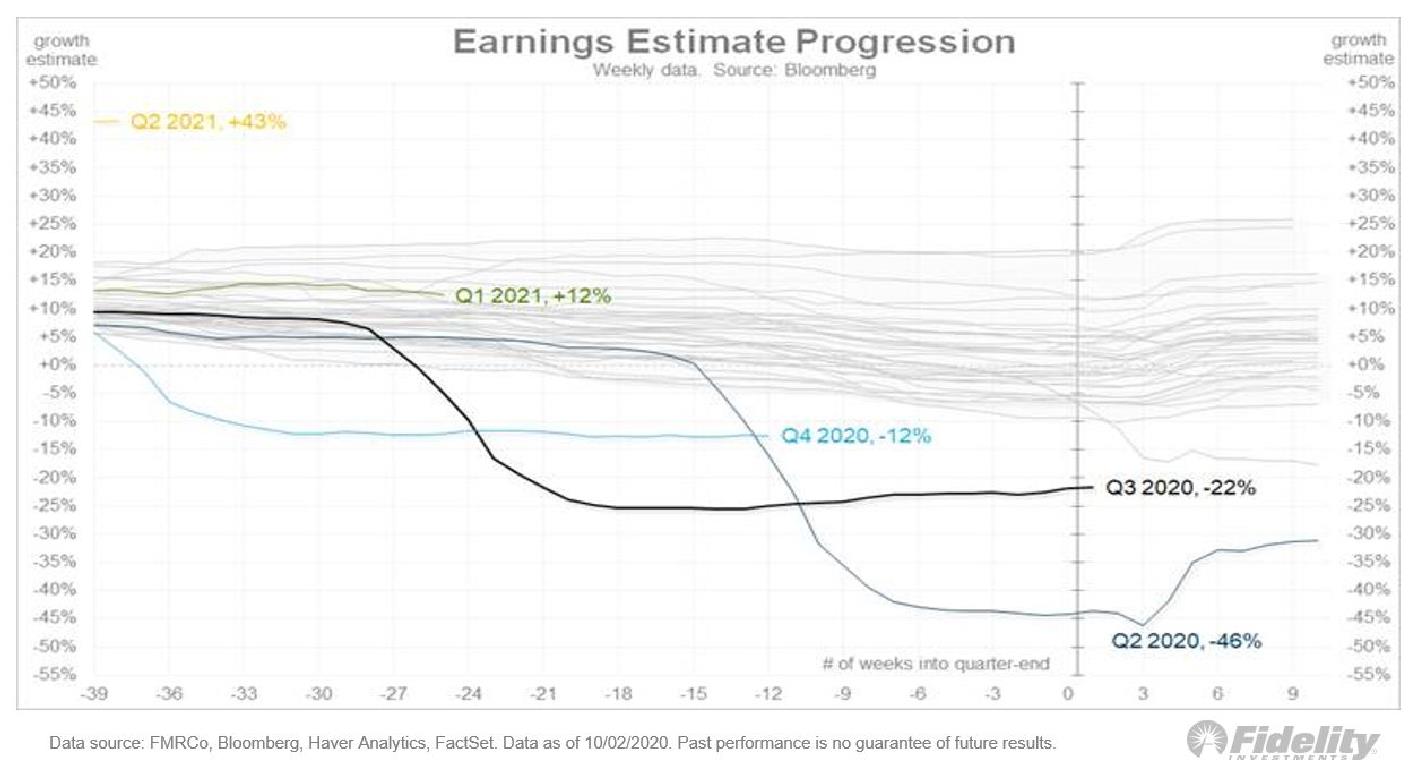 the bounce in the stock market that we have seen to date. With the potential of another round of stimulus we could see more people getting paid to stay at home and spend this money in the economy. We can only hope that third quarter earnings follow a similar trend and we see much better earnings than the current expectation of -22%.
US Elections
Let us shift our attention to the elephant in the room, the US election. The divide among Americans continues to widen, and with the first presidential debate and town hall appearances under our belts we do not have much more clarity. I will refrain from diving too deep into politics as everyone is entitled to their own opinions however, I feel that it is important to show the research from past elections and have attached an interesting article to this email. From an economic standpoint, it does not matter which party wins. There is no evidence that having a Republican or Democrat in the white house as President adds more value to the stock market. The two negative economic expansions have come from major recessions like the Great Financial Crisis in 2008, and stagflation in 1973.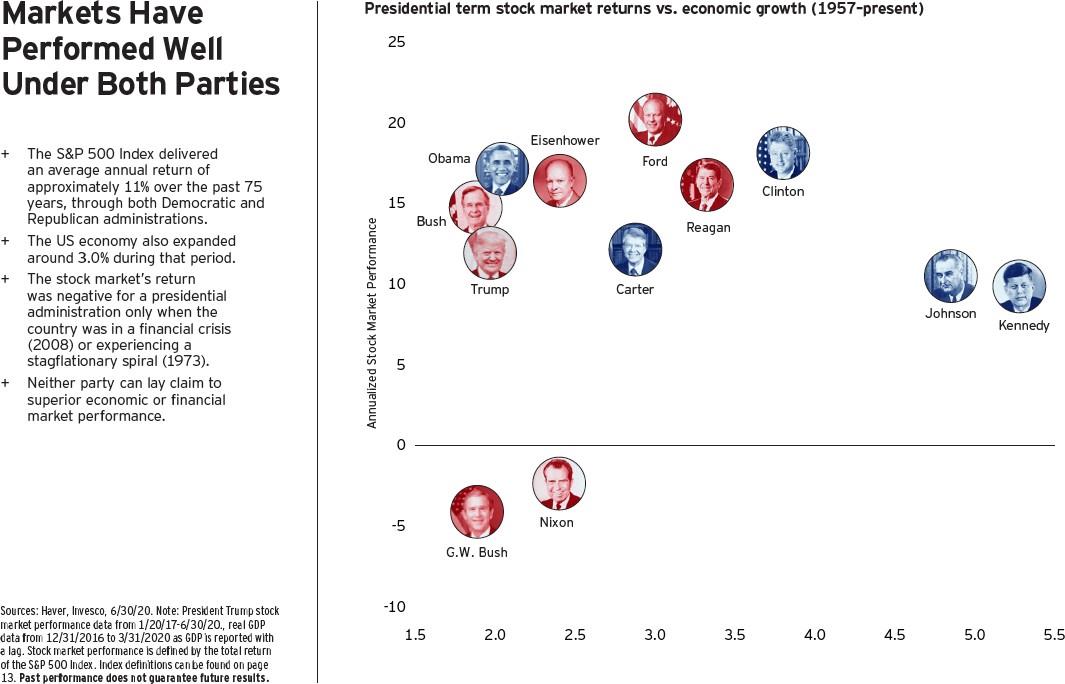 Soon enough, the results will be in and we will know who has won the election. However, I am not confident we will have a declared winner for a while after November 3rd. The problem will be that if Trump is not re-elected, he will likely contest the mail-in ballots and there will be a lengthy legal proceeding that would cause a delay. This also brings into account the new Supreme Court Justice that Trump is trying to push into power before the election.
I will leave you with this – within the next 6 months to a year, we should see a vaccine as well as the next stimulus bill, which could reach to a staggering 1.8 to 2.3 trillion dollars. This should help the economy continue to trend upwards as more people in the US receive cheques and businesses continue to receive more help from the government. At some point we will likely see tax increases from either the Democrats or Republicans as they will need to pay for all of this. Inflation can only help so much, and I can't see us getting back to the 80s where interest rates were in the teens. I personally just locked in a mortgage at 1.64% 5-year fixed rate, which is incredible.
Investment Highlights in the Second Quarter
The below commentary provides a more detailed evaluation of our best and worst performing stocks within the models.
US Stocks
The biggest winners in 2020 continue to be NVIDIA (NVDA), which we purchased in February, and Amazon.com Inc. (AMZN). Technology stocks continue to be the flight to safety play in 2020 as investors put their faith in technology companies to navigate the economy out of this crisis. The biggest laggards are Merck (MRK) and Bristol-Myers Squibb Co (BMY). Election years are notoriously difficult for drug companies as politicians from both sides flock to attack drug pricing. Even President Trump, during the first presidential debate, commented that he has reduced the price of insulin to a point where it is "cheap like water". Currently, the price of insulin is about $300 USD per vial which will last a typical diabetic approximately two weeks. Either Trump drinks some very expensive water, or it was another statement from his "alternate reality", but we are not here to debate that. Historically, politicians love to attack pharmaceutical companies to gain points with the grassroot Americans, but few actions typically get done post-election. I predict that there will be very little harm done to drug companies, especially during a time when the world is depending on them to develop a COVID- 19 vaccine.
There were quite a few changes made to the portfolio during the summer, but I will highlight the two key changes. We sold Cisco System (CSCO) and purchased Domino's Pizza (DPZ). We purchased CSCO near the bottom of the correction in March 2020, and it has done well for us as the market made its V-shape recovery. Our expectation was that CSCO will benefit from increased IT infrastructure requirements as more employees will require access to their workspace remotely, while offerings such as Cisco Webex becomes an important tool for virtual meetings. However, after great earnings beat in August, the CEO of Cisco came out to bash his own company, stating investors should be concerned about the harm covid-19 will have on the company. While it is common for CEOs to tone down investor expectations, the CEO's statement was borderline malicious. The stock price immediately began its decline and we promptly sold to lock in a gain of 25%. We purchased Domino's Pizza which has done well during the lockdown as takeout delivery volume increased across the US.
DPZ invested in technologies such as automation and driver tracking even prior to COVID-19, and we saw them as a company that can play both defense and offense. If the economy improves, DPZ will continue its expansions while still doing well if we were to enter a second wave lockdown. DPZ is up 10.6% since our purchase.
Canadian Stocks
On the Canadian side, the biggest winner in 2020 so far is Constellation Software (CSU), followed by Newmont Corporation (NGT) which we purchased in the summer. Canadian stocks have not been making the same comeback as the United States did. However, the concept of technology stocks being used as a haven still holds true. The laggards are Pembina Pipelines (PPL) and Canadian Natural Resources (CNQ), although CNQ does not really count as we purchased it in May and the position is only down 8%. Energy stocks have been under pressure as the market remains concerned about a recovery in China, which is the world's biggest net importer of crude (22.6% in 2019). We have remained cautious since the beginning of the year and avoided any speculative energy names, sticking with only defensive plays. These include PPL, which is not a price taker of oil, and CNQ which is a large cap producer of both oil and natural gas and has a healthy balance sheet to weather demand shortages and production outages.
There were no major changes in the Canadian portfolio outside of rebalancing activities.
Mutual Funds
On the mutual fund side, Dynamic Power Global Growth and Fidelity Global Innovators continue to be our best performers in 2020 due to their weighting in technology. We continue to have faith in the managers of both funds and will continue to actively monitor them.
We also want to highlight the strong performance of our alternative funds. Kensington Private Equity saw divesture and public listing activities that resulted in handsome gains for our clients. The fund is now up 12.2% in 2020 so far. Funds that deploy merger arbitrage strategies, such as HGC Arbitrage Fund and Lynwood Opportunities Fund have also seen positive monthly returns in the high single digits and even double digits. We are currently watching the SPAC (a type of acquisition vehicle played in merger arbitrage strategies) space as it has become much more high profile with the likes of Bill Ackman raising one of the largest rounds for investors. Should this area get overheated we will start to trim our positions but currently we continue to enjoy the excellent risk return they provide.
Team and Administrative updates
As our firm continues to adapt to this new online environment, we would like to remind you of our Online Account platform which allows you to stay connected anytime and anywhere with our easy-to-navigate and mobile responsive system. The platform includes numerous features which help you stay up-to-date on your account holdings, firm communications, duplicate client documents, etc. If you are not currently enrolled, please reach out to us and we would be happy to get you started. We would also like to remind you of our teams website, www.partingtonwealth.com which has additional updates and information. We have recently added a section with a list of RGMP podcasts covering various market updates and wealth planning topics, found here.
In the meantime, we have begun sending document updates via our new electronic signature platform which allows you to sign documents with one click. You should expect to receive an email within the next few months as we continue to update our client documents. As each of you know, we are happy to book a time to review your accounts and encourage you to reach out to us for a virtual meeting. We have been using video conferencing to conduct these meetings and have enjoyed being able to "see" our clients again!
As always, we appreciate your trust in our team to manage your portfolio. If you know of anyone who you believe would benefits from our services, please do not hesitate to connect us.
Warm Regards,
Team Partington