Mid-Year Market Update
I hope that you are all as healthy and happy as can be as we continue to work our way through this pandemic. I have felt the past 6 months have been a bit like looking for the light switch, in a new home, in the middle of the night, after celebrating your birthday. Each time we go through a drastic market correction, I try to take some time to understand what happened and how to learn from it to better the way we manage clients in the future. A market correction is never the same and always provides different challenges, however, the main theme that has always been true is to stay the course that you have planned for. Market dips happen and they will shake out both the weak investors and those who are not properly aligned to their level of risk tolerance. I am very happy to say that all our clients stayed invested over the recent market volatility and most clients are back into positive territory or very close thereto. This is great considering the markets are all negative except the almighty Nasdaq due to the stay at home tech stocks which have powered their way to an outstanding positive 12% year to date return in local currency (USD). (as of July 1st).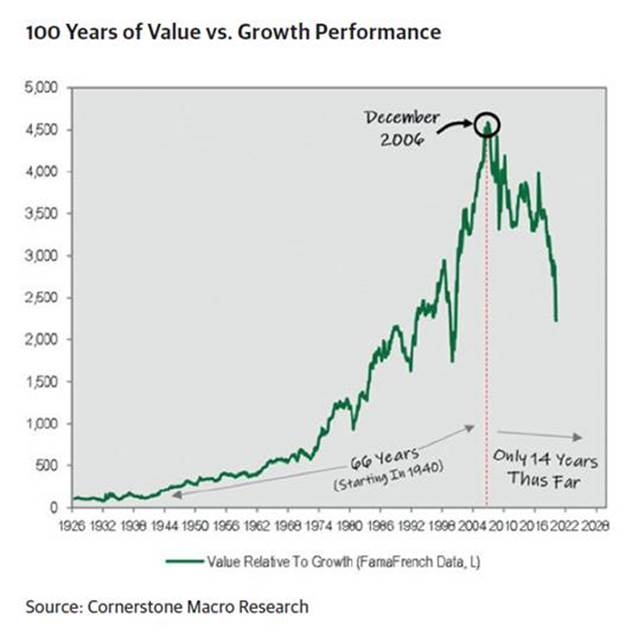 I find the chart on the previous page interesting as there is a lot of discussion surrounding value vs growth. This argument centers around the fact that value has been out of favor for some time now. Many managers believe that it will be their turn to shine soon. I believe that even though we may see a short-term check back in growth stocks, (mainly due to the massive out performance we have seen this year alone), the trend will continue. There are many other portfolio managers and economists which believe we have seen a fast forward of trends that had already been in play over the last few years. The markets have reward the "work from home" theme, these themes may have taken 3 or more years to get to where we see them today had it not been due to the virus (Cloud Computing, VPN services, hardware for boosting internet speed, etc.) As we are all working from home now, it has been sped up due to immediate needs over the last 3 months, which we see from the run up in these stock prices. At Richardson GMP, we have been told to get comfortable in a work from home environment and although we are able to start going back to the office in September, chances are the full team will not be back in the office together until 2021.
We will continue to see volatile markets as the US tries to reopen businesses and stalls as outbreaks continue to surge in certain areas much like we are currently witnessing in California. Canada and many other countries seem to have a much better handle on new cases when compared to the US which is the good news for us. However, it is still early, and I would not say we are out of the woods just yet. We continue to see new cases around the globe and countries such as Brazil and India are just now coming into their peak case load.
What we do know is that all businesses will experience a set back and this will likely impact certain areas of the market much more severely than others. The service, real estate and travel industries will undoubtedly struggle for longer but will eventually come back. The Federal Reserve is now buying individual bonds which kicks the bankruptcy can down the road as it supports that companies who should technically, without their help, be bankrupt. In addition to buying corporate bonds we have seen a high amount of stimulus coming from all governments around the world. A distinct difference to 2008 is that this is not stopping at the banking sector. Governments are sending cheques to individuals and individual corporations big and small; this increases money supply as people start spending their new found wealth as the economy opens back up. My prediction is that this will eventually lead to inflation, which is one of the methods governments use to get out of debt, or devalue their debt. For this reason, we have started to move into precious metals and more specifically, gold. If you look at the last major rally in gold, it was directly after 2009 which continued into 2011 where it peaked. Another nice feature of gold is that it generally acts as a hedge on the economy and it is typically good to own gold if you think the stock market is going to go down. Should we see a large second wave, which we continue to hear is coming in the fall/winter, it should act as a foundation to push the value even higher.
One area of the market that continues to give us confidence to stay invested is the amount of cash on the side lines. Here is a chart and comments from Fidelity's economist, Jurrien Timmer.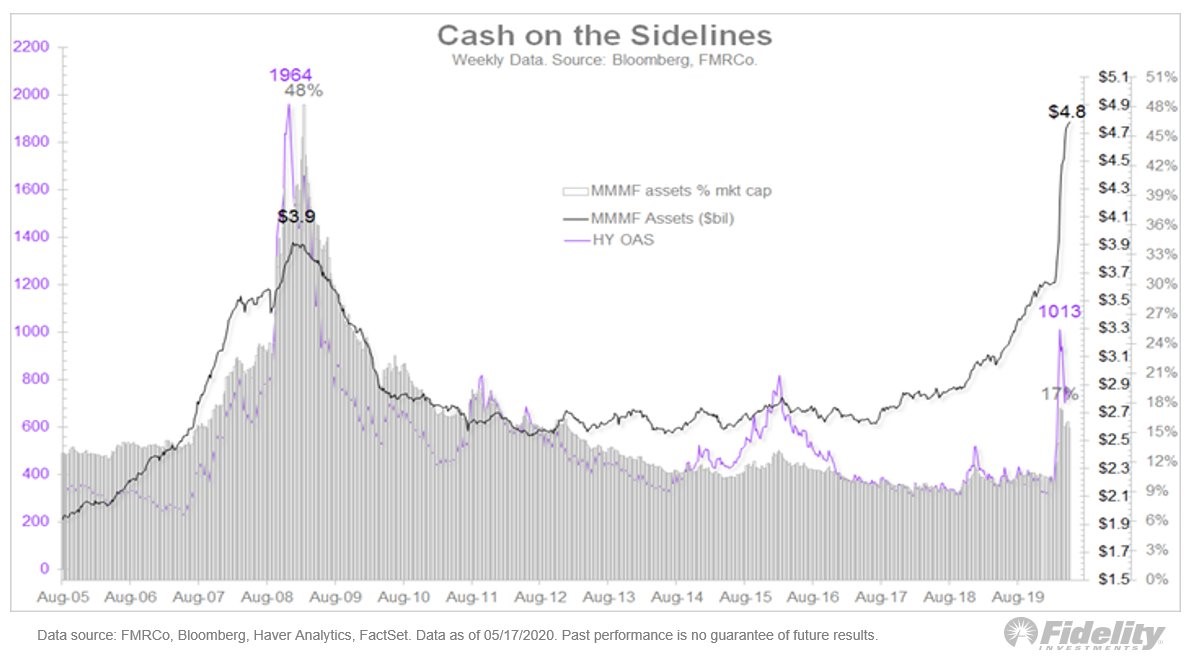 Where has the 5 Trillion in money markets gone?
The savings are still there
Balances have come down along with flows, but they are still positive
Assets are slightly below 5 trillion
Sentiment has gone away, which makes sense because the broad millennial group has spent most of their money betting on the markets
Most of the cash is still with the older crowd which speaks to why the amount of money still in Money Markets
The older generations are still concerned about the markets
We are back in earnings season for companies and for the first time in years they did not give forecasts of expectations which makes giving price targets very difficult for analysts. We believe that this allows opportunities for active managers to outperform. At this point, expectations are so low that when we see companies beat their expectations, their stock price tends to react very positively. Of course, this is true to the reverse as we have seen with Netflix when they missed their stock dropped 10% the following day.
Another chart that I saw recently (included below) looks at all bull markets in the past and tracks them to where we are currently. Jurrien adds a few comments below on where he believes we are, and where we could go from here.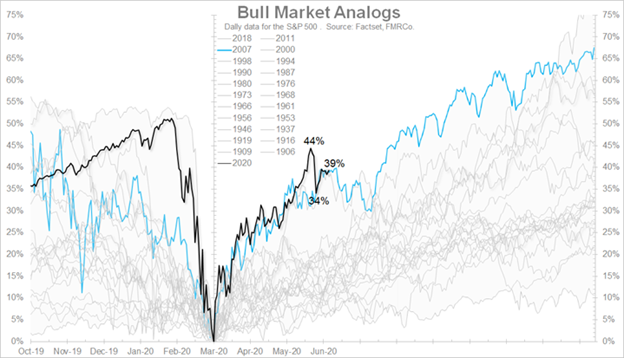 The base case for the recovery is how the S&P 500 is tracking close to the 2008 Financial Crisis recovery
Based on this, we are about halfway through the correction
There will be more clarity once earnings are released
The chart suggests there could be another 5% draw down from here in the next 3-4 weeks
After a 45% recovery, it is hard to complain
Overall, we continue to be cautiously optimistic. I have been listening to different podcasts as I go out on my morning bike ride. I recently listened to Portfolio Manager, Bill Miller on "Masters is Business" who made a great comment about everyone around the world being worried about interest rates, what the Fed is going to do, global trade, what China is doing etc. etc. He said that he's not worried about that, he just needs to find areas to invest that will benefit from these decisions. People spend too much time worrying about the "what if's" and that keeps them from making decisions.
Retirement Planning
This year clearly shows that life is uncertain. When we complete our financial plans, we always stress test the portfolios then show a drop of 20 or 25% and explain what that means for our clients and their specific situations. After recently experiencing a major sell off, we think it is important to comment on the value financial planning adds.
It is clear Canadians are worried about their finances. A survey released by the Angus Reid Institute found 65% of Canadian adults are worried the coronavirus pandemic could hurt their financial situation. This is also matched with concerns people have about their own health and the health of their loved ones.
Whether you are preparing for, or are already in retirement, the current environment affects your perception and confidence, but long-term thinking should remain key. Success takes patience and planning over a long period of time, especially in our current environment, is more important than ever before.
Fidelity's 2020 Retirement Survey shows that Canadians are retiring earlier than expected. Regardless of when, why, or where you retire, it is important to have a written financial plan that supports your decision making when the time comes. I would like to share with you some key takeaways from Fidelity's report: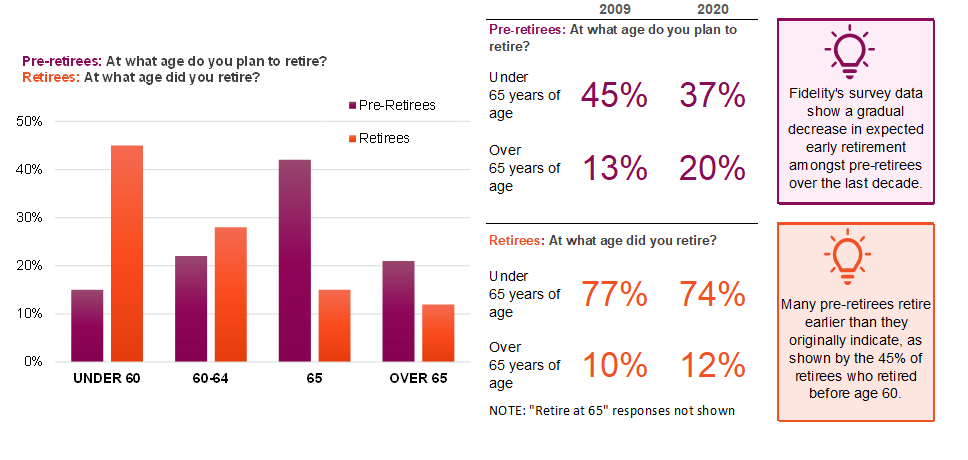 Are Canadians optimistic about retirement?
Saving for retirement is top of mind for many of us. However, competing saving priorities can often distance you from a fully funded retirement. Our team can provide the guidance, discipline, and partnership to create a financial plan that prioritizes your goals and keeps you on track. Having a written financial plan leads to a much more confident outlook on retirement.

Putting your retirement on paper
Pre-retirees with a wealth plan are nearly twice as likely to feel ready for retirement.

Whether your goal is to accumulate wealth or preserve it, please reach out to us to inquire about your Wealth Plan. This plan will include estate planning, philanthropic objectives, insurance needs and tax-minimization strategies — considering your objectives and priorities. For those of you who already have a plan in place, have there been changes in your life? If the answer is yes, then it might be good time to revisit your Wealth Plan. We also cannot stress enough the importance of updating your Will and Power of Attorney's. We are happy to have our in house lawyer look over your documents and ensure what you wanted is what they will do for you.
Investment Highlights in the Second Quarter
US Stocks
It is worth noting that after many lengthy discussions and substantial analysis, we have decided to merge our Income 20 portfolio into our Asset Growth & Income portfolio this summer. Those who have held our Income 20 model will own Asset Growth & Income and we will be running one US model going forward. The reason being is that it has add little additional downside protection over time, but it has underperformed the growth names over that same period.
The biggest winners in 2020 so far are NVIDIA (NVDA) which we purchased in February, Amazon.com Inc. (AMZN) and Cadence Design System (CDNS). This correction has shown us a new phenomenon where technology stocks became the new flight to safety play. Traditionally, investors would flock into their income generating names for safety during uncertain times, but this time investors are putting their faith into technology companies to navigate the economy out of this crisis. The biggest laggards are Pfizer Inc (PFE) and Starbucks Corporation (SBUX). Pfizer is one of the big brothers of US drug companies and there has not been much good news for neither the sector nor the stock. Drug companies are putting their efforts to develop a vaccine for covid-19 (rightly so) but this is a one (or few) winner-takes-all type of game. No explanation is needed on why Starbucks is our other laggard as most of their stores remain closed in Q2.
Portfolio changes in Q2 includes the sale of Philip Morris (PM) and Estee Lauder (EL) to buy Lowes Companies (LOW) and Verizon Communication (VZ). Philip Morris has historically ranked very well in our quantitative model, and despite a continual decline in traditional cigarette smoking, wall street investors are not overly concerned as a modest decline has been priced into the stock price. However, we decided to sell PM over ESG (Environmental, Social, and Governance) considerations, as ESG parameters are becoming more and more important to clients and in stock selection across North America. We sold Estee Lauder strictly over valuation. The stock has climbed to near historical highs even though most airport malls around the world are still closed and 20% of EL's revenue is from airport duty free stores. Our replacement was Lowes, which has been performing well over the increase in home improvement activities during Covid-19. Lowes is a highly ranked stock in our quantitative model, but we are investing on the notion that this may become a great turnaround story – in 2018 Lowes appointed a new CEO and made several high caliber changes in their management team. We feel this new blood can bring the company forward. For clients in the asset growth model, we also added Verizon Communication. We like the wireless communication space in the US which is characterized by high barriers to entry and we like Verizon for its dividend and its position to benefit from 5G expansions in the coming years.
Canadian Stocks
On the Canadian side, the biggest winner in 2020 so far is Constellation Software (CSU). There are other names that have done well including Newmont Corporation (NGT), Maple Leaf Foods (MFI) and Open Text Corp (OTEX) which we will not take full credit for because we did not own them until the Spring of this year, although we did buy OTEX at the year lows. Canadian stocks have not been making the same comeback as the United States did, but the concept of technology stocks as a safe haven have still held true - the only problem is that Canada does not have as many technology companies. The laggards are Pembina Pipelines (PPL) and ATCO Ltd. (ACO.X). The unique situation we are experiencing with Covid-19 has forced the traditional safe names in infrastructure and pipelines to perform poorly. Our opinion is that PPL and ATCO are both relatively defensive companies that should not be carrying this type of market discount. Within our process we did decide to average down into PPL, at 28.24 and as of late it had been as high as 38 before settling back down to 33.50 as of July 23th.
Portfolio changes in Q2 include the sale of Telus (T) to buy Maple Leaf Foods (MFI). While Canadian telecommunication will continue to grow, we believe Telus will lag behind its competitors, particularly against Shaw in Western Canada. We decided to sell Telus and replace it with Maple Leaf Foods, a consumer defensive name which we believe can weather bad times, but also see growth going forward. We also decided to sell National Bank (NA) to buy Newmont Corporation (NGT). National Bank has been a great company to own, but lately our research partners have pointed out issues relating to loan loss provisions and capital ratios at Canadian banks that have led us to make a decision to further reduce our exposure in this sector. We have added Newmont Corporation (NGT), a gold exploration company that ranks well in our quantitative model and could benefit from increasing gold prices. We also sold Canadian National Railway (CNR) for Canadian Natural Resources (CNQ) in April when CNR was trading higher relative to most Canadian stocks while CNQ was in a world of hurt as investors dumped their oil holdings. The CEO of CNR also came out to warn investors over their company's outlook as the rail blockade and covid-19 are taking a toll on business, but investors have largely ignored these warnings. We felt this can be a great trade that will play out over the coming months to years.
Mutual Funds
On the mutual fund side, Dynamic Power Global Growth has been doing very well so far in 2020, up 46% year-to-date. Noah Blackstein has been a manager who has historically done extremely well in bull markets but underperforms during market recessions due to the aggressive nature of the stocks that he chooses. However, as we have mentioned above, technology was the savior of the stock markets and Noah has been very overweight in that sector. Our second-best performing fund, Fidelity Global Innovators was up 35.6% on the year so far and is also heavily weighted in technology. In a recent update, Simon had added commentary from Mark Schmehl, the manager of Innovators, on how he was investing through this pandemic.
The laggards are iShares S&P/TSX High Dividend (XEI) and Dynamic Real Estate & Infrastructure, down 21.3% and 20.8% respectively year-to-date. High dividend stocks such as pipelines and real estate have not done well at all this year and these two investments have certainly felt the pain. We do not own a lot of XEI and would comment that our Canadian Dividend Stock model has been outperforming that dividend index by a large margin which is why we decided to show it. We have also cut back our infrastructure holdings and have added to gold and precious metals through XGD and Dynamic's Precious Metals fund.
Administrative Updates
As we continue to navigate this ever-changing work environment, Richardson GMP has introduced a new e-signature platform. Clients are now able to sign select documents with one click! With the ease of this new feature, we will be updating client documents over the coming months and you should expect to receive an email soon. We would also like to remind our clients of our online account access. Many of you are currently active on the platform which enables you to stay connected anytime and anywhere (should you wish) to navigate any of the below features.
Connect using your phone, tablet or computer
View your holdings in real time
View a summary of all your account information
Securely communicate and share documents with your Advisor Team using messages
Group multiple accounts or family members together to view consolidated holdings
Access your statements, trade confirmations and tax documents
View/download a single document or export multiple documents to folders on your computer
View quotes and charts on mutual funds, equities, and options
If you are not already connected and would like to be, please reach out to us to begin the enrollment process.
As always, we encourage clients to reach out to book review meetings at any time should you wish to catch up or discuss any area of your portfolio. It has been great to see clients "face to face" and I have been doing virtual reviews using video meetings. We are here for you and look forward to speaking with you soon. Should you have friends and colleagues that are not receiving the same service with their advisor we always appreciate referrals.
Warm Regards,
Partington Wealth Mangement