Fadi Ephtimios

F.Pl., MBA, TEP
Wealth Advisor, Investment Advisor, Associate Portfolio Manager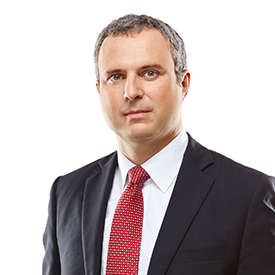 A consistently high achiever, Fadi Ephtimios has always demonstrated leadership in delivering the best possible service for his valued clients and has earned multiple awards that reflect this career commitment. He holds an MBA from the John Molson School of Business at Concordia University as well as the Financial Planner designation (Fin. Pl.) from the Institut québécois de planification financière. Fadi also holds the Trust and Estate Practioner (TEP) designation and is a member of the Society of Trust and Estate Practitioners (STEP). The Society of Trust and Estate Practitioners is the leading international organization for trust and estate professionals.
Fadi joined Investors Group in 1994 as a Consultant. In 1997, he was promoted to the role of Division Director, and eventually became the Regional Director of the Westmount office. Along with his wife and business partner, Lynn MacNeil, Fadi joined Richardson Wealth in 2015 to bring clients a wider universe of investment options and greater transparency regarding costs and reporting. They built a successful wealth management practice that serves retirees and pre-retirees, as well as busy professionals and entrepreneurs. Fadi and Lynn take a holistic approach to financial planning, and incorporate their experience in tax, estate, insurance, retirement planning, and investment management. Their process is disciplined and they create dynamic financial plans which are used as a roadmap to help their clients stay on track and reach their goals. Understanding a client's goals, concerns, and risk tolerance is the basis for their planning process.
Fadi believes a successful advisor should take the time to truly understand a client's needs and concerns. Careful assessment of an investor's risk tolerance and return objectives, allows Fadi and his team to build and monitor a solid investment plan. By managing investor behaviour, and staying true to the plan, clients can expect a more predictable result. A good financial plan should be simple to follow and yet easily adaptable to life's changes.
Fadi and Lynn have three children and he is active in the community supporting his sons' hockey and soccer teams. He enjoys playing hockey and running, and also loves travel and cinema.