As we move into the third month of the year, the age-old proverb, "March comes in like a lion and goes out like a lamb," comes to mind. The unpredictability of this time of year is akin to the present economic climate, which has witnessed abrupt shifts in sentiment and corresponding market movements as Investors struggle to make sense of the constant influx of economic data and its impact on policy and the markets.
One of the key drivers of this uncertainty is the relationship between current job strength and inflation. Despite a continued downtrend in headline inflation, both the U.S. and Canada's labour markets remain strong as we start the new year. January saw the U.S. economy add 517,000 jobs, which far exceeded market expectations and brought down the unemployment rate to 3.4% - a level not seen since 1969. Similarly, the Canadian economy added 150,000 jobs, which far exceeded the forecast of 15,000 and kept the unemployment rate at 5.0%. Although this robust labour market has buoyed consumer spending and confidence, it has also raised concerns about its impact on current inflationary pressures – keeping central banks on high alert.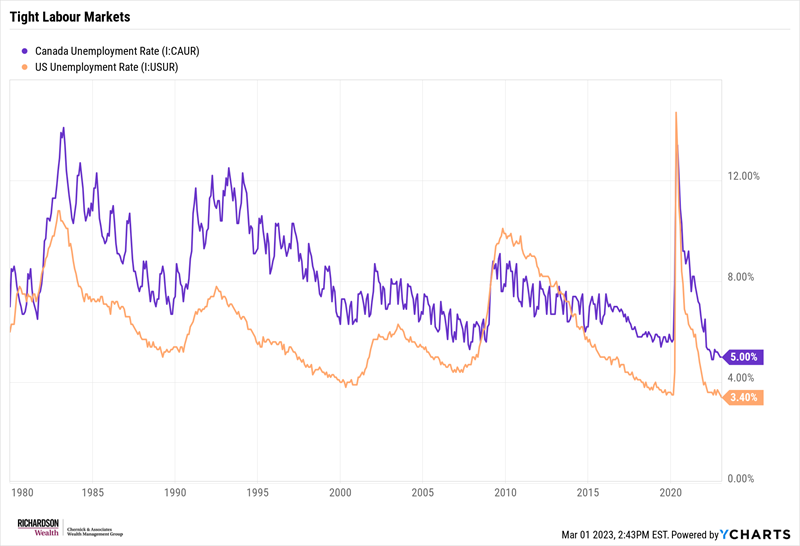 This has been the dominant narrative in the markets throughout the month. Despite many leading economic indicators suggesting a continued global economic slowdown, the job market's resilience has countered the prospect of an imminent worldwide recession, furthering the argument for prolonged periods of higher interest rates. This has led to a resurgence of volatility of both stock and bond markets in February and reversed some early gains made during the first month of the year.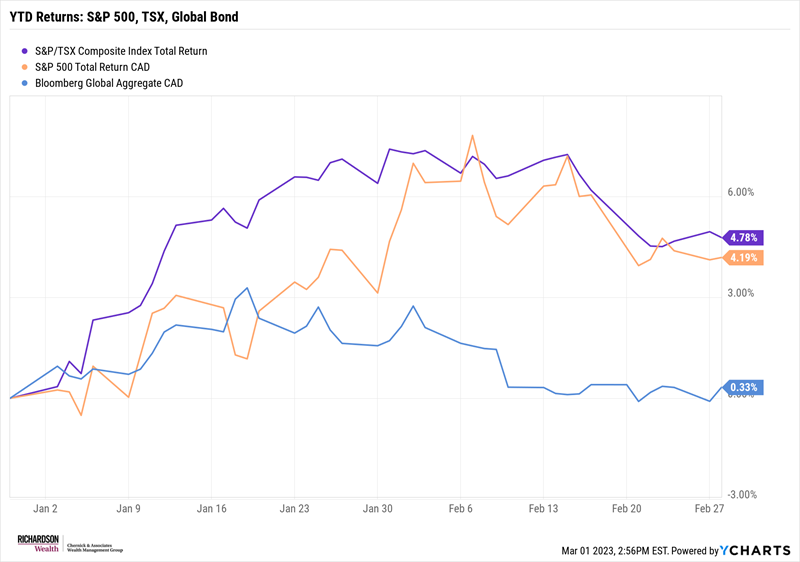 While many are pointing to the robust labor market conditions as a reason to believe that a "soft" or "no-landing" recession is more likely, it's important to note that employment can remain relatively stable leading up to and during the early stages of a recessionary downturn. This was the case during the 1973-75 recession when strong payrolls persisted until almost eight months into the start of that severe recession. Similar trends have been observed during the 1990-91 and 2001 Dot-Com recessions, where unemployment did not start to see a material increase until one to two months after the official start of those recessions. To emphasize this point, even during the 2008 Great Financial Crisis, which eventually contributed to my own job loss, the unemployment rate did not show a significant increase until that recession was six months old.

What the above discussion illustrates is that employment metrics on their own can be a poor predictor of the future economic state. More often than not, they are a lagging indicator of recessionary risk. it's important to recognize that each recession has its own distinct features, it's also worth noting that history can provide valuable lessons of the predictive strength of key metrics. In this case, current labor market conditions may not be a reliable indicator of the likelihood or severity of a future recession. Considering these factors, our approach favors the use of a range of leading economic indicators to evaluate the future economic outlook and how it may affect strategic portfolio changes. After carefully evaluating the information available to us, we have decided that maintaining our defensive posture remains the appropriate course of action for now.

- Jack
---
Don't Let Tax Season Overwhelm You: We're Here to Help!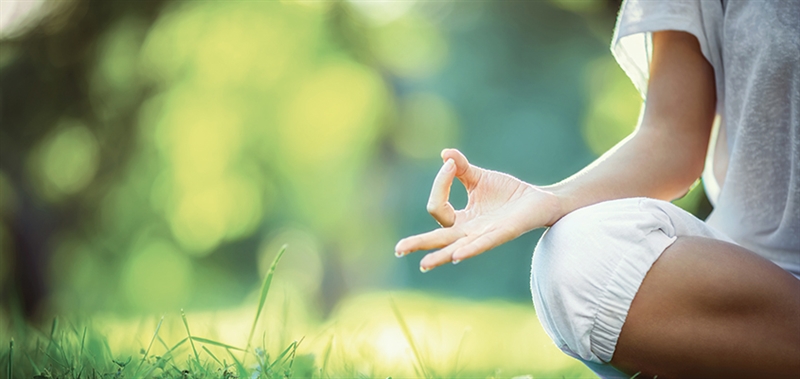 As we head into March, we are reminded that this time of year is synonymous with many things – spring, warmer weather, early blooms, and the less welcomed tax season. For most of us, this signals the start of a slow, but steady, stream of incoming tax documentation is about to begin.

With this in mind, we want to remind our clients of the useful Tax Checklist that we distribute in early March. This helpful tool makes note of what tax documentation you can expect to receive in relation to your Richardson Wealth accounts, and when to expect it. While we understand that many of our clients strive to file early, we want to provide a friendly reminder that tax slips can be mailed until the end of March. Additionally, we encourage our clients to monitor the receipt of tax documentation via the my.richardsonwealth.com client portal, which provides easy access to most of the necessary documentation required for filing.

Navigating the tax season can be a daunting task, but at Richardson, we're dedicated to making this process as stress-free as possible. We understand the importance of managing your finances effectively and are here to support you every step of the way. Whether you have questions or concerns regarding tax-related documents received (or pending), our team is always available to help. Please don't hesitate to reach out to one of us should you need any assistance.
---
Protect Your Loved Ones with a Comprehensive Estate Plan: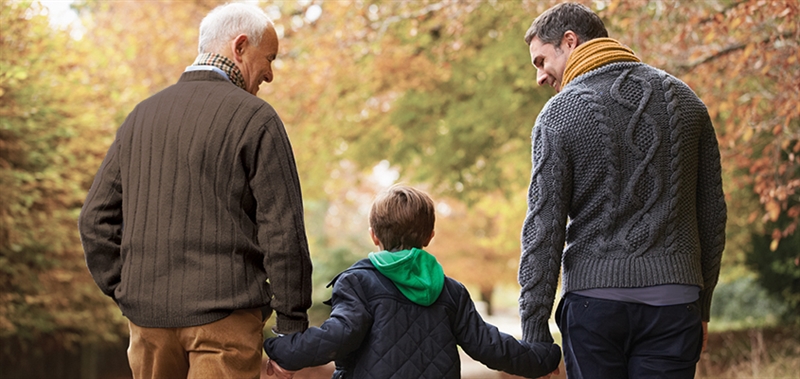 We all want to ensure that our loved ones are taken care of when we're no longer here. That's why estate planning is crucial. However, many people are unaware of the benefits of estate planning and may put it off until it's too late. Fortunately, our Senior Financial Planner, Alysha To, has expertise in estate planning and can help. With her expertise in holistic tax and estate planning, Alysha can help you create a comprehensive estate plan that ensures your wishes are carried out and your loved ones are taken care of. Alysha underscores the advantages of estate planning, which include:
• Control over assets: Estate planning allows individuals to retain control over their assets and decide who will receive them after their death. Without a will or estate plan, the distribution of assets will be determined by state laws and may not align with the individual's wishes.
• Minimize taxes: A well-structured estate plan can help minimize taxes that must be paid on an individual's estate. This can include strategies such as gifting, charitable donations, trusts, and more.
• Protect beneficiaries: Estate planning can help protect beneficiaries, especially minors or individuals with special needs, by providing for their care and financial needs.
• Avoid family disputes: Estate planning can help avoid disputes among family members over the distribution of assets or the handling of the estate.
• Ensure business continuity: Estate planning is especially important for business owners as it can ensure the continuity of the business after their death and provide for a smooth transition of ownership.
We understand the importance of creating an estate plan that aligns with your wishes and ensures a smooth transition of your assets to your beneficiaries. With Alysha's expertise and guidance, we can help you achieve this goal. To get started, we offer an Estate Planning Checklist as a valuable tool for evaluating your readiness. What's more, a consultation with Alysha is complimentary for our clients. Don't wait until it's too late to plan for the future. Contact us today to start the process of securing your legacy.
---
Keep Your Eyes on the Sky:
Recent weeks have seen the internet buzzing with news of unidentified objects in North American airspace. It all began with the sighting of a Chinese surveillance balloon drifting over the US, and subsequently being shot down. Reports soon followed of three other mysterious unidentified objects being shot down across Canada and the US; further fueling speculation and intrigue about what might be 'out there'. While details of what exactly was shot down remain unknown, these incidents have captured the public's attention and sparked conversations about the safety of air traffic, the protection of our borders, rising geopolitical threats, as well as the possibility of extraterrestrial life. To get a better insight into these recent events, check out the video below which features CBC's comprehensive analysis and commentary.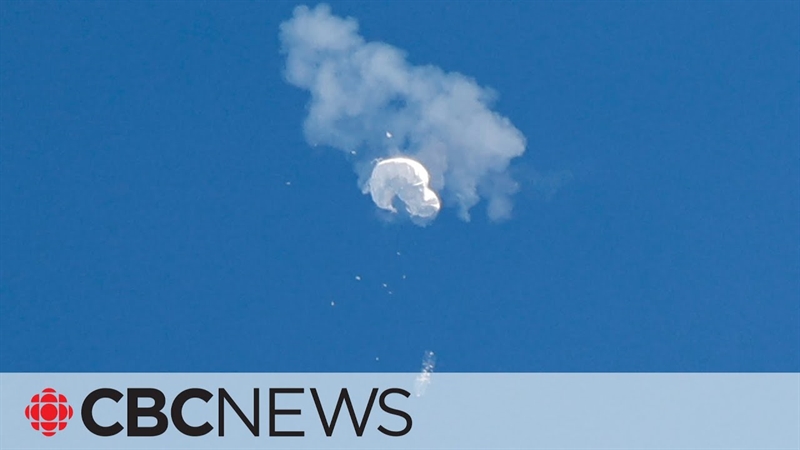 ---
Inflationary Diversion: Too much money chasing a fixed number of teeth?