Shocking news arrived this week when Canada reported a record trade deficit due to a slump in exports.
Canada's small, open economy is dependent on foreign trade. Canada cannot afford to run large trade deficits.
The graph shows a disturbing slump in exports that has persisted since the Global Financial Crisis. In the recent results, even exports of motor vehicles and parts declined by 6% at the same time as auto sales in the US hits new records of 17 million vehicles at an annual rate.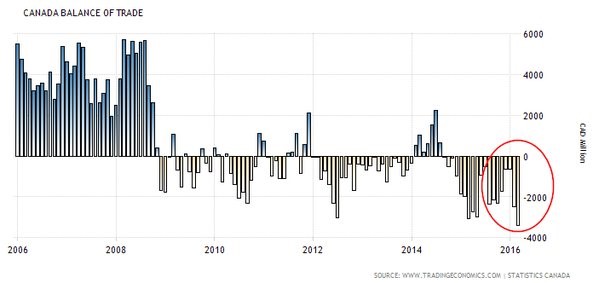 Source: Tradingeconomics.org, Statistics Canada, The Daily Shot
Canada's trade deficit surged to a new record high of $3.4 billion in March, and the February number got revised higher to $2.5 billion. This trend is disturbing.
Much of Canada's exports are oil and gas products so people should have been expecting weakness in that sector, given much lower prices on average for the last year. But other categories were soft as well, which wasn't expected by economists, as far as I can tell.
Exports fell almost 5% in March. The cheap dollar was supposed to give a boost to exports and it has not pulled us through.
As confirmation that no one was expecting this, here's a complacent Governor of the Bank of Canada, Stephen Poloz, from one year ago talking about the weakness in oil prices and capital investment in that sector:
April 2015:
"It's a very front loaded or one-time kind of shock… starting in the second quarter we think the positives will be more important than the negatives, and certainly in the second half of the year [2015], this shock should be fully behind us."
Of course, the positives that he mentioned are the much-hyped export-led growth resulting from the weakness in the Canadian dollar that was supposed to be happening long before now. Many export sectors and industries were anticipating growth as the US economy grew and the lower price for the Loonie was expected to juice sales and profits.
We know now that the oil shock isn't fully behind us and the drop in capital investment in the energy sector is without precedent in size. The energy sector investment is expected by the Canadian Association of Petroleum Producers to decline by 62% from 2014 levels.
Capital spending in Canada's oil and natural gas sector is forecast to decline $50 billion, or 62 per cent, since 2014, the largest two-year decline since the Canadian Association of Petroleum Producers (CAPP) and its predecessor organizations started tracking this data in 1947, according to new data compiled by CAPP.
Total capital investment in the oil and natural gas sector is forecast to decline to $31 billion in 2016, down from a record $81 billion in 2014.
That "front loaded", "one time" shock that Poloz mentioned in happier times turned out to be much more.
The decline in oil and gas investment wasn't a surprise, except in the magnitude and the duration. But what happened to offsetting boost from growth in other sectors that was supposed to make up for the weakness in the energy sector?
Here's columnist David Parkinson expressing the 'serial disappointment' that many observers feel. From the Globe and Mail (subscribers only):
"With a relatively weak Canadian dollar supporting the competitiveness of the country's non-energy exports, and with the U.S. economy continuing to pick up speed in 2016, Canada's exports were expected to power ahead and lead the economy to brighter days this year, overcoming the burden of the oil slump. But a few months into the year, things are not exactly playing out as planned."
So the next time someone tells you that the Canadian economy will be growing again due to a rebound in exports to our biggest trading partner to the south, think again. Even though the US economy is recovering, Canada's exports are not participating to the extent that was expected.
Canada hasn't any choice but to continue to trade with the US and Canadians must concentrate on export industries. But Canadians have to do a much better job in finding new ways to provide the exports that Americans want to buy. And there's no time for the complacency that permeates economic reports.
Hilliard, The MacBeth Group team and their clients may trade in securities mentioned in this blog.
The opinions expressed in this report are the opinions of the author and readers should not assume they reflect the opinions or recommendations of Richardson GMP Limited or its affiliates. Assumptions, opinions and estimates constitute the author's judgment as of the date of this material and are subject to change without notice. We do not warrant the completeness or accuracy of this material, and it should not be relied upon as such. Before acting on any recommendation, you should consider whether it is suitable for your particular circumstances and, if necessary, seek professional advice. Past performance is not indicative of future results. The comments contained herein are general in nature and are not intended to be, nor should be construed to be, legal or tax advice to any particular individual. Accordingly, individuals should consult their own legal or tax advisors for advice with respect to the tax consequences to them, having regard to their own particular circumstances.. Richardson GMP Limited is a member of Canadian Investor Protection Fund. Richardson is a trade-mark of James Richardson & Sons, Limited. GMP is a registered trade-mark of GMP Securities L.P. Both used under license by Richardson GMP Limited.