Increased crude oil production in Iran threatens any potential new balance of demand and supply and opens up the possibility of a new round of excess supply.
Iran's government believes that their oil industry can attract more than US$40 billion of new investment annually, allowing a large increase in oil production and renewed exports from one of the original OPEC members.
Will new Iranian production extend the glut in world oil markets?
Iranian leaders have stated publicly that a target of 5 million barrels per day is achievable. This would represent an increase of more than 1.5 million from recent production levels, which were curtailed by US-led sanctions.
In the 1970s Iran was the world's second largest exporter of oil, producing about 6.6 million barrels/day at the 1976 peak, before the Revolution. This large country (formerly Persia) has reserves that would last more than 100 years, and can produce at low costs of production. China, Turkey and India have been active in Iran's oil industry, investing large amounts of money over the past decade to cement future supply lines.
Given the enmity between Saudi Arabia, the world's largest producer of oil and Iran, the likelihood of Iran accepting an order from OPEC or Russia (the world's second largest producer) to freeze production is close to zero. Iran's oil minister, Bihan Zangeneh, dismissed the idea of a production freeze as 'a joke' on February 23. Another meeting to discuss a freeze is slated for April but Iran is unlikely to change its view, as for decades Iran was unable to sell much oil and forced to curtail production. This restraint caused by sanctions goes all the way back to 1979.
The Iranian economy suffered and now Iranians feels justified in demanding the right to 'make up for lost time'.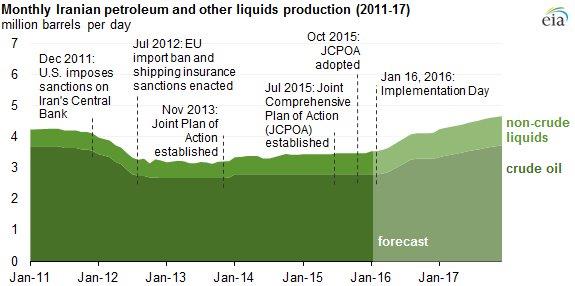 Source: U.S. Energy Information Administration
Iran is currently producing under 3 million barrels per day and will demand to be allowed to sell at least 4 million barrels. The country's oil industry could easily ramp up production to 5 or 6 million barrels per day, about half of Saudi Arabia's production. If no agreement can be reached, as is likely, Iran will press ahead with plans to ramp up exports.
A recent article published by the CBC and written by two oil industry veterans, Hamie Vredenburg and Tim Marchant highlighted the issues between Iran and Saudi Arabia. The divide is even greater because the two countries follow different branches of Islam —the Saudis the majority Sunni faction and the Iranians the minority — and are the populations are ethnically different. Iranians are Persian while Saudis are Arab. Saudis speak Arabic and the Iranians speak Farsi.
Iran's population is much larger than the Saudis, about 80 million versus 29 million in Saudi Arabia.
The article concludes that the rivalry between the Saudis and the Iranians won't result in oil production cutbacks. Albertans will have to innovate and cut costs to be able to compete in this new world of oil surplus. The higher cost producers will be hard pressed to beat the Saudis and the Iranians at delivering oil to the world markets, but that's what they will have to do.
This isn't what Albertans, Canadians and US-based shale oil producers want to hear but it's the new reality. Middle-Eastern oil producers will keep the world oil market well-supplied for the near future.
Most North Americans have other options for innovative economic activity, especially in technology-related areas. It's time to move on.
Hilliard, The MacBeth Group team and their clients may trade in securities mentioned in this blog.
The opinions expressed in this report are the opinions of the author and readers should not assume they reflect the opinions or recommendations of Richardson GMP Limited or its affiliates. Assumptions, opinions and estimates constitute the author's judgment as of the date of this material and are subject to change without notice. We do not warrant the completeness or accuracy of this material, and it should not be relied upon as such. Before acting on any recommendation, you should consider whether it is suitable for your particular circumstances and, if necessary, seek professional advice. Past performance is not indicative of future results. The comments contained herein are general in nature and are not intended to be, nor should be construed to be, legal or tax advice to any particular individual. Accordingly, individuals should consult their own legal or tax advisors for advice with respect to the tax consequences to them, having regard to their own particular circumstances.. Richardson GMP Limited is a member of Canadian Investor Protection Fund. Richardson is a trade-mark of James Richardson & Sons, Limited. GMP is a registered trade-mark of GMP Securities L.P. Both used under license by Richardson GMP Limited.