Stevie Ray Vaughan, the legendary Texan blues guitarist, might have been describing the new governments' dilemma in his 1989 classic song, Tightrope.
The Trudeau government is walking a narrow path while exploring new territory. Their first budget, announced this week, is a major break from the past, but a question remains: Should the government have taken a bigger risk and run larger deficits in order to stimulate the economy?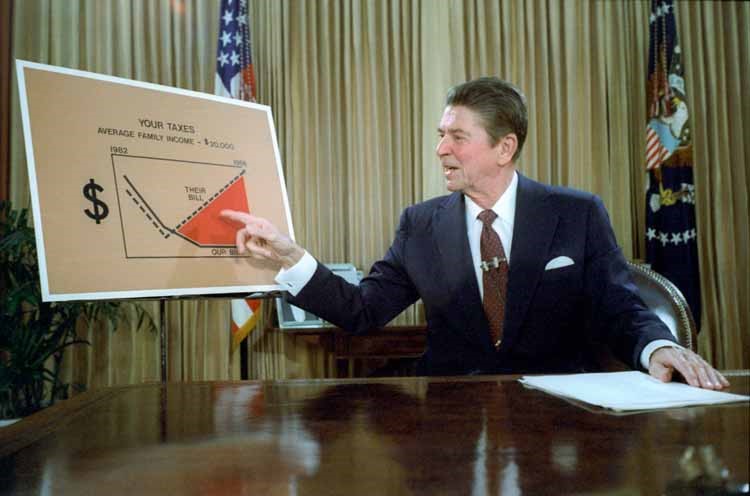 Source: Ronald Reagan Presidential Library & Museum
Since 1981 the Reagan economic plan has been the ideology behind many government budgets. The concept, nicknamed "voodoo economics" by George H.W. Bush in the 1980 nomination battle, holds that if taxes are cut the economy will grow faster and overall government revenues will actually increase, even as taxes are collected at a lower marginal rate. This idea was as crazy as it sounds and led to many big deficits produced by right-wing governments. Tax cuts were considered desirable while spending increases were off-limits and balanced budgets had to be promised, if a politician wanted to get elected.
Candidate Justin Trudeau wriggled out of this straightjacket by announcing that he would run a deficit, and won the election by a landslide. The deficit promise showed that Justin Trudeau was willing to take a risk. He shifted the momentum of the election. The Liberal team guessed correctly that the Canadian electorate was ready for real change.
With the 2016 budget the newly-elected government opted to raise spending while increasing taxes on higher-income earners. Projections show deficits for several years. But were they as daring as candidate Justin Trudeau during the election campaign? Or are they gingerly walking a tightrope?
On close examination of the actual budget documents it's clear that the moves were not revolutionary. The deficits, at $29 billion for the first two years are not enormous. Total budgetary revenue is flat, going from 14.3 percent of GDP in 2014-15 to 14.5 percent in 2020. Program expenditures will rise modestly from 12.9% of GDP to 13.6% during that same period. Even the most dogmatic conservative critic couldn't call that a "tax and spend" government.
The total federal debt is forecast to rise from $612 billion now to $732 billion, by 2020. This amounts to an increase of 3% annually, slightly faster than the economy but slower than the rise in household debt.
Here's Stevie Ray Vaughan (SRV):

Source: azlyrics.com
The Trudeau government would say that they're doing things differently and that's true. But, will it be different enough?
After all, the economy is in a slowdown, triggered by a major decline in that former "engine of growth", the energy and resources sector. Bank of Canada Governor Poloz:

Source: speech in January 7 2016 as reported in Maclean's
So the budget authors hope that $11 billion in new spending this year and $14 billion next year will counter the hit to the energy sector. To put these dollars in perspective, $18 billion would be about one percent of the GDP. A summary of the new spending, page 255 of the Budget:
Source: Government of Canada
Undoubtedly there were heated discussions in the weeks before the budget. And the people advising the more moderate approach that carried the day have a decent argument to make, I'm sure.
But the new government might have been better off to make a more audacious bet by increasing their spending plans at a faster pace, especially early in their mandate. They may have missed an opportunity to throw off old-style economic constraints entirely and produce a stimulus shock, at a time when it's sorely needed. There would have been howls of rage from the opposition, but that comes with the territory.
After all, four years from now, this government's re-election chances will hinge on how the economy's doing then, not how big the deficit was back in 2016-17.
Hilliard, The MacBeth Group team and their clients may trade in securities mentioned in this blog.
The opinions expressed in this report are the opinions of the author and readers should not assume they reflect the opinions or recommendations of Richardson GMP Limited or its affiliates. Assumptions, opinions and estimates constitute the author's judgment as of the date of this material and are subject to change without notice. We do not warrant the completeness or accuracy of this material, and it should not be relied upon as such. Before acting on any recommendation, you should consider whether it is suitable for your particular circumstances and, if necessary, seek professional advice. Past performance is not indicative of future results. The comments contained herein are general in nature and are not intended to be, nor should be construed to be, legal or tax advice to any particular individual. Accordingly, individuals should consult their own legal or tax advisors for advice with respect to the tax consequences to them, having regard to their own particular circumstances.. Richardson GMP Limited is a member of Canadian Investor Protection Fund. Richardson is a trade-mark of James Richardson & Sons, Limited. GMP is a registered trade-mark of GMP Securities L.P. Both used under license by Richardson GMP Limited.