This week an important milestone arrived; the seventh anniversary from the March 9 2009 bottom on the S&P 500. The gains are significant since that time — about 200% — or a triple. Is that all we get in this bull market?
Investors wonder if the market is due for a serious setback. The bottom touched at that low point in 2009 was 666. The peak a few months ago was about 2100. JP Morgan measures this run as #3 against all other rebounds from major bottoms in the market.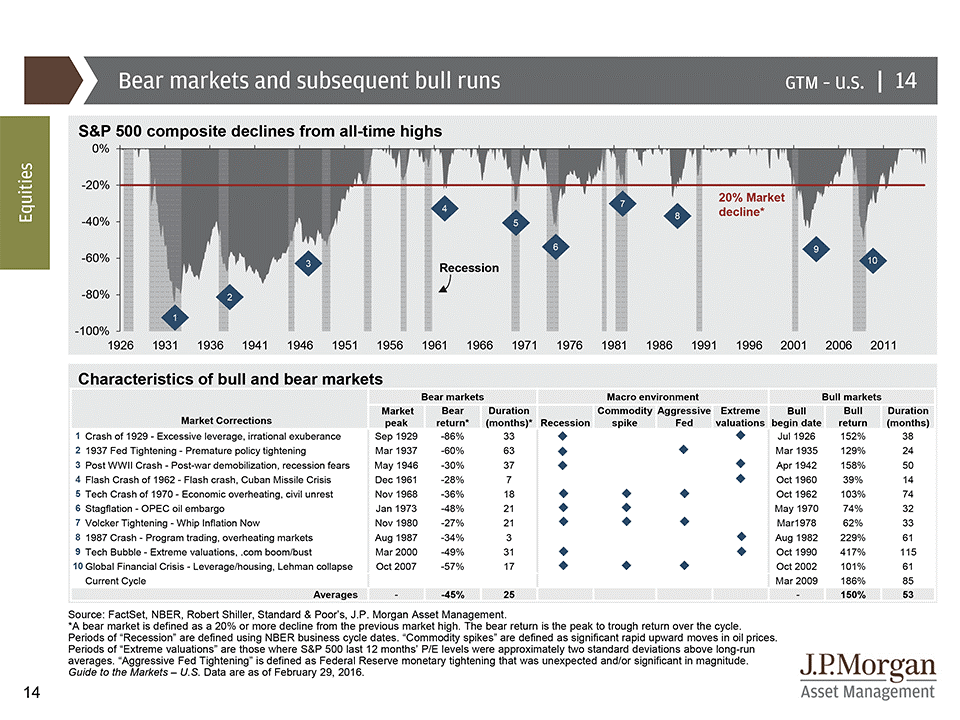 Source: JP Morgan Asset Managment
It's clear that this 2009-16 move is one of the best. It ranks (in terms of gains from the bottom) in third place, well behind the gains after August 1982 and October 1990 but ahead of all the others. In duration, this move, at 85 months, is in second place. The only longer one was 115 months which started in October 1990. So the consensus conclusion shared by many on Wall Street is that this run is long in the tooth. A serious correction is overdue.
Only one correction is mentioned (#8) during that 1982 bull market. It came in 1987 and it was very severe, more severe than anything that's happened since this market hit its recent peak. But the 1987 crash, which included one day where the Dow Jones dropped 500 points or 20%, was just a pause in the long bull market that started in 1982 and ended in 2000, an eighteen year run where the S&P 500 gained more than fifteen-fold. Here's another way to look at cycles; the bull markets are in white panels: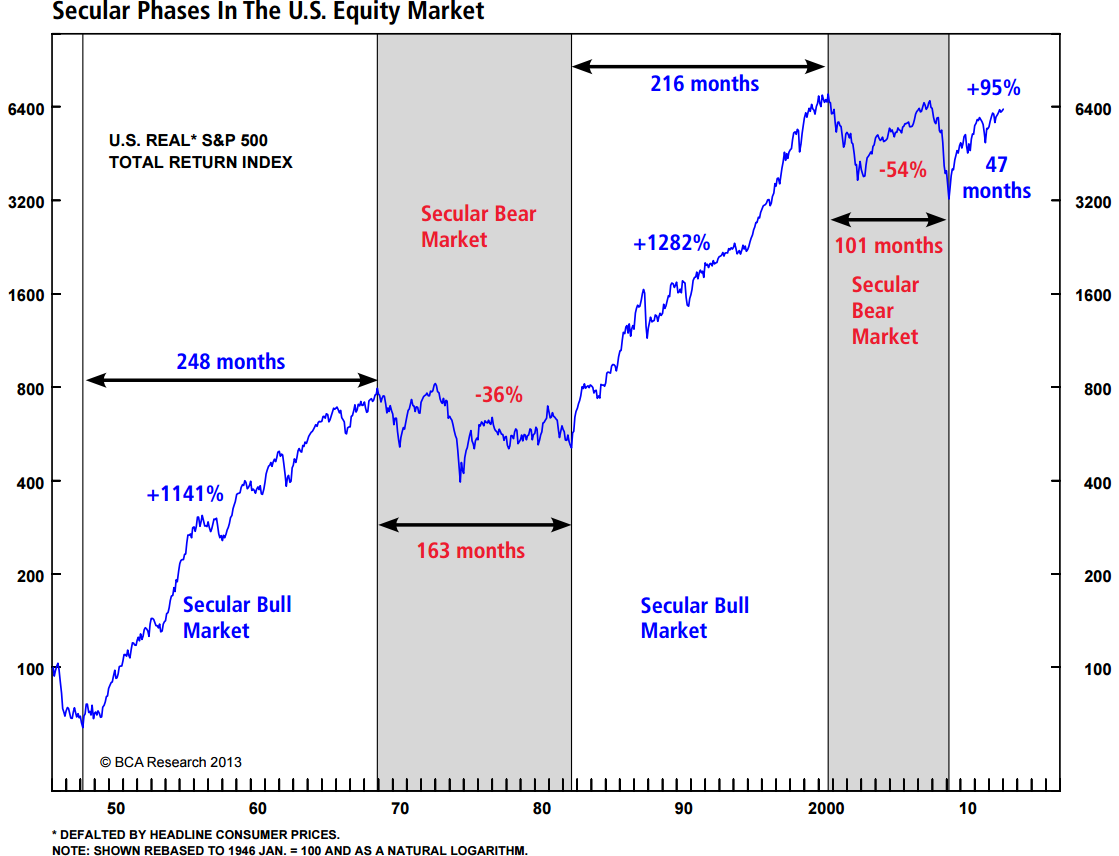 Source: BCA Research Inc.
If we take that move from 1982 to 2000 we see 1282% as the total gain, more than thirteen times! And the duration is 216 months, not 85 months. So this triple, as gigantic as it seems, would be a minor move in the history of great bull markets.
So how can we tell if the three-year run is over? Is this 85 month baby bull market going to grow up and evolve into an 18-year major bull market?
If we look at bear markets there was only one, 1987, during that unique 1982 bull market. Since the peak of the market in March 2000 there's already been two serious setbacks, 2002 and 2009, each more than 50% in decline. It would be very odd to have a third setback in less than a decade.
But it could happen and here's one reason: the stock market was not cheap in 2009 at the start of the current bull market.
Robert Shiller's CAPE shows clearly that the market was only slightly below average valuation (16 times) in 2009. Compare that valuation with the extremely cheap level in 1982, below 10 times.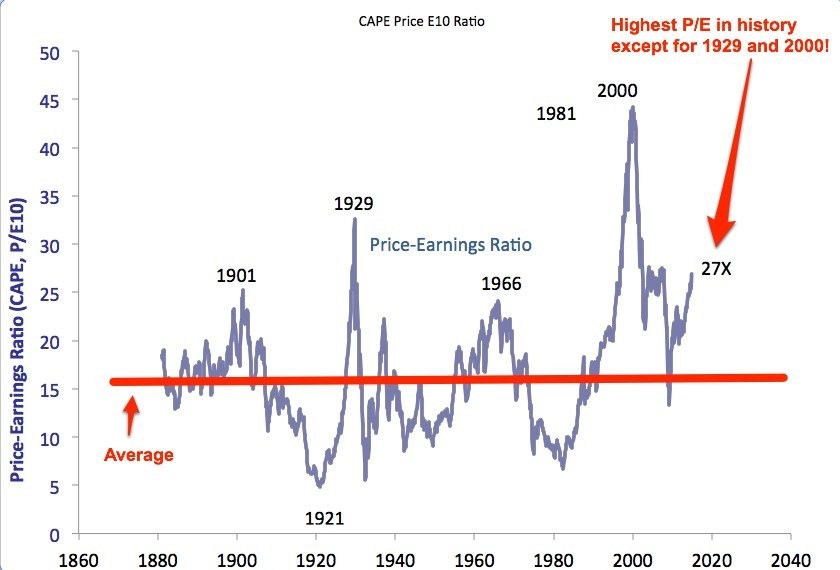 Source: ETF Daily News and Prof. Robert Shiller
And it's obvious from this chart that current valuations are expensive. Not compared to the March 2000 peak at 45 times earnings. But expensive compared to the average and really expensive compared to the typical valuations at bear market bottoms.
We are due for a bear market this year; a bear market that fits the current popular definition of a decline of more than 20%. The bad news — we are probably in that overdue correction.
And the good news — one more correction will get markets down to valuations where a genuine bull market would start, based on history.
A multi-year bull market that gives us gains in the ten-fold or fifteen-fold range, not just a mere triple!
Hilliard MacBeth
Hilliard, The MacBeth Group team and their clients may trade in securities mentioned in this blog.
The opinions expressed in this report are the opinions of the author and readers should not assume they reflect the opinions or recommendations of Richardson GMP Limited or its affiliates. Assumptions, opinions and estimates constitute the author's judgment as of the date of this material and are subject to change without notice. We do not warrant the completeness or accuracy of this material, and it should not be relied upon as such. Before acting on any recommendation, you should consider whether it is suitable for your particular circumstances and, if necessary, seek professional advice. Past performance is not indicative of future results. The comments contained herein are general in nature and are not intended to be, nor should be construed to be, legal or tax advice to any particular individual. Accordingly, individuals should consult their own legal or tax advisors for advice with respect to the tax consequences to them, having regard to their own particular circumstances.. Richardson GMP Limited is a member of Canadian Investor Protection Fund. Richardson is a trade-mark of James Richardson & Sons, Limited. GMP is a registered trade-mark of GMP Securities L.P. Both used under license by Richardson GMP Limited.