The Canadian banks have been on a growth trajectory for two decades. Market valuation premiums, earnings growth and dividend increases supported stock prices, attracting investors from all over the world. Is that run coming to an end? Will Q1 bank earnings, coming next week, reveal the first signs of serious trouble?
The Canadian banks have had quite a run, although prices have dipped a bit in the last year.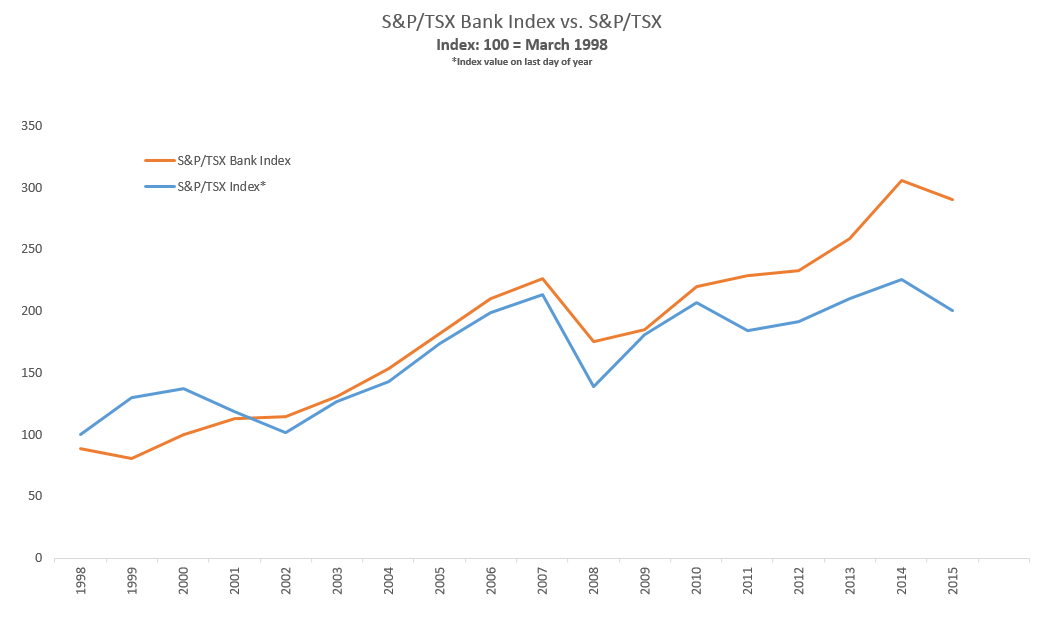 Source: Bloomberg, Richardson GMP, The MacBeth Group
Canadians are worried about the economy but, inexplicably, not about share prices of Canadian banks. Investors see the banks as impervious to economic trends, despite the fact that more than half of the banks' earnings come from Canadian "retail" banking. This is irrational although dividend support might dampen the decline.
"Retail" banking is lending to the household sector. Canadians piled on more and more debt in the form of mortgages, HELOCs (home equity line of credit), car loans and credit cards as the banks cheered them on.
During the last two decades, Canadians experienced a personality change, from risk-adverse, debt-fearing people to those who jump at the chance to buy more houses and cars, regardless of their deteriorating debt position. The associated explosion in debt pushed bank profits to a five-fold increase in fifteen years.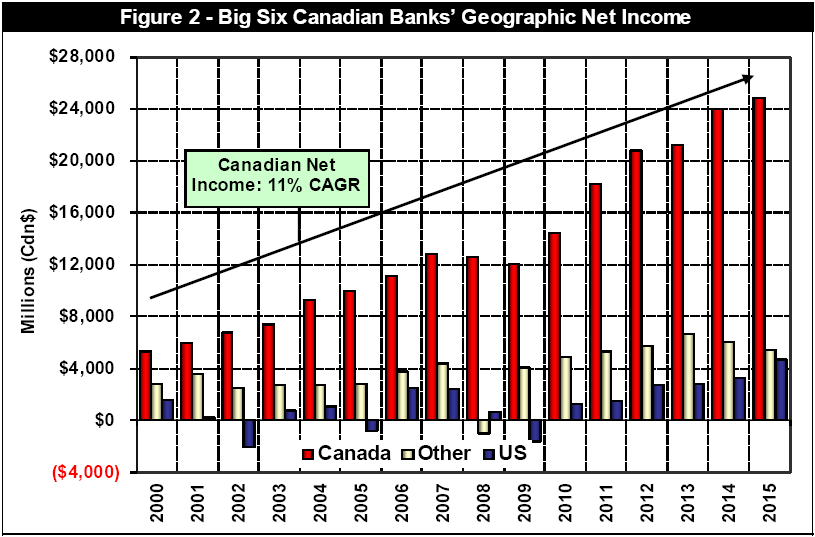 Source: National Bank Financial
Total Canadian bank profits in 2015 were $35 billion and $24 billion of that came from Canada, mostly from "personal and commercial" lending.
During that time a lack of major loan losses led to overconfidence among bank executives. The last period of nasty loan losses was in the 1990s, when most of today's executives were too young to be in senior positons.
Loan losses occur when people or businesses are unable to repay their loans, and banks experience losses. In their earnings statements "provision for credit losses" (PCL) are taken as a deduction, before calculating net income. During recessions these provisions usually jump to very high levels, hurting bank profits in a mild cycle and causing outright losses in a major downturn.
The banks report PCLs as a percentage of loans outstanding. In 2015 the provision for credit losses averaged 0.25%. If this seems low to you, you're right, it is very low and it can't last.
What happened in 2008-09 is interesting. In defiance of a global financial crisis, PCLs peaked at moderate levels, for a recession, at about 0.55%, double today's level. A quick rebound in oil prices and the lack of a housing crisis kept losses in check. And the real estate bubble continued to expand with only a minor pause.
"Real estate", as an industry, has become the most important industry sector in Canada, surpassing manufacturing and resources. And if we add the related segments, "construction" and "finance/insurance", the total reaches 30%, compared to manufacturing at 10%.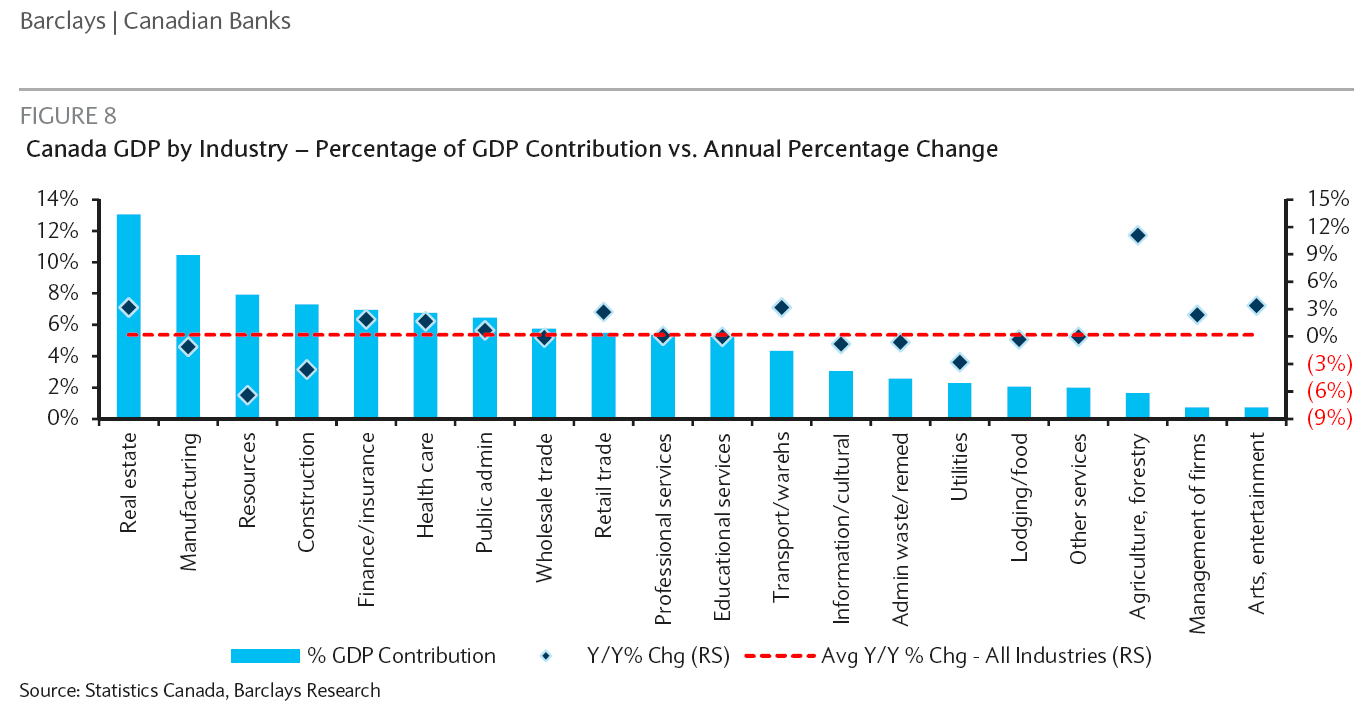 Source: Statistics Canada, Barclays
And real estate prices are due to correct. When house prices drop, even by a small amount, borrowers will get into trouble given their excessive leverage.
This time the banks won't get off lightly. The weak energy sector and a house price correction will push loan losses much higher. PCLs could hit 1.0% or higher. Since loan losses haven't started to rise yet it may take several quarters for this to occur. In the energy sector, reserves for losses are low at 0.7% compared to US banks who've deducted 4%.
The banks report Q1 earnings next week. You will have to dig a little to find the important information as their press releases are remarkable in their ability to avoid discussing exposure to Canadian retail. But it's inevitable that "provision for credit losses" will have to go much higher than the current level during this credit cycle.
Hilliard MacBeth
Hilliard, The MacBeth Group team and their clients may trade in securities mentioned in this blog.
The opinions expressed in this report are the opinions of the author and readers should not assume they reflect the opinions or recommendations of Richardson GMP Limited or its affiliates. Assumptions, opinions and estimates constitute the author's judgment as of the date of this material and are subject to change without notice. We do not warrant the completeness or accuracy of this material, and it should not be relied upon as such. Before acting on any recommendation, you should consider whether it is suitable for your particular circumstances and, if necessary, seek professional advice. Past performance is not indicative of future results. The comments contained herein are general in nature and are not intended to be, nor should be construed to be, legal or tax advice to any particular individual. Accordingly, individuals should consult their own legal or tax advisors for advice with respect to the tax consequences to them, having regard to their own particular circumstances.. Richardson GMP Limited is a member of Canadian Investor Protection Fund. Richardson is a trade-mark of James Richardson & Sons, Limited. GMP is a registered trade-mark of GMP Securities L.P. Both used under license by Richardson GMP Limited.