China struggles with large challenges as economic growth slows and leaders try to shift the focus of its growth from fixed assets investments, such as steel plants, railways and buildings to services and consumer products. World stock markets started 2016 with a rout partly because of fear that Chinese leaders might not be able to manage their economy. Will they lose control?
Credit Suisse, in a January 15 2016 report titled "A dangerous new phase," said:
"One of the big downside risks to the global system was a more rapid-than-expected slowdown in Chinese investment, an outcome that would result in substantial financial market turbulence."
Here's the problem in a graph: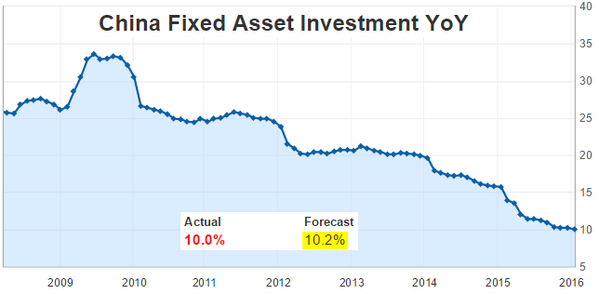 Source: the Daily Shot January 19 2016
Annual increases of greater than 10 percent are not sustainable as the total gets larger and larger. But managing the slowdown will be tricky - please see my Weekend Note from May which discusses the impending downturn in China. Anecdotes abound describing cities that remain unoccupied as developers expand into areas that people don't find attractive or are unaffordable. So the condos and shopping malls sit empty and the weeds grow. Here's one of the more outrageous examples of a shopping mall, apparently unused, and modeled after an iconic American building: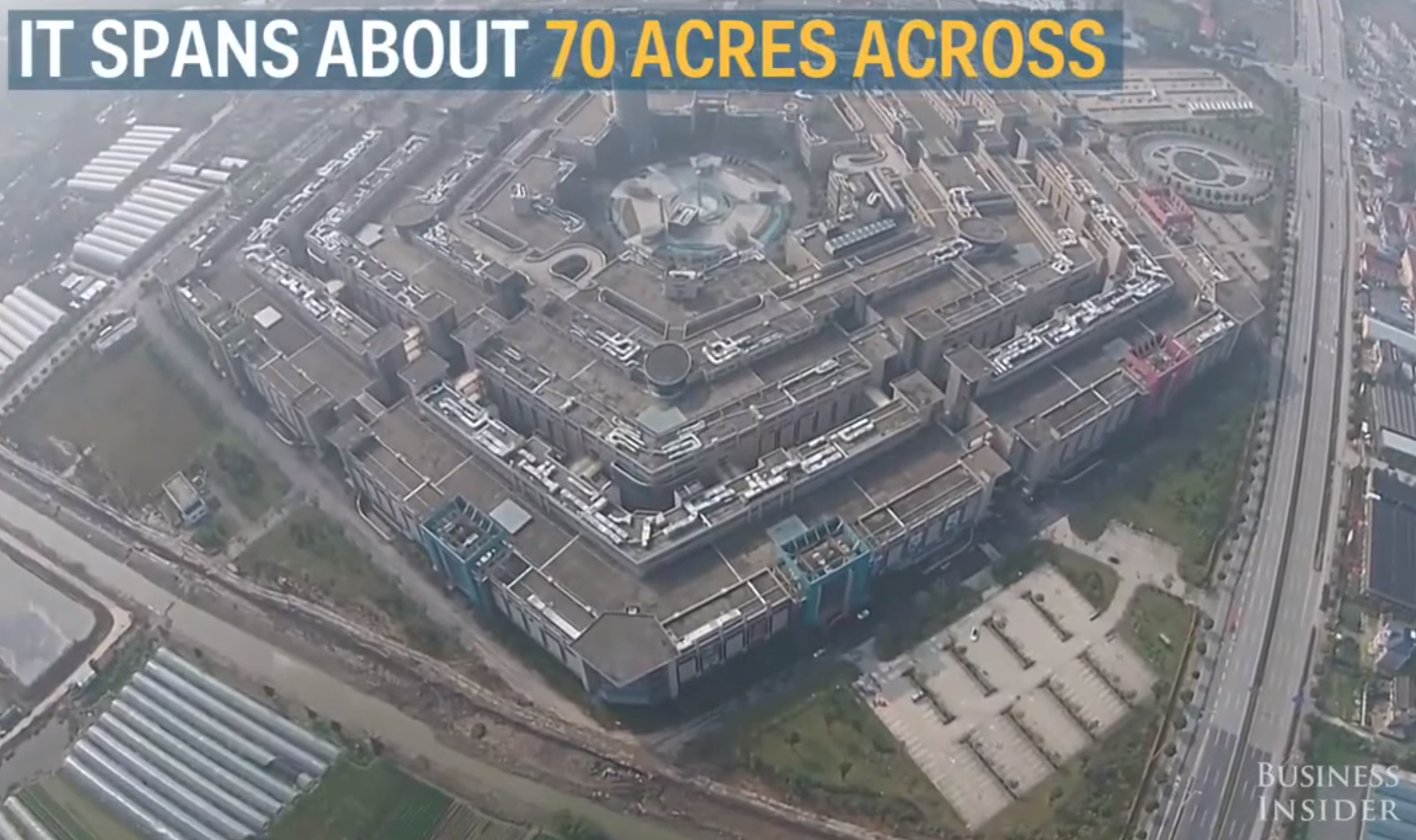 Source: Business Insider, Gizmodo and h/t Scott Barlow (The Globe and Mail)
In order to complete this excess of expansion the Chinese have borrowed massive amounts of money. The BIS Bank of International Settlements says that China's gross debt is 250% of GDP, which represents a very rapid increase in the last ten years. The good news is that China's foreign reserves, mostly held in US dollars, are double the amount of debt.
But debt isn't the main issue, at least not yet. The real problem is huge overcapacity in many industries such as steel, construction, mining and energy. Industry leaders find it impossible to stop expanding as they don't want to reduce the people employed. The primary offenders are companies known as State-Owned Enterprises (SOEs).
SOEs produce about 50% of GDP but earn only 20% of profits. They are run for maximum production and employment; not for profit. They owe large debts but these sums are owed to state-owned banks so there is no threat of default, in the short term.
Investors should assume that the Chinese will be successful in reducing the GDP share that goes to fixed asset investment. There will be lower demand for products that go into fixed asset spending. This means avoiding investments in commodities such as iron ore, nickel, copper and coal, and is bearish for Australia, Brazil and Canada.
On the other hand, as the Chinese economy shifts its emphasis to services and the consumer, there will be opportunities for investment in sectors like social media, internet providers, consumer products, telecommunications and healthcare, to name a few candidates.
But it might be too early to move into China.
The risk exists that the Chinese government, run by seven (male) members of the Politburo Standing Committee of the Communist Party of China, might make a mistake and lose control of their economy. One example of a difficult situation is the flight of capital from China, a flow of funds that feeds real estate bubbles in cities like Vancouver and Sydney, Australia. Capital movements are notoriously difficult to block, as human ingenuity is almost limitless.
This flow of funds appears to be accelerating.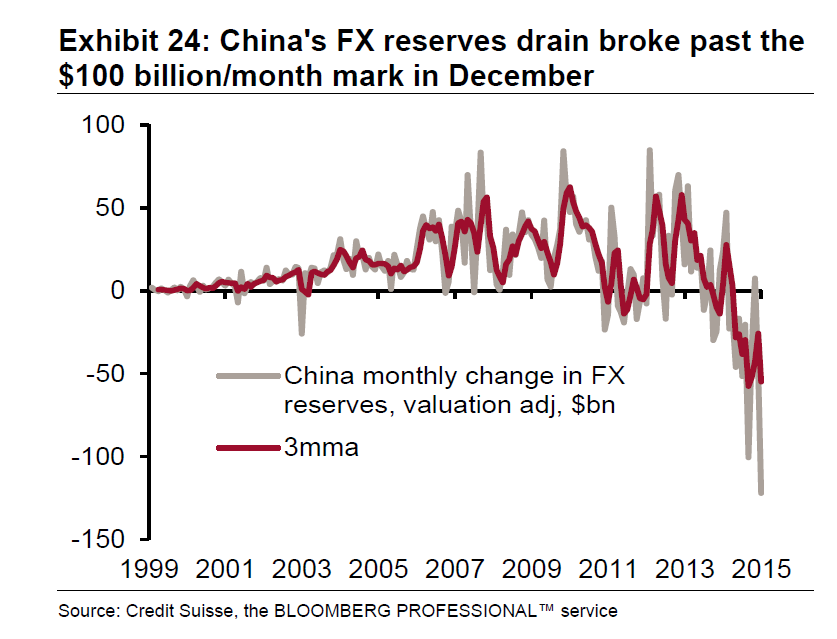 Source: Credit Suisse and Bloomberg
As noted above the Chinese government has trillions of dollars of foreign exchange but they won't be willing to let US$100 billion per month leave the country for long. As the saying goes, "a hundred billion here, a hundred billion there, pretty soon you're talking real money."
A crackdown on wealthy Chinese moving their money out of China would rock financial markets, with ripple effects throughout the world.
Hilliard, The MacBeth Group team and their clients may trade in securities mentioned in this blog.
The opinions expressed in this report are the opinions of the author and readers should not assume they reflect the opinions or recommendations of Richardson GMP Limited or its affiliates. Assumptions, opinions and estimates constitute the author's judgment as of the date of this material and are subject to change without notice. We do not warrant the completeness or accuracy of this material, and it should not be relied upon as such. Before acting on any recommendation, you should consider whether it is suitable for your particular circumstances and, if necessary, seek professional advice. Past performance is not indicative of future results. The comments contained herein are general in nature and are not intended to be, nor should be construed to be, legal or tax advice to any particular individual. Accordingly, individuals should consult their own legal or tax advisors for advice with respect to the tax consequences to them, having regard to their own particular circumstances.. Richardson GMP Limited is a member of Canadian Investor Protection Fund. Richardson is a trade-mark of James Richardson & Sons, Limited. GMP is a registered trade-mark of GMP Securities L.P. Both used under license by Richardson GMP Limited.