Central bankers have a difficult job because their policy changes operate with a lag of months or even years. And the data used to make decisions usually lag real events by several months. It's an impossible task given these conditions.
It's as if the Fed were driving a race car at 200 kilometers per hour and there's a tight curve about 500 meters ahead. The policymakers have to guess how much to turn the steering wheel now to keep the car on the road, long before the car reaches the turn. If they get it right, it would be pure luck. In most cases the car will go into the ditch because the turn was either too early or too late. And economists are operating blindfolded because they ignore some key factors.
Professor Steve Keen, Professor of Economics at Kingston University, London, England and author of "Debunking Economics", points out that economists are trained to ignore the impact of debt. This was done because of the difficulty of including debt and making economic models reach a state of equilibrium. But we know that bubbles are often forming, fueled by excessive debt, and then they burst, making the economic ride more of a roller coaster than a "steady state" experience.
So Professor Keen is right and the consensus is wrong — debt, and especially household debt, matters a lot and will have a huge impact on what happens next in the U.S. and Canadian economies.
Source: Steve Keen's Debtwatch
After a couple of years of decline, household debt has started to grow again, but total debt in the U.S. is still too high for debt-fueled spending to add a substantial boost to the economy. Rising rates will cause people to pay down debt. And that means the Fed will regret their move last week and probably will have to reverse it in the next twelve to twenty-four months. By then the damage will be done.
Peter Berezin of BCA Research wrote a piece titled "The Fed makes an unforced error," pointing out flaws in the reasoning that led to the decision to hike rates. Contact us for a copy of the report.
To paraphrase BCA:
The economy is slowing, and global growth is under pressure. See chart below.
The broad-based decline in commodity prices suggests weak demand is the culprit.
Only rich people benefit from higher rates and they won't help grow demand.
If wages grew quickly that would be a good thing, leading to higher consumption. The Fed should allow that, not choke it off.
Several central banks including the ECB and the BOJ have hiked rates and then reversed course when it had a negative impact.
Once the Fed realizes that it has tightened too much it will be too late to avoid a nasty recession. It will be difficult for the Fed to admit its mistake.​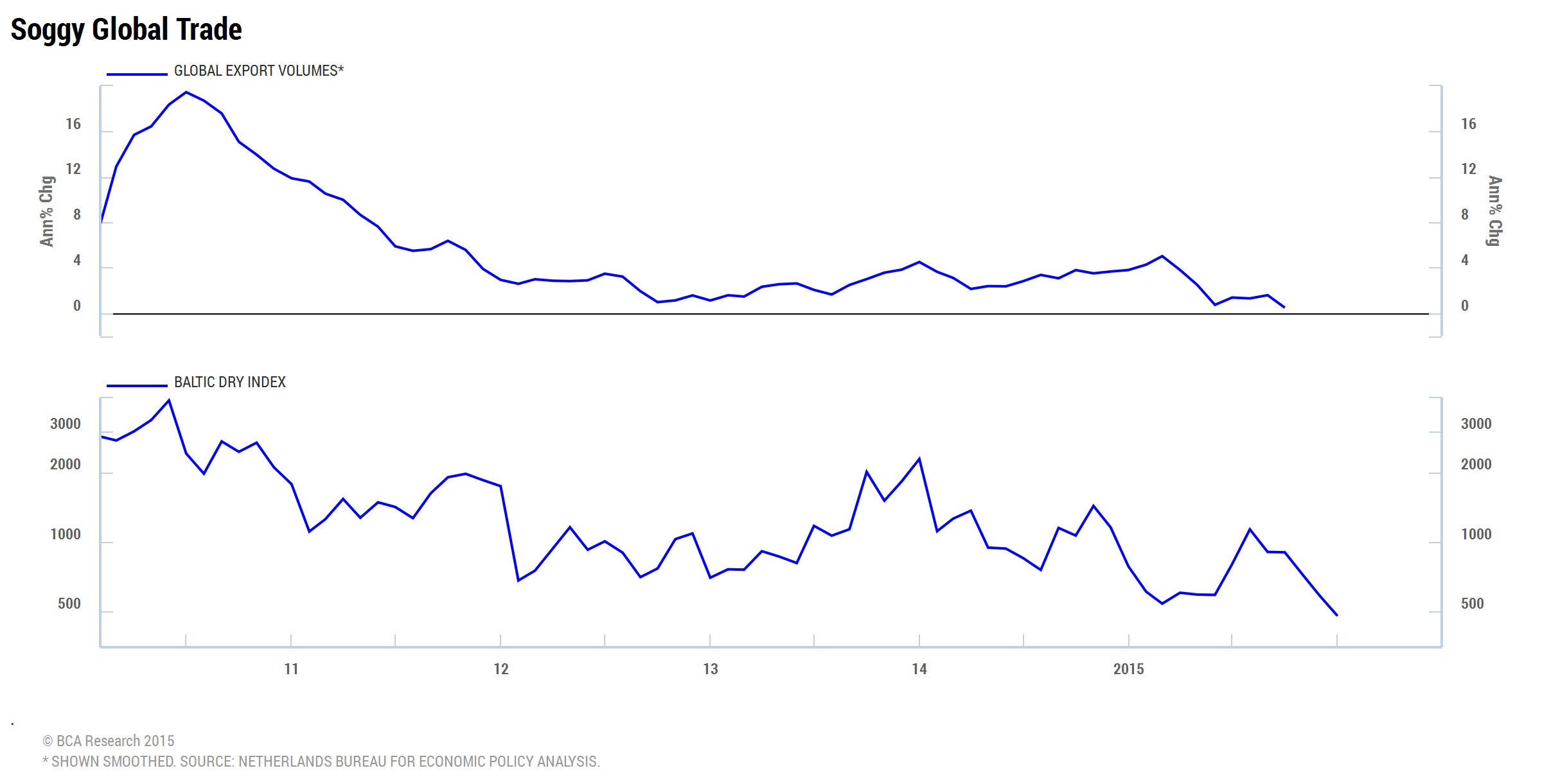 Source: BCA Research Inc.
The slowdown in global trade shows that there's a worldwide problem. And Canada has a larger household debt burden than average and is more dependent on trade, especially key exports such as crude oil and natural gas. Canada cannot avoid feeling the impact of the Fed move.
The old saying; "When the U.S. sneezes, Canada catches a cold" will be proven true, if the Fed's move is a mistake.
Hilliard, The MacBeth Group team and their clients may trade in securities mentioned in this blog.
The opinions expressed in this report are the opinions of the author and readers should not assume they reflect the opinions or recommendations of Richardson GMP Limited or its affiliates. Assumptions, opinions and estimates constitute the author's judgment as of the date of this material and are subject to change without notice. We do not warrant the completeness or accuracy of this material, and it should not be relied upon as such. Before acting on any recommendation, you should consider whether it is suitable for your particular circumstances and, if necessary, seek professional advice. Past performance is not indicative of future results. The comments contained herein are general in nature and are not intended to be, nor should be construed to be, legal or tax advice to any particular individual. Accordingly, individuals should consult their own legal or tax advisors for advice with respect to the tax consequences to them, having regard to their own particular circumstances.. Richardson GMP Limited is a member of Canadian Investor Protection Fund. Richardson is a trade-mark of James Richardson & Sons, Limited. GMP is a registered trade-mark of GMP Securities L.P. Both used under license by Richardson GMP Limited.