The Bank of Canada issued its December Financial System Review (FSR) that updates economic and financial conditions. Repeating previous warnings, the BOC hinted that risks are "edging higher" on several fronts. A house price correction, a household debt crisis precipitated by a recession or a commodity-related impact on the financial system – any one of these risks could hit Canadians although none are rated with a "high probability" of occurring. And what about a China meltdown?
Again, the Bank of Canada selected one risk as having the most serious consequences: a severe recession causing household financial stress and a sharp correction in house prices. Quoting the BOC (see report here):
"The most important domestic financial system risk continues to be that of a severe recession and a sharp, widespread rise in unemployment that reduce the ability of households to service their debt, leading to a broad-based decline in house prices."
This risk carries a low probability of happening, in their view. I'm guessing they think this because the recession won't be severe enough to cause a "sharp" drop in house prices. I disagree with the "low probability" part. A financial crisis caused by a "sharp" correction in housing prices is inevitable, in my opinion.
Another risk, rated as "medium probability," is a prolonged and severe weakness in commodity prices that would hit Canada since exports are heavily weighted to oil and natural gas, copper, coal, lumber, nickel, iron ore, potash and other natural resources. Everyone can see that energy prices have plunged, and the price of gasoline slides lower, perhaps too slowly compared to WTI. But non-energy commodities are experiencing price weakness too. And this is already impacting Canadians.
The second "medium probability" risk is that China, after its decades-long rapid rate of growth, is experiencing a slowdown from 10% growth to perhaps 5-6% growth or lower and this slowdown would cause stress in the world's economy. This growth pause happens to every emerging market country whose economy gets big. China, the world's largest buyer of iron ore (60% of the world's demand), copper (40%), and nickel, zinc and metallurgical coal is buying less, causing surpluses. And Canadians are right in the middle of this crisis since Canada exports most of its resource production. If it's any consolation, Australia and Brazil will feel the impact even more than Canada.
As China slows, especially in its huge construction sector, demand wanes, and prices go lower. This is affecting Canada as many resource companies borrowed from Canadian lenders and employ hundreds of thousands in relatively high-paying jobs.
Here is the Bank of Canada's graph of commodities: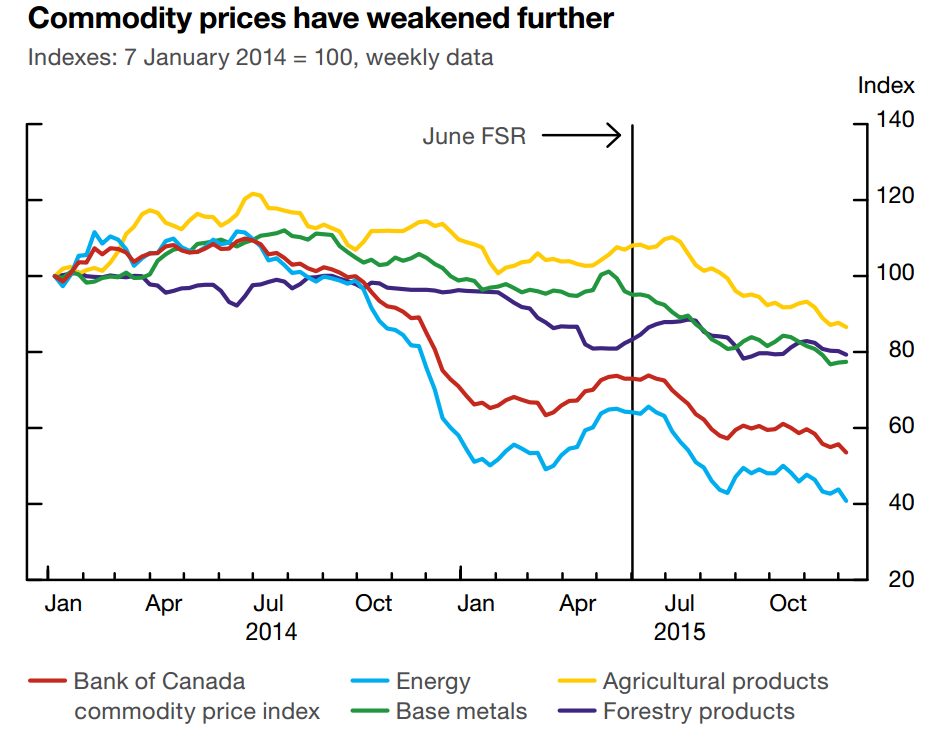 Source: Bank of Canada – Last observation: 8 December, 2015
Too many new wells were drilled and oil sands plants built and base metal mines expanded with high commodity prices and easily obtained loans at low interest rates. Now there are surpluses and prices are low so workers are being laid off. The BOC rates the impact on the financial system as "low". They say, "Banks would be directly affected through the deteriorating performance of loans to commodity producers." But they point out that, of total bank loans, energy is only 2% and base metals is less than 1%. So don't worry about it, unless you are working in the oilfields or mining in Quebec or British Columbia.
As I wrote in "When the Bubble Bursts" the Canadian economy is, to a degree, a "play on China" due to commodity exports and pricing. But the interconnectedness between commodities, the financial sector and the household sector is now being discussed by the Bank of Canada.
I'm certain that, in 2016, more news is coming about commodity price weakness, the possible further slowdown in China and its economic impact on Canadians.
Hilliard, The MacBeth Group team and their clients may trade in securities mentioned in this blog.
The opinions expressed in this report are the opinions of the author and readers should not assume they reflect the opinions or recommendations of Richardson GMP Limited or its affiliates. Assumptions, opinions and estimates constitute the author's judgment as of the date of this material and are subject to change without notice. We do not warrant the completeness or accuracy of this material, and it should not be relied upon as such. Before acting on any recommendation, you should consider whether it is suitable for your particular circumstances and, if necessary, seek professional advice. Past performance is not indicative of future results. The comments contained herein are general in nature and are not intended to be, nor should be construed to be, legal or tax advice to any particular individual. Accordingly, individuals should consult their own legal or tax advisors for advice with respect to the tax consequences to them, having regard to their own particular circumstances.. Richardson GMP Limited is a member of Canadian Investor Protection Fund. Richardson is a trade-mark of James Richardson & Sons, Limited. GMP is a registered trade-mark of GMP Securities L.P. Both used under license by Richardson GMP Limited.