Canada is one of ten countries that holds the coveted AAA credit rating from the Moody's, Fitch and S&P bond rating agencies. France and the UK lost that status in 2013 while the U.S. was dropped in 2011.
If the U.S., France and the UK can suffer the humiliation of a downgrade, any country can. Will those ratings agencies take a fresh look at Canada's total debt structure? Will investors continue to see Canada as a safe haven? What about the Loonie?
The ten members of the AAA club: Australia, Canada, Denmark, Germany, Luxembourg, Netherlands, Norway, Singapore, Sweden and Switzerland. Netherlands gained AAA status recently. Most vulnerable to a downgrade now might be Canada and Australia due to the collapse in commodity prices, especially energy. Canada lost its AAA rating in 1992 during a housing crash, leading to electoral defeat for the Progressive Conservatives. During the Mulroney years (1984-93) federal government debt rose from 47% to 67% of GDP. The Liberals took over in 1993 and worked to cut the debt in half, earning a renewed AAA rating in 2002 that's stayed in place.
In October 2014 Fitch calculated Canada's gross government debt at 89%, including all provincial debt. Commenting about Canada, Fitch said, "the high debt burden highlights its more limited fiscal space compared with rating peers."
If we add household and corporate debt, Canada ranks near the worst of the G10 countries, in a tie with the Euro zone and better than only Sweden and Japan. Sweden (SEK on the graph) like Canada (CAD) keeps its AAA rating only because government or public debt (blue) is the smaller portion of total debt.
Societal debt levels in G10 are large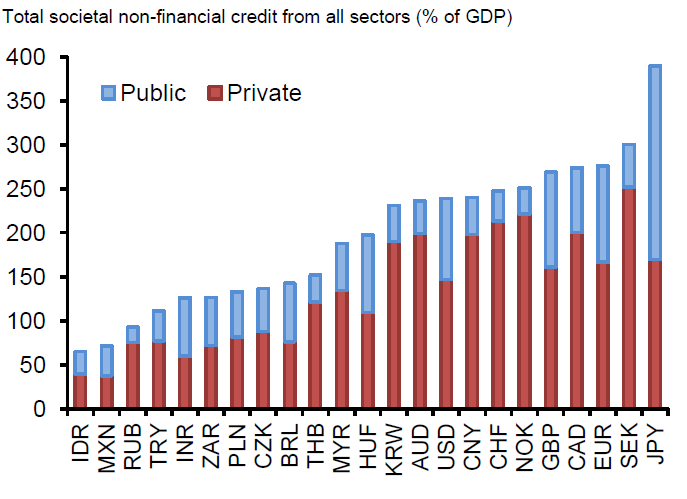 Chart courtesy of Credit Suisse and BIS – Symbols are currencies
Recently the European Union warned Italy, France and Belgium that "large public debts and low potential growth make them vulnerable to economic shocks." The limit for Eurozone members is 60% GDP for government debt. Canada would get a warning too, if it were a member. Among the large countries, only Germany is in good shape.
Canada's government debt is smaller than the average in the Eurozone (EUR), but Canada's household debt is much higher. Ignoring Canada's total debt would be foolish but Canadians are complacent.
This October it can be said that Canadians voted for government to spend more. And Canada might need to as it ranks very low among developed nations, according to the OECD.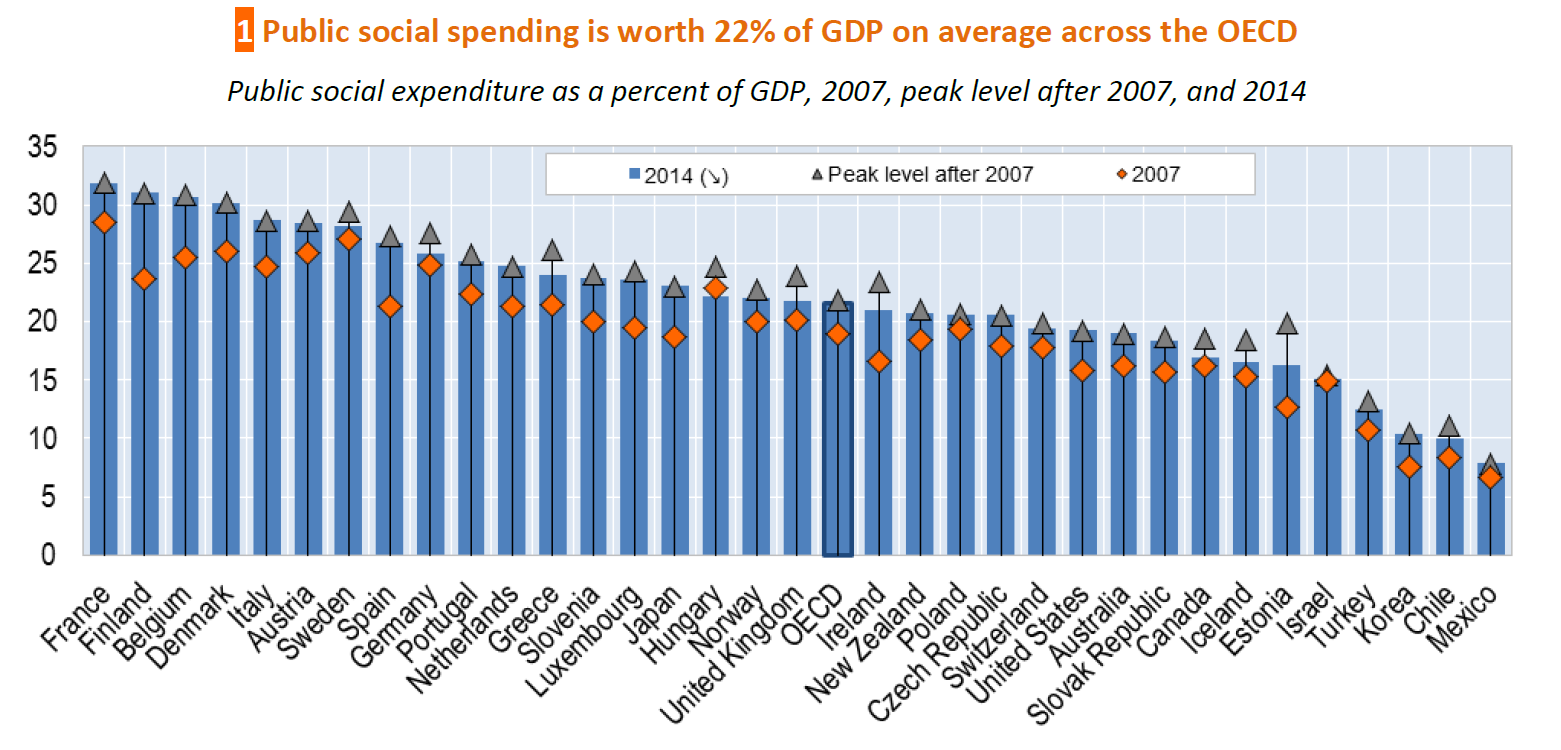 Chart courtesy of OECD
The Eurozone countries, including frugally minded Germany, provide much more generous social programs including low-cost or free university tuition. Please see the OECD report here.
After nine years of government that emphasized tax cuts, people demanded change. And that includes being comfortable with running deficits. Running deficits isn't a change; Harper's government ran deficits for nine years, except at the start. The difference is Harper only talked about running a surplus, never a deficit.
In any case, it would be an amazing feat to give tax cuts to middle-income earners, increase social spending, maintain the AAA rating, keep interest rates low, forecast deficits and support the Loonie. That's a tall order. Don't even think about what would happen if the housing bubble bursts and government needs to bail out the CMHC and the banks.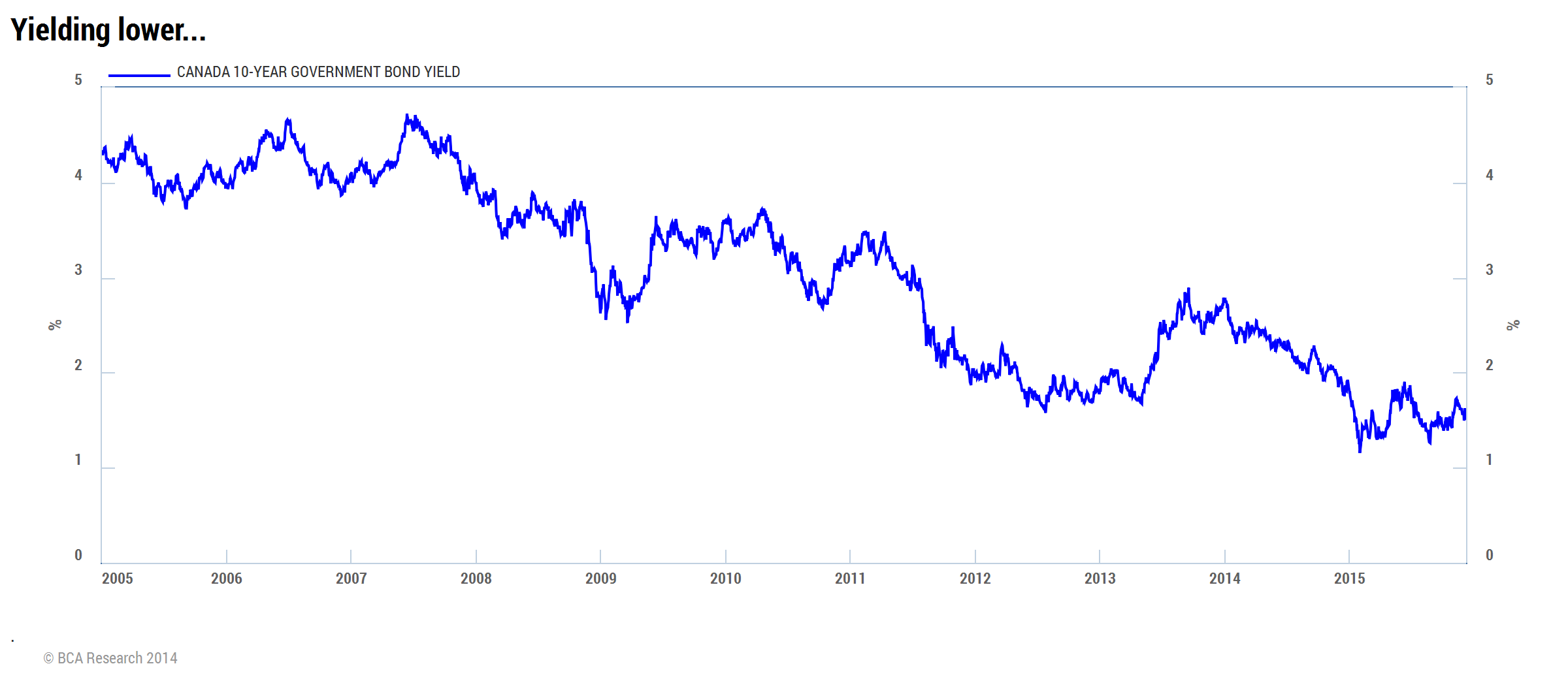 Chart courtesy of BCA Research Inc.
If Canada loses its AAA rating and investors see the government as a "big spender," bond rates will rise. This graph is the 10-year Government of Canada bond, but any increase affects all interest rates, including mortgages.
This is a challenging time for the newly-elected government to take over. They will be tested.
Hilliard, The MacBeth Group team and their clients may trade in securities mentioned in this blog.
The opinions expressed in this report are the opinions of the author and readers should not assume they reflect the opinions or recommendations of Richardson GMP Limited or its affiliates. Assumptions, opinions and estimates constitute the author's judgment as of the date of this material and are subject to change without notice. We do not warrant the completeness or accuracy of this material, and it should not be relied upon as such. Before acting on any recommendation, you should consider whether it is suitable for your particular circumstances and, if necessary, seek professional advice. Past performance is not indicative of future results. The comments contained herein are general in nature and are not intended to be, nor should be construed to be, legal or tax advice to any particular individual. Accordingly, individuals should consult their own legal or tax advisors for advice with respect to the tax consequences to them, having regard to their own particular circumstances.. Richardson GMP Limited is a member of Canadian Investor Protection Fund. Richardson is a trade-mark of James Richardson & Sons, Limited. GMP is a registered trade-mark of GMP Securities L.P. Both used under license by Richardson GMP Limited.