Alberta's new climate change report was endorsed by everyone from Neil Young to Murray Edwards, founder of the company that built the Horizon Oil Sands plant. Even the Globe and Mail chimed in, calling Alberta a "carbon leader". And Al Gore (yes, that Al Gore) tweeted faint praise.
The boldest move was the expansion of the carbon levy to cover all users, at $20 per ton in 2017, rising to $30 in 2018, similar to BC's tax introduced in 2008. Eliminating coal-fired electricity by 2030 will reduce emissions and allows Alberta to match Ontario which closed its last coal-fired facility earlier this year. Gasoline will increase 7 cents per litre by 2018.
But is the Alberta plan aggressive enough to appease opponents to the oil sands industry?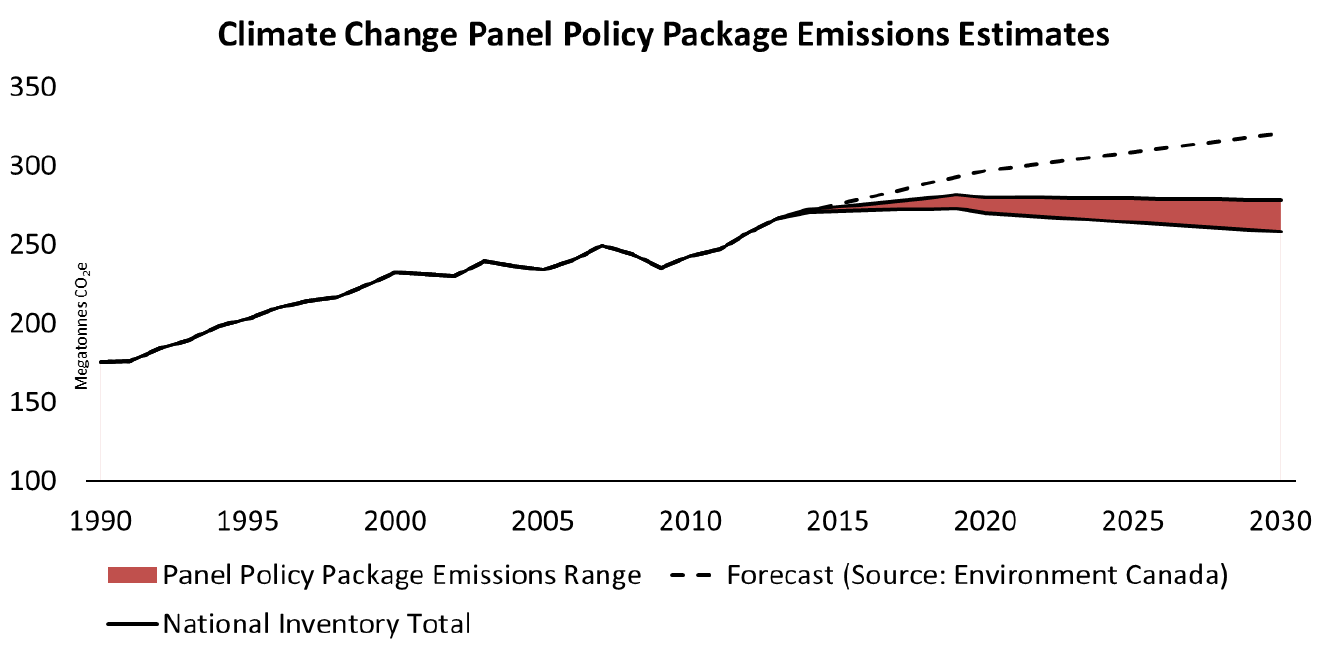 Chart courtesy of Alberta Government
On Sunday November 22 the Government of Alberta released its climate change report. This report, titled Climate Leadership – Report to the Minister marks a significant change of direction under the new NDP government. The panel, led by University of Alberta Professor Andrew Leach, succeeded in finding a broad consensus among several disparate factions.
While attracting lots of positive feedback, Alberta's new policy has come under criticism for setting a limit on oil sands emissions that allows producers to grow their emissions of greenhouse gas (GHG) by 43% from current levels. As a result, Alberta's total GHG emissions would remain roughly flat by 2030.
According to Dr. Paul Boothe, Professor at University of Western Ontario and a former Deputy Minister of Environment Canada this means that Canada cannot meet its previously stated goal of reducing emissions by 200 million tonnes. In any case, Canada will set a new target after the Paris meeting.
Alberta is home to the two largest industrial emitters of GHG — coal-fired electricity and the oil sands. Cutting emissions from both would have a substantially negative impact on jobs and revenue, affecting all of Canada.
To keep GHG emissions roughly level at 270 million tonnes while allowing increased oil sands output, the panel eliminated coal-fired electricity to be replaced by wind, solar and some natural gas-fired electricity. Natural gas produces about one-half the emissions of coal. Subsidies, not yet named, will encourage new activities and help coal-fired utilities with transition. There will be rebates to low-income Albertans to cover the higher fuel cost.
The main instrument of the plan is a modified carbon levy. It's similar to the "carbon tax" that British Columbia introduced in 2008. BC's tax of $30 per tonne on emissions and fuel usage has lowered burning of fossil fuels by 16% overall, while the rest of Canada's usage increased by 3%.
The BC tax is revenue-neutral, meaning that personal income tax cuts offset the carbon tax. Alberta's revenue, estimated at $3 to $5 billion, from the carbon levy will be used to encourage new sources of alternative energy such as wind and solar. As Notley said, "every cent will be recycled back into the economy."
Alberta's policy did not state an overall emissions target. Notley's government may do that after the COP21 conference in Paris, France, in consultation with Prime Minister Trudeau.
Once again, what happens in Alberta is significant for Canada's economy. And Canada has little chance of achieving even modest GHG reductions without a substantial effort from Alberta. Trudeau called the Alberta plan "a strong positive step in the right direction."
Hilliard MacBeth and his clients may trade in securities that are discussed in this weekly blog.
The opinions expressed in this report are the opinions of the author and readers should not assume they reflect the opinions or recommendations of Richardson GMP Limited or its affiliates. Assumptions, opinions and estimates constitute the author's judgment as of the date of this material and are subject to change without notice. We do not warrant the completeness or accuracy of this material, and it should not be relied upon as such. Before acting on any recommendation, you should consider whether it is suitable for your particular circumstances and, if necessary, seek professional advice. Past performance is not indicative of future results. The comments contained herein are general in nature and are not intended to be, nor should be construed to be, legal or tax advice to any particular individual. Accordingly, individuals should consult their own legal or tax advisors for advice with respect to the tax consequences to them, having regard to their own particular circumstances.. Richardson GMP Limited is a member of Canadian Investor Protection Fund. Richardson is a trade-mark of James Richardson & Sons, Limited. GMP is a registered trade-mark of GMP Securities L.P. Both used under license by Richardson GMP Limited.