Almost eight months ago I wrote here that energy company share valuations were discounting a rebound in crude oil prices by year-end 2015. WTI oil prices at that time were $45. Prices dipped below $40 this week. Western Canada Select, a blend of heavy crude from Alberta, is $15 lower, at $25.
Given the disappointment when WTI failed to rally, there could be a trade in energy shares, a year after that fateful OPEC meeting in November 2014. Are prices low enough to reward bargain hunters?
My conclusion when writing eight months ago was that share prices were not cheap enough to justify getting back into the market. I mentioned that our Model Portfolio was at zero weight in the sector.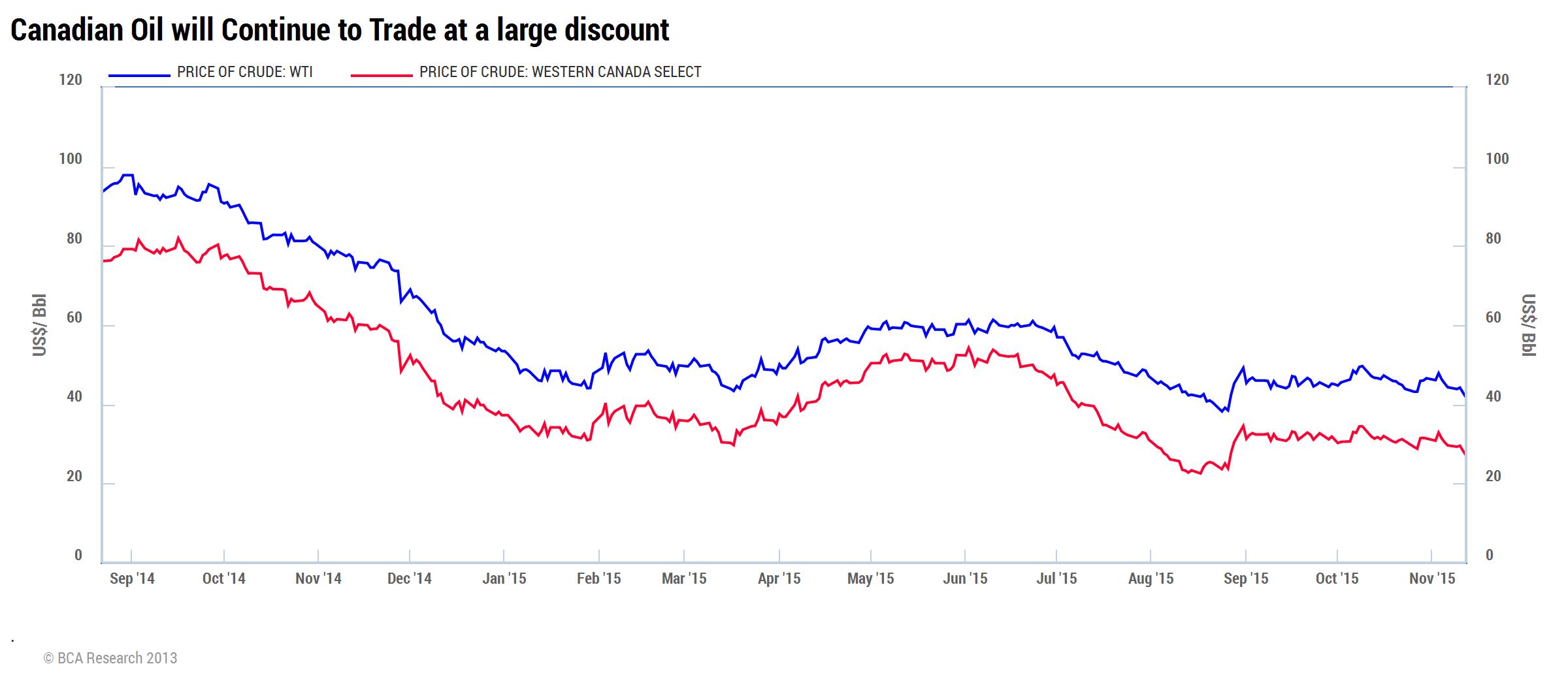 Chart courtesy of BCA Research Inc.
This chart shows clearly that WTI started to fall well before the OPEC meeting last November and has continued to trade to the downside. The spread between WTI and Western Canada Select is still wide. Canadian producers are selling at prices that don't cover their total costs.
The discount for WCS is due, mostly, to the transportation bottleneck. Several pipelines in proposal stages are stalled. While Alberta oil got stalled at the Hardisty terminal, U.S. shale oil production pushed ahead, bringing total oil production above 9.4 million barrels per day, up from 5 million less than a decade ago. Saudi Arabia continues to pump crude, pushing 10.4 million barrels/day into an oversupplied market and ignoring calls from OPEC members for cuts.
Some argued that the Saudis want to kill U.S. shale oil production.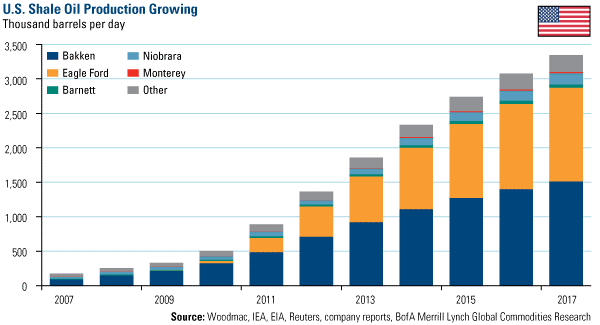 Chart courtesy of Woodmac, IEA, EIA, Reuters and BofA Merrill Lynch
Although this graph was too optimistic as growth has stalled, it shows what is possible. So far shale production has been surprisingly resilient. Unless Saudi Arabia blinks or shale oil supply craters, Canadians will have difficulty finding buyers without a huge discount. Canada's industry is collateral damage in the war between the U.S. and Saudi Arabia.
Excess crude oil supply has swollen inventory. "The world is floating in oil. The numbers we are facing now are dreadful," said David Hufton from PVM Group quoted by Ambrose Evans-Pritchard.
One analyst forecast that producers would keep pumping out crude as long as they can get $20, the cash cost of production. Many producers owe large debts and interest payments must be met, even if it means producing at a loss. The "good news", if you can call it that, is that eventually some producers will go bankrupt.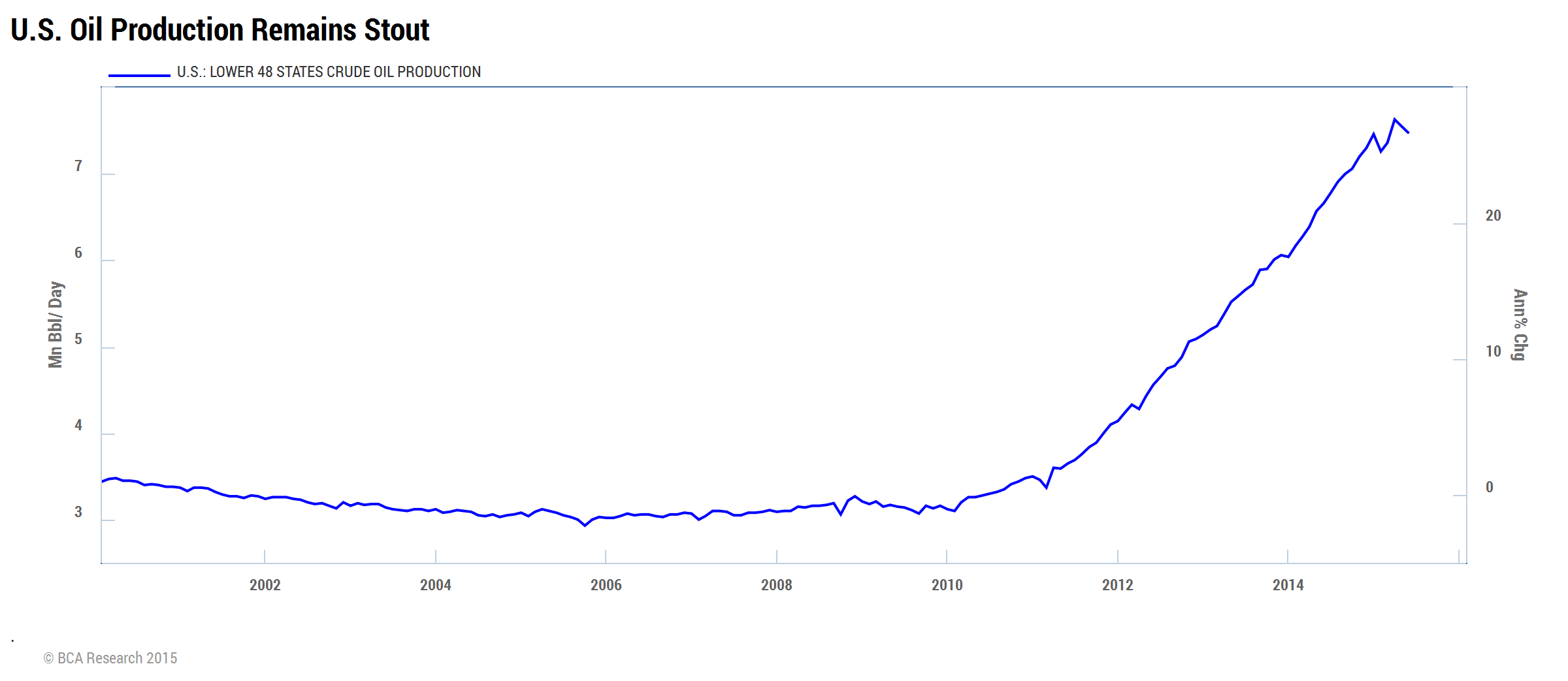 Chart courtesy of BCA Research Inc.
An OPEC meeting on December 4, 2015 could trigger a surprise production cut but Saudi Arabia isn't expected to do anything that would boost prices. All that would do is allow more U.S. shale production.
So to the question at hand. Are stock prices for Canadian producers cheap?
Suncor, the largest of the Canadian producers and the fifth largest in North America, traded at $35 in March. This week it reached $37.64. No bargain there.
Another heavyweight – Cenovus – trades at $15 compared to $17 in late March. Cenovus has been lowering costs. Unfortunately all Canadian heavy oil producers, even the most efficient like Cenovus and Suncor, are relatively high-cost operators compared to the rest of the world.
Some energy sector shares have fallen more. Crescent Point (CPG), a light oil producer, lost $201 million in the third quarter. Net debt soared from $2.7 billion to $4.1 billion. CPG's stock price is down 52% year-over-year. The large debt levels are a concern.
So the conclusion regarding oil company shares remains the same as it was in March. Although some share prices have declined, shares of Canadian oil producers are still expensive, given the weak price outlook. Low oil prices haven't curbed production enough, yet, to generate the rally in oil prices Alberta producers need.
I will stay on the sidelines for now, waiting for bankruptcies in the U.S. and Canada, signaling that excess production will be curbed. As gloomy as the mood is, there's still overvaluation in the stock market for Canadian energy shares.
Hilliard MacBeth and his clients may trade in securities that are discussed in this weekly blog.
The opinions expressed in this report are the opinions of the author and readers should not assume they reflect the opinions or recommendations of Richardson GMP Limited or its affiliates. Assumptions, opinions and estimates constitute the author's judgment as of the date of this material and are subject to change without notice. We do not warrant the completeness or accuracy of this material, and it should not be relied upon as such. Before acting on any recommendation, you should consider whether it is suitable for your particular circumstances and, if necessary, seek professional advice. Past performance is not indicative of future results. The comments contained herein are general in nature and are not intended to be, nor should be construed to be, legal or tax advice to any particular individual. Accordingly, individuals should consult their own legal or tax advisors for advice with respect to the tax consequences to them, having regard to their own particular circumstances.. Richardson GMP Limited is a member of Canadian Investor Protection Fund. Richardson is a trade-mark of James Richardson & Sons, Limited. GMP is a registered trade-mark of GMP Securities L.P. Both used under license by Richardson GMP Limited.