The Canada Mortgage and Housing Corporation (CMHC), Canada's government-owned provider of mortgage default insurance for lenders, provided more detail on various Canadian housing markets and the news isn't good. CMHC's assessment of housing markets found that Toronto, Winnipeg, Saskatoon and Regina showed "strong evidence of problematic" conditions. The report stated "the most prevalent issue in 11 out of the 15 market centres covered … is overvaluation."
One BNN anchor called CMHC's language "stunning".
If Evan Siddall, CEO of CMHC, says, "I'm still worried," shouldn't all Canadians be worried?
This report, and a speech by CMHC CEO Evan Siddall a week later, caused a ripple of concern to spread through the Canadian financial community.
BNN conducted several interviews on CMHC's view about housing "overvaluation", including twice with me. Issues like overvaluation, the flight risk of foreign buyers and their "hot" money, and a new openness at the CMHC provided lots of talking points.
The October 29 CMHC report warned about overvaluation and stated:
"However, with household equity being concentrated in a non-liquid asset such as housing, the impact of such a shock could be amplified by the need to sell, resulting in a sudden glut of homes for sale, putting downward pressure on prices and eroding household wealth. The obvious feedback loop is something we want to avoid."
In one interview a bank-employed economist, Sal Guatieri, states that two markets in particular — Toronto and Vancouver — are overheated but it wouldn't be a problem for the overall housing market when they correct, adding that only one-quarter of Canada's population lives in those cities. Here's why I disagree:
By value, 55% of the Canadian single family home market in eleven cities is located in Toronto and Vancouver using data from the Teranet-National Bank HPI index. This index uses single family homes only, based on a rigorous methodology using land title records. In their six-city index the concentration for those two cities is even greater, at 65%. Click here for more information.

Table courtesy of Teranet-National Bank House Price Index
It seems intuitive that the most expensive houses will suffer the greatest drop in dollar value when the crash comes and perhaps the largest percentage decline as well, as there are few buyers for expensive houses. It also seems reasonable to assume that a similar amount (55%) of Canada's household debt is backed by homes in those two major cities. The chart shows that Canadian housing has almost tripled in value since 1999 and is up 80% since 2005.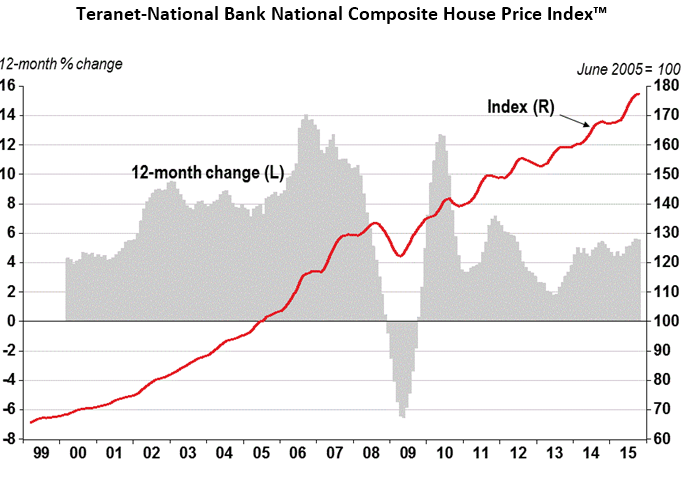 Chart courtesy of Teranet-National Bank House Price Index
If Vancouver and Toronto had incomes well above the Canadian average, like Manhattan and San Francisco, one could argue that their housing markets might correct by a smaller amount, as happened to housing in those U.S. cities in the '06 U.S. crash. But TO and VAN are very different from Manhattan and San Francisco when considering employment incomes. In Vancouver household income is CA$66,000, well below the Canadian median of CA$72,000 and Toronto's income is just average at CA$74,000. San Francisco's, on the other hand, is CA$100,780 and the median household income in Manhattan (New York County) is CA$92,855 – according to 2009-2013 US census data from those regions.
Vancouver's house price-to-income ratio is 11 and Toronto is 7, among the highest in the world. Moncton is the cheapest at 2.2. Here is the link to data from 2014 for several countries and cities.
So don't believe anyone that says — "it's only Vancouver and Toronto" and "it's only 25% of Canada's population". Housing dollar value, household incomes and stretched house prices are important indicators when examining the probability of a housing crash. And if 55% of the housing market by value corrects 20-30%, every single Canadian will feel the impact, even in Moncton. Foreign buyers will take their "hot" money and disappear. Yes, Canadians should be worried.
Hilliard MacBeth and his clients may trade in securities that are discussed in this weekly blog.
The opinions expressed in this report are the opinions of the author and readers should not assume they reflect the opinions or recommendations of Richardson GMP Limited or its affiliates. Assumptions, opinions and estimates constitute the author's judgment as of the date of this material and are subject to change without notice. We do not warrant the completeness or accuracy of this material, and it should not be relied upon as such. Before acting on any recommendation, you should consider whether it is suitable for your particular circumstances and, if necessary, seek professional advice. Past performance is not indicative of future results. The comments contained herein are general in nature and are not intended to be, nor should be construed to be, legal or tax advice to any particular individual. Accordingly, individuals should consult their own legal or tax advisors for advice with respect to the tax consequences to them, having regard to their own particular circumstances.. Richardson GMP Limited is a member of Canadian Investor Protection Fund. Richardson is a trade-mark of James Richardson & Sons, Limited. GMP is a registered trade-mark of GMP Securities L.P. Both used under license by Richardson GMP Limited.