According to Pew Research, about two-thirds of Twitter users get some of their news on that platform. And social media, especially Twitter, might be starting to change how people react to the news. After all, it's a long way from sitting and watching the evening news, with the TV on mute, to actively tweeting about events and perhaps affecting the reaction of political leaders and news professionals. It's a two-way process, following and commenting on the news. People will never go back to being passive receivers of filtered and in some cases, censored news.
But Twitter remains a niche player compared to Facebook. What are the chances of faster growth?
Pew Research studied 179 Twitter users (click here for the report) in an attempt to find out how people use Twitter for news.
This is timely as Twitter trades on the stock market, and many financial types are very active on Twitter, including me. You can find me at @hmacbe.
Twitter is less than ten years old. A month ago the stock traded at $25. Slightly below its 2013 IPO price (US$26). On its first day, two years ago, the stock soared above $45 and has been as high as $53 in the last twelve months.
What has Twitter accomplished in its first decade? With more than 300 million Monthly Active Users (MAU) and a market value of $19 billion, supporters would say quite a bit. But compared to Facebook (FB), which has 1.4 billion MAUs and a market cap of $280 billion, not so great.
There's a lot of angst in Twitter's San Francisco head office. Another CEO was pushed out recently to allow the return of founder, Jack Dorsey.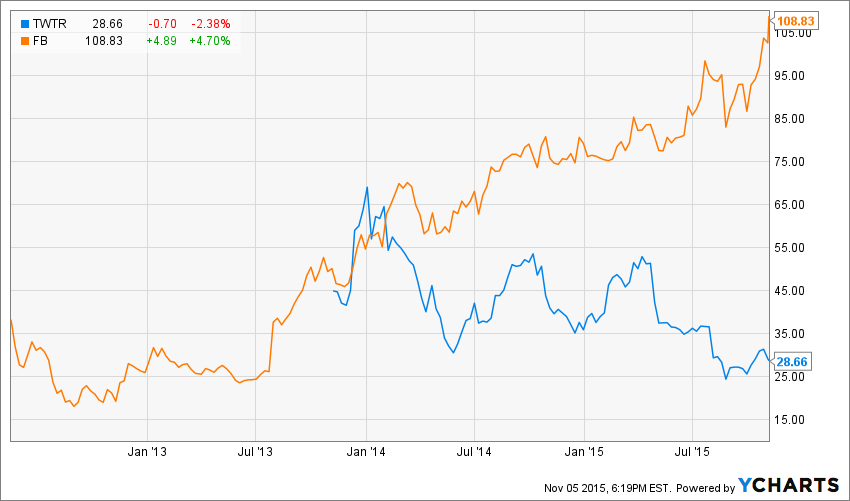 Chart courtesy of YCHARTS
Revenue is forecast as $2.2 billion and growing at 50% per annum. Morningstar forecasts that TWTR will grow "adjusted" profits 3-fold this year. But user growth is too slow (8%) for market analysts; hence the low share price.
Back to Pew's research: People love to know what is happening and they rush to be first to pass it on. People like to know what others are thinking. Tweets from news media make up a significant portion of the news feed of most users, according to Pew. People who tweet and retweet about the news have substantially more followers than others who Tweet about personal things, except for celebrities like Katy Perry who has 77 million!
Twitter is the first place many go to find out what's happening during an earthquake, uprising or a plane crash. Unlike most media sources there is no delay. Television shows display tweets on-screen as part of their show, and you can be certain that someone is monitoring Twitter during live TV news.
According to Morningstar, Twitter has a unique ability to know a person's "interest graph". This could be a powerful tool to sell advertising. Advertising is 90% of revenue, but ad revenue per user remains too low ($6.17) to attract investors' interest unless MAUs grow more quickly.
It appears that Twitter has failed, so far, to attract "mass market" users where advertisers would get more excited. So Twitter might remain the domain of a few hundred million hyperactive Twitter users who try to attract new followers by being especially witty or by retweeting interesting pieces of news.
The NFL has signed with Twitter, to provide short video replays during live games. Perhaps that will be the catalyst that transforms Twitter into a true growth company. For now slow growth and 320 million MAUs don't make it another Facebook.
Hilliard MacBeth and his clients may trade in securities that are discussed in this weekly blog.
The opinions expressed in this report are the opinions of the author and readers should not assume they reflect the opinions or recommendations of Richardson GMP Limited or its affiliates. Assumptions, opinions and estimates constitute the author's judgment as of the date of this material and are subject to change without notice. We do not warrant the completeness or accuracy of this material, and it should not be relied upon as such. Before acting on any recommendation, you should consider whether it is suitable for your particular circumstances and, if necessary, seek professional advice. Past performance is not indicative of future results. The comments contained herein are general in nature and are not intended to be, nor should be construed to be, legal or tax advice to any particular individual. Accordingly, individuals should consult their own legal or tax advisors for advice with respect to the tax consequences to them, having regard to their own particular circumstances.. Richardson GMP Limited is a member of Canadian Investor Protection Fund. Richardson is a trade-mark of James Richardson & Sons, Limited. GMP is a registered trade-mark of GMP Securities L.P. Both used under license by Richardson GMP Limited.