The tendency among investors to own companies based close to where they live is called "home country bias." People are overly concentrated in investments close to home, and in addition to stock market exposure they have real estate, jobs and government pensions. Canadian investors suffer more than most from this syndrome and it could be costly for them.
Is it important for Canadians to reduce their "home country bias"?
In a 2012 report from Vanguard, a large U.S.-based fund manager, Canada and Australia stood out as countries where investors are more concentrated than the average. To a degree, all investors suffer from "home country bias" and, for some, it doesn't represent a major risk. Americans can invest up to 50% in U.S. stock markets without going overweight. There are many, many companies in a multitude of industries that allow U.S. investors to stay close to home and still diversify their investments to lower the overall risk.
However, in some countries, like Canada, the size of the domestic market is so small (5% of world markets) and stock markets are so narrowly focused that buying the home market is dangerous. Canadians are 65% invested domestically, which is a 60% overweight. Australians are even more biased to home as they are almost 70% overweight their market (8% of world).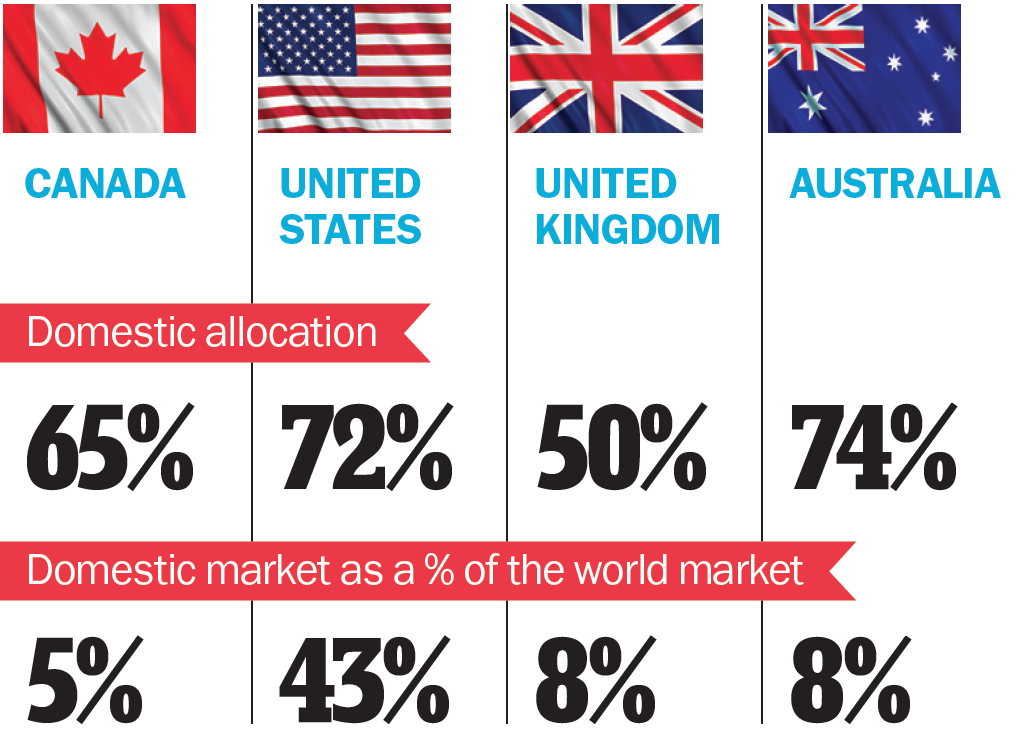 Chart courtesy of Money Sense, IMF, Barclays Capital and Thompson Reuters
Let's examine what a typical Canadian holds. The largest companies by market size (October 29 2015):
Royal Bank, Toronto Dominion, Bank of Nova Scotia, Canadian National Railway, Suncor Energy, Valeant Pharmaceutical, Bank of Montreal, BCE Inc., Enbridge and Brookfield Asset. The range in size from $109 billion for Royal Bank to $45 billion for the 10th rank. The top 10 mimic the market as a whole where Financial Services is about 35% while Energy is 20%, measured by sector. This is concentration on steroids.
Canadians have a valid excuse for being one of the top "stick to home" investor groups. From 2000 to 2008 the S&PTSX was one of the best performing markets in the world, generating about 6% per annum, including dividends. World markets and the S&P 500 lost money over that period, in Canadian dollars. Staying home through choice or being lazy paid well.
Since 2008 just the opposite is true. Canada generated a paltry 2% per annum while the U.S. market grew at 9%. But many Canadians haven't realized that times are changing. Complacency has been costly for the last seven years.
In another twist on "home bias" people invest near to home within countries. As Barry Ritholtz points out in a Bloomberg article, people who live in Silicon Valley are overweight technology. People who live in Alberta and Texas are too concentrated in energy.
So how much could "home country bias" hurt? Unless the current trend reverses it could put retirement plans in jeopardy and Canadians would fall far behind. The most probable outcome is this: Energy shares continue to underperform as the oil glut persists and bank shares slump as the housing bubble goes into either a "soft" or "hard" landing.
So let's get over our "home country bias" and invest outside of Canada. Don't worry about the Loonie at $0.75; it could go lower. There's an interesting and rewarding world out there full of diversified investments, outside of energy and banks. Call your Portfolio Manager or Investment Advisor and get started today.
Hilliard MacBeth and his clients may trade in securities that are discussed in this weekly blog.
The opinions expressed in this report are the opinions of the author and readers should not assume they reflect the opinions or recommendations of Richardson GMP Limited or its affiliates. Assumptions, opinions and estimates constitute the author's judgment as of the date of this material and are subject to change without notice. We do not warrant the completeness or accuracy of this material, and it should not be relied upon as such. Before acting on any recommendation, you should consider whether it is suitable for your particular circumstances and, if necessary, seek professional advice. Past performance is not indicative of future results. The comments contained herein are general in nature and are not intended to be, nor should be construed to be, legal or tax advice to any particular individual. Accordingly, individuals should consult their own legal or tax advisors for advice with respect to the tax consequences to them, having regard to their own particular circumstances.. Richardson GMP Limited is a member of Canadian Investor Protection Fund. Richardson is a trade-mark of James Richardson & Sons, Limited. GMP is a registered trade-mark of GMP Securities L.P. Both used under license by Richardson GMP Limited.