The concept of negative interest rates is difficult to understand. The depositor pays the bank for storing his money in the bank. We know that banks are hard-hearted, but that's ridiculous.
In Germany the two-year note yields MINUS 0.27%. In the U.S., Minneapolis Federal Reserve President, Narayana Kocherlakota, floated the idea of negative rates saying "he was willing to push rates down to give a boost to the labor market". If they come to the U.S., how long before Canada sees negative rates and what happens to the Loonie?
"Some of the experiences [in Europe] suggest maybe we can use negative interest rates and the costs aren't as great as you anticipate," said William Dudley, the president of the New York Fed, in an interview on CNBC on Friday (October 9, 2015). Please find article here.
So Dudley and Kocherlakota both trotted out references to negative interest rates. Central bankers are considering this unconventional tool.
Why would they do this? Well, in their estimation the deflation risk is too high. In spite of years of zero interest rates and multiple rounds of QE, inflation remains stubbornly low and employment is lagging. While it seems desperate negative interest rates represent the next logical policy step. While former Fed Chairman Bernanke had ruled out negative interest rates, Americans have watched Germany (and the Netherlands and Switzerland) experience negative rates without any obvious disruption, so now Bernanke's successors are willing to try it. How do they work? If you deposit a $100 bill into your bank account today a year later you have only $99.50 left, a negative rate of 0.5%. No sane person would do that. They would just leave their bills at home. But what about a pension plan? Those institutions must put their billions somewhere. So they accept the negative rate or they must invest the money into something more risky than government bonds. And that's what policy makers want!
Canadians had a version of this in the 1930s in Alberta when government "scrip" was issued. If the money wasn't spent, the "scrip" lost its value unless a tax was paid to reestablish its purchasing power. That tax is similar to a negative interest rate. The idea was to force people to buy things because in such a deflationary environment, people liked to hang on to their money.
So if the central bankers wish to force people to put their money back into circulation and avoid deflation they can penalize people for sitting on their cash in deposits or government bonds. In a world with slow growth the fear of deflation means drastic measures may be used.
Here is a chart of the direction of interest rates in several countries that are experiencing slow growth or outright deflation:
Chart courtesy of BCA Research Inc.
Rates are negative in Germany and France, and might be soon joined by the U.S. What about Canada? The two-year bond in Canada is still positive, at 0.53 percent, while the five-year rate is positive but a paltry 0.80 percent.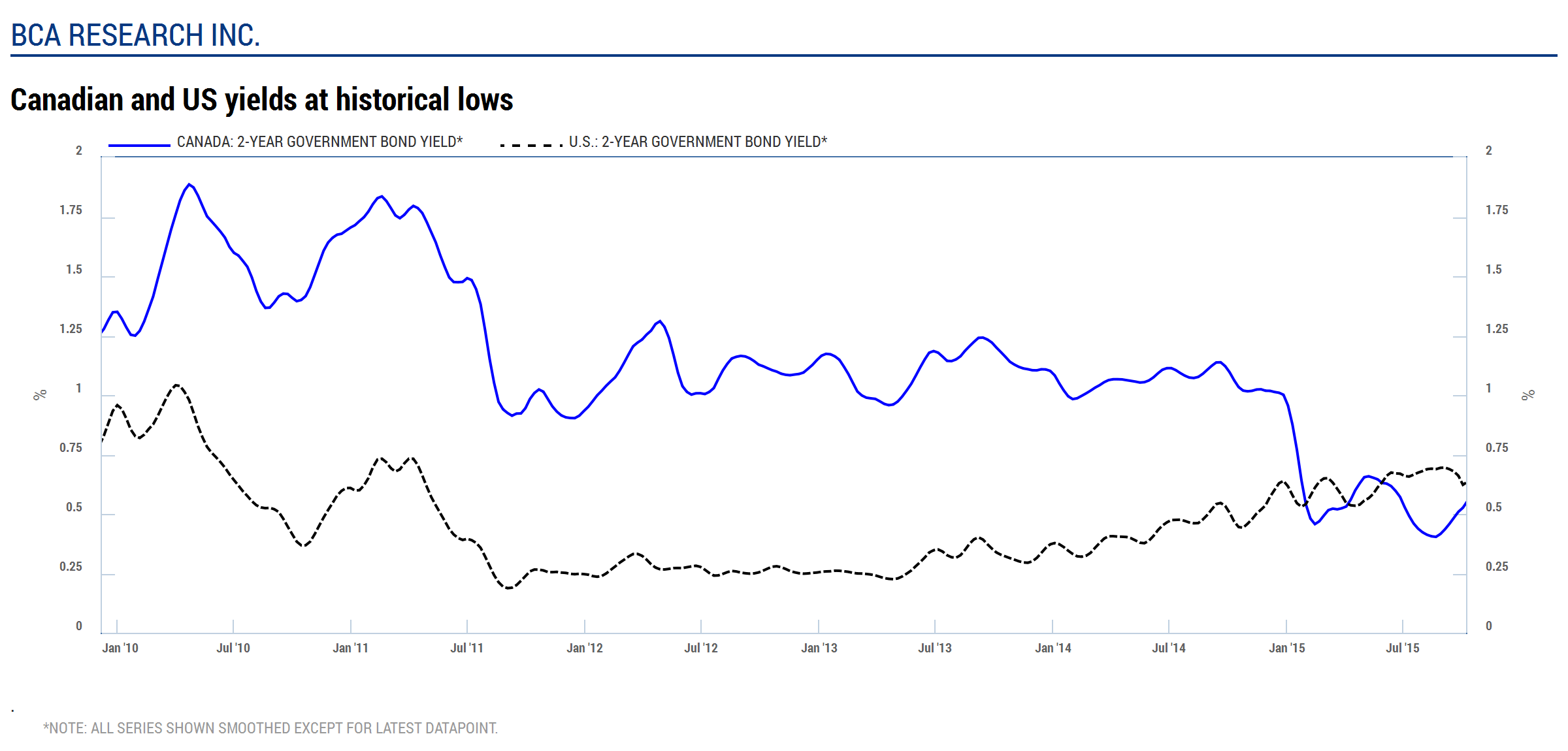 Chart courtesy of BCA Research Inc.
If Europe and the U.S. go to negative rates, money could move to Canada's higher rates and the Loonie would start to climb. Then Canada's chances of countering the investment slump in energy and materials with manufacturing exports from Ontario and B.C. disappear. So if the trend to negative rates spreads from Europe to the U.S. expect Canada to follow suit shortly after. But what does that mean for the out-of-control housing bubble in Toronto and Vancouver?
The leader that wins Monday's election, hopefully with a majority, will have to learn quickly about monetary policy and unconventional policy moves.
Hilliard MacBeth and his clients may trade in securities that are discussed in this weekly blog.
The opinions expressed in this report are the opinions of the author and readers should not assume they reflect the opinions or recommendations of Richardson GMP Limited or its affiliates. Assumptions, opinions and estimates constitute the author's judgment as of the date of this material and are subject to change without notice. We do not warrant the completeness or accuracy of this material, and it should not be relied upon as such. Before acting on any recommendation, you should consider whether it is suitable for your particular circumstances and, if necessary, seek professional advice. Past performance is not indicative of future results. The comments contained herein are general in nature and are not intended to be, nor should be construed to be, legal or tax advice to any particular individual. Accordingly, individuals should consult their own legal or tax advisors for advice with respect to the tax consequences to them, having regard to their own particular circumstances.. Richardson GMP Limited is a member of Canadian Investor Protection Fund. Richardson is a trade-mark of James Richardson & Sons, Limited. GMP is a registered trade-mark of GMP Securities L.P. Both used under license by Richardson GMP Limited.