No matter what happens in the October 19th election, change is inevitable. And the forces for new ideas, especially in government policies and economics are gaining strength as old concepts slowly but surely get swept away. Corporate profit margins are at record high levels. Can they hold up?
Here is an unscientific timeline of the evolution of thought around corporate taxation and economic theory.
In the late 1970s people tired of incessant demands for wage increases, strikes, inflation topping 10% per annum, tax rates of more than 50% and stagflation and excessive government regulation.
Deng Xiaoping, Leader of Communist Party of China 1978-1990s
"Let some people get rich first"
Ronald Reagan, President United States 1980-88
Economic recovery Act of 1981
Top tax rate for individuals fell from 70% to 50% and cut corporate tax rates. Federal government deficit ballooned to $221 billion by 1986 due to tax cuts.
From a peak corporate tax rate in the '70s of more than 50%, by 2011 the average effective corporate tax rate had dropped to 12.1%.
Margaret Thatcher, Prime Minister, United Kingdom, 1979-90
"Every regulation represents a restriction of liberty, every regulation has a cost"
Thatcher cut the corporate tax rate from over 50% in the late 1970s to about 35% in the 1980s.
Premier Ralph Klein Alberta, 1992-04
"Let's get the government out of the business of being in business"
Under Klein and his successors the corporate tax rate dropped eventually to 10%.
And here is President Reagan justifying those ideas in 1981: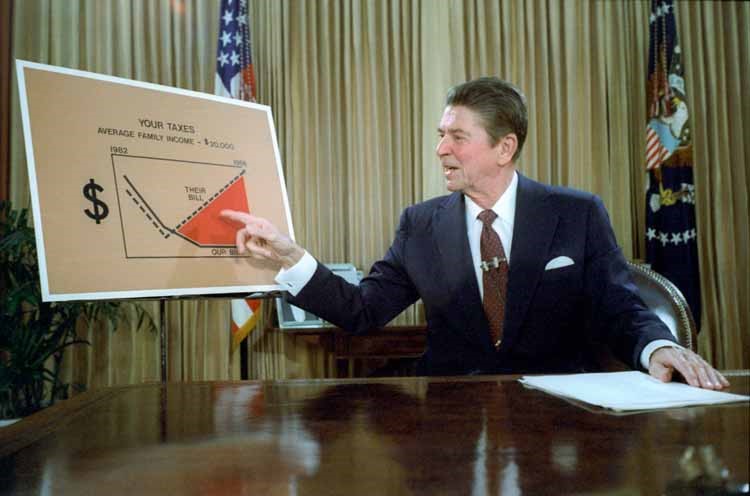 Picture courtesy of Ronald Reagan Presidential Library & Museum
Free enterprise attitudes prevailed for more than two decades as some members of the private sector enjoyed the wealth creation that ensued. But the mood started to shift just as the Global Financial Crisis hit in 2008.
After 2009 people who had been hurt by the crisis started thinking about the distribution of wealth.
Now, in 2015:
Jeremy Corbyn – newly elected extreme-left leader of the Labour Party, UK
"Corbyn promised to raise taxes on the rich, clamp down on corporate tax avoidance and use 93 billion pounds of corporate tax reliefs to create a government-backed national investment bank."
Bernie Sanders, "socialist" candidate for the Democratic Presidential nomination, USA, doing surprisingly well in the polls
"Establish a Wall Street speculation fee of 0.03% on the sale of all derivatives."
"End tax breaks for big oil, gas and coal companies"
"Tax capital gains and dividends the same as work"
Premier Rachel Notley – leader of NDP and Premier of Alberta
Expected in the October 27 2015 budget:
Tax rate on corporations will increase to 12% from 10%. Royalty review of oil and gas industry underway and the report is expected to recommend raising taxes and/or royalties.
Hillary Clinton, middle-of-the-road candidate for Democratic Presidential nomination
"To nearly double to the standard income tax rate of 39.6% for taxes on gains from investments"
"Redirect billions in oil company profits to alternative energy research to find solutions to our energy crisis"
A new direction for policy is likely that could involve a sharp swing to the left end of the political spectrum. We expect the arrival of new economic ideas that will replace the now discredited "trickle-down economics."
And that means that profit margins will go down and corporate tax rates will rise.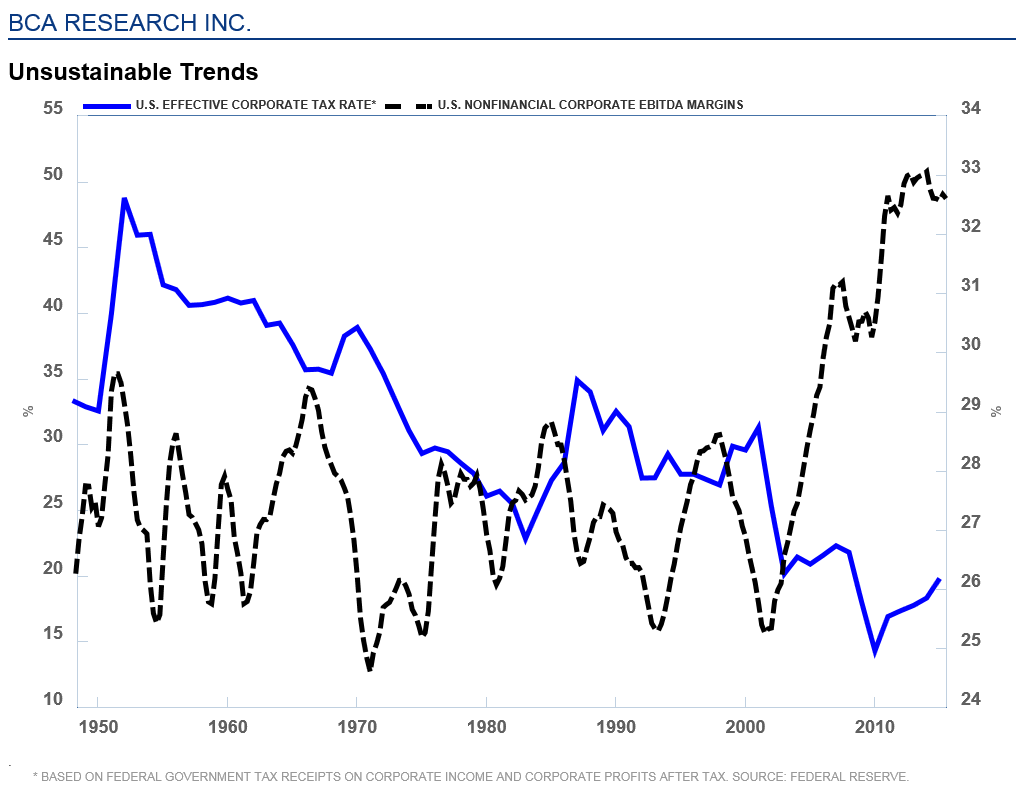 Chart courtesy of BCA Research Inc.
This graph shows an unsustainably high rate of corporate EBITDA* margins (dotted line and right hand scale) compared to the 60 years prior to 2000. Tax rates will increase and that will push profit margins lower. Pay attention to those left-wing radicals. People might be listening to them.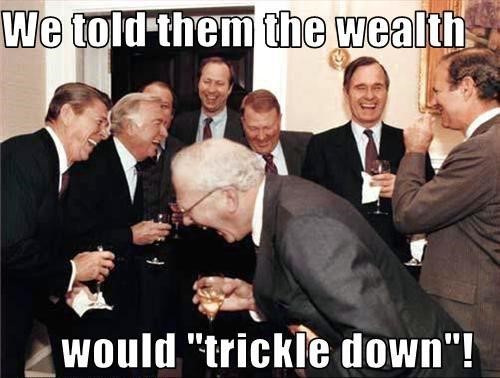 Picture courtesy of memegenerator.net
*Earnings before interest, taxes, depreciation and amortization
Hilliard MacBeth and his clients may trade in securities that are discussed in this weekly blog.
The opinions expressed in this report are the opinions of the author and readers should not assume they reflect the opinions or recommendations of Richardson GMP Limited or its affiliates. Assumptions, opinions and estimates constitute the author's judgment as of the date of this material and are subject to change without notice. We do not warrant the completeness or accuracy of this material, and it should not be relied upon as such. Before acting on any recommendation, you should consider whether it is suitable for your particular circumstances and, if necessary, seek professional advice. Past performance is not indicative of future results. The comments contained herein are general in nature and are not intended to be, nor should be construed to be, legal or tax advice to any particular individual. Accordingly, individuals should consult their own legal or tax advisors for advice with respect to the tax consequences to them, having regard to their own particular circumstances.. Richardson GMP Limited is a member of Canadian Investor Protection Fund. Richardson is a trade-mark of James Richardson & Sons, Limited. GMP is a registered trade-mark of GMP Securities L.P. Both used under license by Richardson GMP Limited.