The most heavily weighted sector in the S&P TSX (TSX) by far is the sector known as Financials. This category, which includes the Canadian banks as its largest sub-sector and includes life insurers, comprises 35% of the total value of the TSX as of August 31, 2015. Is such a large weighting in one sector justified? Can it continue?
The collapse in the Materials sector (third largest) which includes companies like Teck and Potash Corp along with weakness in the Energy sector (second largest) which includes heavyweights like Suncor means that concentration in the Financials sector is even greater than one year ago.
This enhanced concentration occurred in spite of the Banks component of the Financials sector performing poorly during the first eight months of 2015. The largest bank, the Royal Bank of Canada (RBC) experienced a decline in its share price of 10.5 percent, 2 percent more than the TSX itself.
As the second largest sector, Energy, slipped from 22 percent of the TSX in January to 20 percent at August 31 the Financials gained from 33.2 percent to 35.1 percent. It appears that investors fled the volatility of oil and gas companies to perceived safety in the Financial sector. Materials weighting declined even more than Energy, from 11.6 percent to 9.1 percent.
Year-to-date returns in Financials, Materials and Energy to August were all negative:
-17% Materials
-16% Energy
-5.7% Financials
So the increased weighting in the Financials sector might be just a matter of prices declining more slowly. But it's likely that this pronounced shift involves investors exercising a preference. Is choosing to buy more bank shares now a good idea? One way to check that is to look at other stock markets.
Directly comparable investments exist in the US, Europe, Australia and the rest of the world.
Australian banks offer a good benchmark because Australia's economy is similar in size to Canada, depends on natural resources, there is a housing market bubble and a small number of banks dominate the lending business.
This chart shows how Australian banks compare to banks and to stock markets in the rest of the world:
Chart courtesy of BCA Research Inc.
The Financials sector in Australia carries more than 30 percent weighting in that market. So Canada and Australia both have an unusual concentration in financial companies. Like Australia, Canadian banks benefitted from a resource boom and a housing bubble, both conditions that might start to unwind soon. In the case of commodity pricing that process has already started.
Another good comparable for Canadian banks is US banks. See how expensive Canadian banks are compared to their US peers, even after the 10 percent correction in Canadian banks: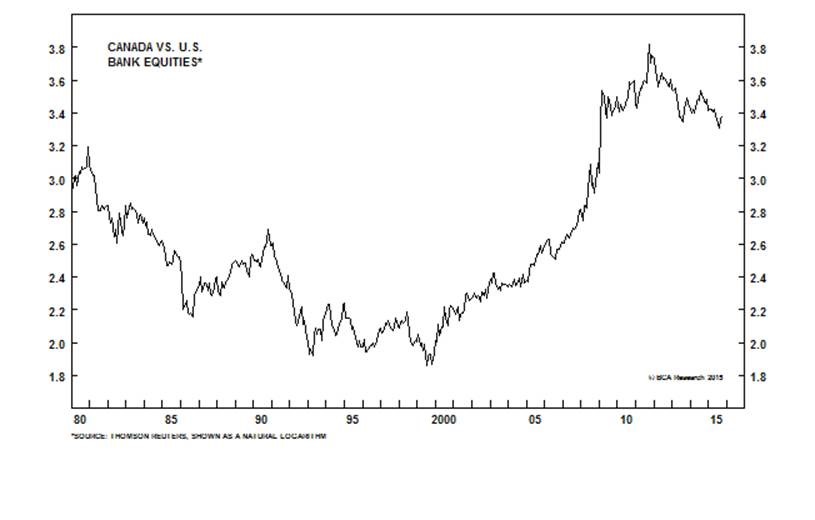 Chart courtesy of BCA Research Inc. and Thompson Reuters
As you can see, Canadian bank equities are much more expensive than their US peers. Relative valuation doubled from a low point in 2000, only reversing a small part of that move in the last couple of years. This most rapid change in relative value came during 2008-2010 when the US housing bubble burst, dragging US banks' valuation down by 80 percent.
The common economic factors for Australia and Canada are housing bubbles, rapid growth in household debt and dependence on commodity-related exports such as oil and gas, coal, base metals and iron ore.
Canadians (and Australians) would be better off seeking equity investments outside of their local bank and financial sectors. See my Weekend Notes from February 2015 that discuss Canadian bank valuations and prospects.
The opinions expressed in this report are the opinions of the author and readers should not assume they reflect the opinions or recommendations of Richardson GMP Limited or its affiliates. Assumptions, opinions and estimates constitute the author's judgment as of the date of this material and are subject to change without notice. We do not warrant the completeness or accuracy of this material, and it should not be relied upon as such. Before acting on any recommendation, you should consider whether it is suitable for your particular circumstances and, if necessary, seek professional advice. Past performance is not indicative of future results. The comments contained herein are general in nature and are not intended to be, nor should be construed to be, legal or tax advice to any particular individual. Accordingly, individuals should consult their own legal or tax advisors for advice with respect to the tax consequences to them, having regard to their own particular circumstances.. Richardson GMP Limited is a member of Canadian Investor Protection Fund. Richardson is a trade-mark of James Richardson & Sons, Limited. GMP is a registered trade-mark of GMP Securities L.P. Both used under license by Richardson GMP Limited.