There's been a half-decade collapse in share prices of gold mining companies. During the same period, the price of the commodity, gold, has corrected from a peak of about $1900 to the current level of $1155. But gold mining company shares lost much more. Is it time to take a fresh look at this out-of-favour sector?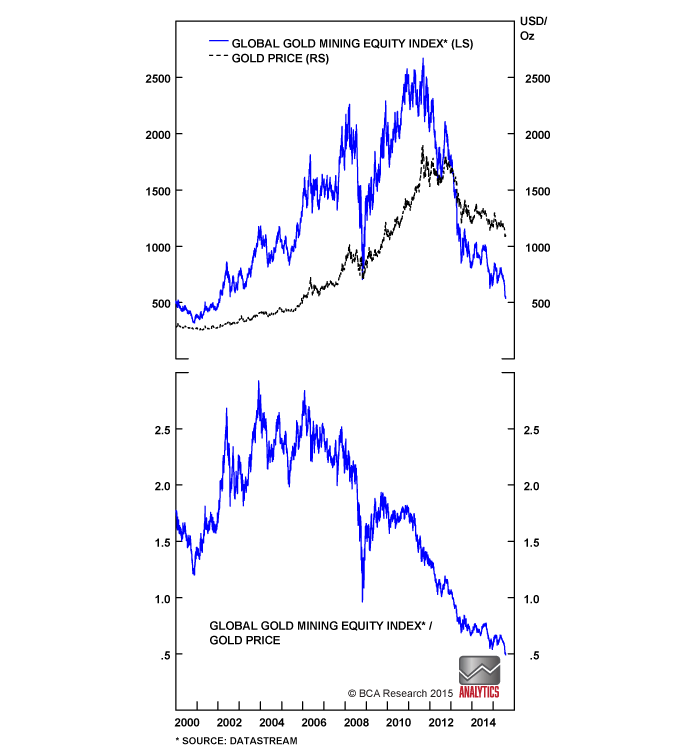 Chart courtesy of BCA Research Inc.
I wrote about this sector in a January 2015 post. It's worth another look.
From the graph we can see that the gold price declined about 40% from its 2010 peak, from $1900 to about $1155. This is a significant plunge although it's not as severe as some other commodities like crude oil which is down more than 70% from the 2008 top of $140. Other commodities like iron ore and copper are down by similar amounts.
For some reason the stock market turned extremely negative on the shares of gold mining companies and took that stock market sector down by much larger percentages than the underlying commodity. The lower panel shows the relationship between the gold mining share index and the commodity price.
In full disclosure I've owned several gold miners for my own account and clients' account for years. I consider these shares as a hedge against the collapse of the US dollar, and the exact opposite has happened so the hedge wasn't needed at all.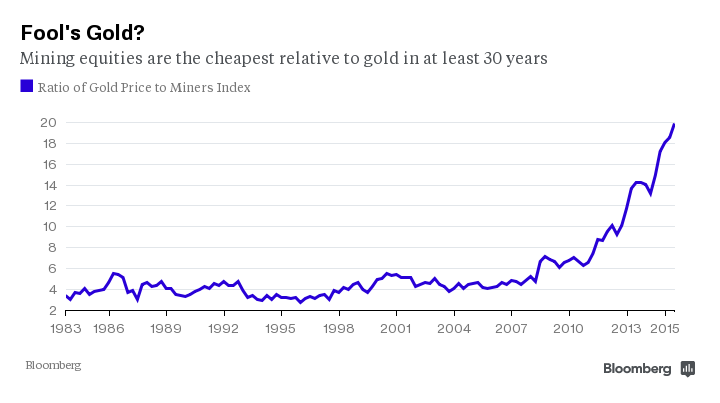 Chart courtesy of Bloomberg LLP
The last five years have been the worst experience for shareholders. Some companies like Agnico-Eagle are down about 70 percent from the peak in late 2010 and the company is trading for a similar price today as ten years ago.
Here is a chart of what's happened to earnings and revenues from the Agnico Eagle website:

Chart courtesy of Agnico Eagle
It's obvious that revenues (yellow) and profits (grey) have soared in ten years while share prices haven't kept up.
There's no guarantee that a company that has grown profits by many multiples will have share prices follow. But it might indicate a buying opportunity.
But what would be the catalyst?
First, the gold mining sector is a heavy user of energy. And usually it's the most expensive type of energy in the form of diesel fuel that is used. So the drop in energy prices will have a positive impact on expenses for mining companies. Energy costs were 18% of total costs.
Second, the collapse in emerging markets currencies that's been happening for a few months causes citizens of those countries to look for a "safe haven" in which to park their savings. They traditionally have turned to precious metals as a "store of wealth". That might explain why gold prices have been rising in the last few weeks while the US dollar has been strong, a very unusual correlation since gold is priced in US dollars.
Third some gold companies have most of their expenses in Canadian dollars while revenues are in US currency. I expect that the ratio of the two currencies will widen further as the Loonie declines. So this helps control expenses and fattens profit margins.
And finally as Agnico Eagle explained at the end of July, their "all-in" costs are under control and heading lower. After years of rising costs, partly because of changes in the method of calculation, mining companies are finally finding ways to cut costs and increase profit margins.
Guidance presented by Agnico Eagle shows that "cash costs" will be $600 to $620 while "all in sustainable costs" are expected to be $870 to $890 in 2015. These numbers compare favourably to gold prices of $1155.
The stock market has yet to catch on to this trend. Please get your own investment advice before taking any action but this sector is worthy of consideration.
The opinions expressed in this report are the opinions of the author and readers should not assume they reflect the opinions or recommendations of Richardson GMP Limited or its affiliates. Assumptions, opinions and estimates constitute the author's judgment as of the date of this material and are subject to change without notice. We do not warrant the completeness or accuracy of this material, and it should not be relied upon as such. Before acting on any recommendation, you should consider whether it is suitable for your particular circumstances and, if necessary, seek professional advice. Past performance is not indicative of future results. The comments contained herein are general in nature and are not intended to be, nor should be construed to be, legal or tax advice to any particular individual. Accordingly, individuals should consult their own legal or tax advisors for advice with respect to the tax consequences to them, having regard to their own particular circumstances.. Richardson GMP Limited is a member of Canadian Investor Protection Fund. Richardson is a trade-mark of James Richardson & Sons, Limited. GMP is a registered trade-mark of GMP Securities L.P. Both used under license by Richardson GMP Limited.