I had an experience recently that caused alarm bells to start ringing. During lunch with a friend I hadn't seen for ten years I asked about his investments. "I get 10% returns by lending privately," he said. I was curious to find out how he was getting that much.
As we talked it came out that he was lending in the "shadow banking" market. "I've never lost money," he declared. I had heard this before so I wasn't surprised.
I learned that he lends mostly to house builders, during the construction phase of the project.
It works like this:
The investor lends directly to the borrower but uses a loan facilitator, who takes a 2-3% annual fee for arranging the loan, supervising the borrower and collecting the interest and principal payments. The borrower pays 12-13% and the lender gets about 10% or a bit less.
Typically the loans are for a period of one year with interest payable in a 'bullet' payment at the end. A $1 million loan at 12% would require repayment of $1,120,000 on the anniversary.
In Canada there's been an unprecedented residential construction boom. Banks are wary of lending to "yellow metal" borrowers. In Alberta, housing construction was one of the hottest sectors, until the price of crude oil plummeted by more than 60 percent. So builders reached out to wealthy individuals who want to get a higher return. Many lenders on the private market have made great returns as the real estate cycle inflated but if the cycle turns they will see previous returns wiped out and their original capital could be at risk, too. This is especially true if they have rolled over the interest received into new loans, as many do.
Another friend who works in the industry tells me that typical borrowers are perennial optimists, believing that they will need the loan for a few months only. They expect to complete construction ahead of schedule and plan to pay off the loan early, which is allowed with no penalty. But borrowers almost never repay early. On the contrary, often the loan principal and interest is 'rolled' on renewal, with another 2-4% fee tacked on. The borrowers are 90% repeat customers who come back year after year. It's been a very good business.
Given Canada's construction boom the amount of money floating through the shadow banking system is enormous. Alberta has taken a larger portion of the total because of population growth and record housing starts. The following chart was taken from a Reserve Bank of Australia paper and illustrates the size of the shadow banking industry in Canada.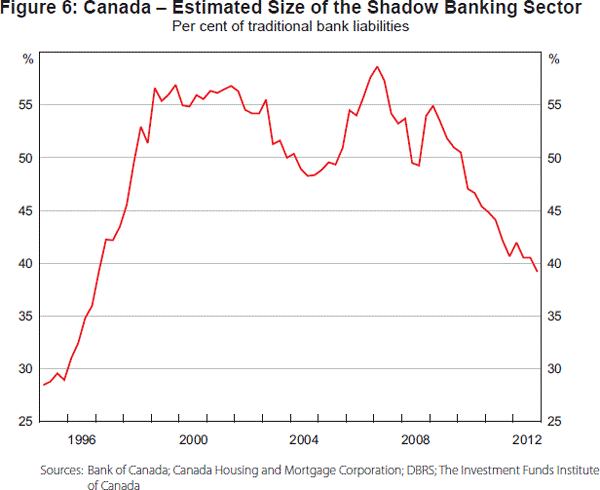 In an attempt to alert my friend that his investment approach might be too risky, I asked some questions.
"How much interest would you pay on a loan if you borrowed on a line of credit at the bank? 3%?"
"Oh no. I could borrow for less than 3%," he said.
I said, "OK. Imagine these people who are paying 12% or more for loans. What kind of risk do they represent, if they need to pay that much?"
The conversation turned to lighter topics as I'd gone as far as I could in trying to get him to reduce his exposure to "shadow banking" without jeopardizing a friendship.
Studies show that investors suffer from recency bias; a tendency to believe that recent trends will continue, even for cyclical markets like real estate. This bias causes investors to stick with their winning strategy too long, even when there is clear evidence of a change in trend.
The reality is simple. The Canadian private sector, including households and businesses, is one of the most heavily indebted in the world. Canada's booming housing sector has driven this most of this debt increase. 'Shadow bank' lending is a risky business.
The opinions expressed in this report are the opinions of the author and readers should not assume they reflect the opinions or recommendations of Richardson GMP Limited or its affiliates. Assumptions, opinions and estimates constitute the author's judgment as of the date of this material and are subject to change without notice. We do not warrant the completeness or accuracy of this material, and it should not be relied upon as such. Before acting on any recommendation, you should consider whether it is suitable for your particular circumstances and, if necessary, seek professional advice. Past performance is not indicative of future results. The comments contained herein are general in nature and are not intended to be, nor should be construed to be, legal or tax advice to any particular individual. Accordingly, individuals should consult their own legal or tax advisors for advice with respect to the tax consequences to them, having regard to their own particular circumstances.. Richardson GMP Limited is a member of Canadian Investor Protection Fund. Richardson is a trade-mark of James Richardson & Sons, Limited. GMP is a registered trade-mark of GMP Securities L.P. Both used under license by Richardson GMP Limited.