Along with other resource-backed currencies like the Russian ruble, Canada's dollar continues to follow the price of crude oil lower and lower. Even with a strong rebound in the value of exports for the month of June, released this week, the Loonie lost more ground against the US dollar.
Now that the price of WTI crude has resumed its slide, is the Canadian dollar about to hit fresh new lows?
The Canadian dollar is getting hit hard, from all directions it seems. A recession almost certainly started in late 2014 or early 2015; the price of crude oil has resumed its downward trend; the right-wing Conservative Party of Canada seems about to lose the October election to a group of left-of-centre Liberals or the even-further-left NDP and Canada is cutting interest rates while the US is about to start hiking. It could be called a death spiral.
The Loonie now trades in the mid-70s range, down from a high of 1.05 to the US dollar, reached October 2007, just a few months before WTI crude oil traded at more than US$140 in mid-2008. Now that crude is quoted at US$45, the Canadian currency can't avoid plummeting to new lows for the last decade.
What are the odds that the Canadian dollar re-tests its low for the last 40 years? The low of about 63 cents was reached back in early 2002 when WTI was $18.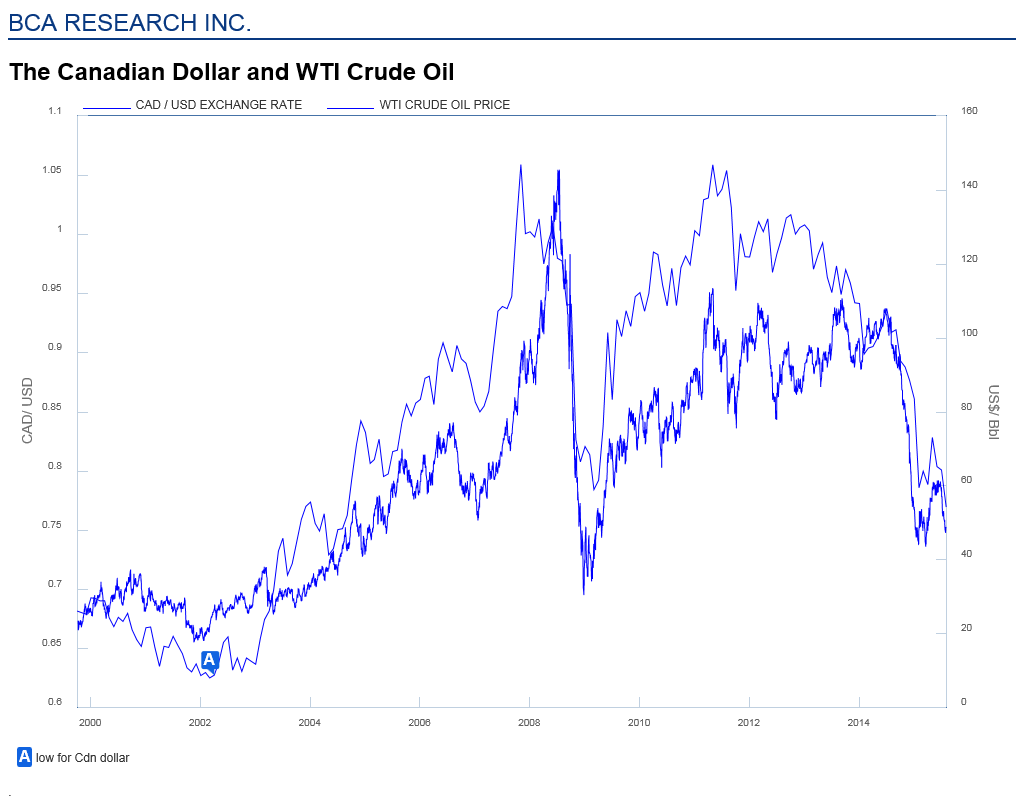 Chart courtesy of BCA Research Inc.
Even though Canada exports large amounts of other commodities, including potash, uranium, aluminum, iron ore, nickel, copper, metallurgical coal, lumber and hydro-electric power, the market seems to consider the Canadian dollar purely as a hydrocarbon-based energy play. And that could be a problem. Canada exports a large amount of crude oil to the US but the US produces increasingly large amounts of their own oil, especially in the form of shale oil in Texas and North Dakota.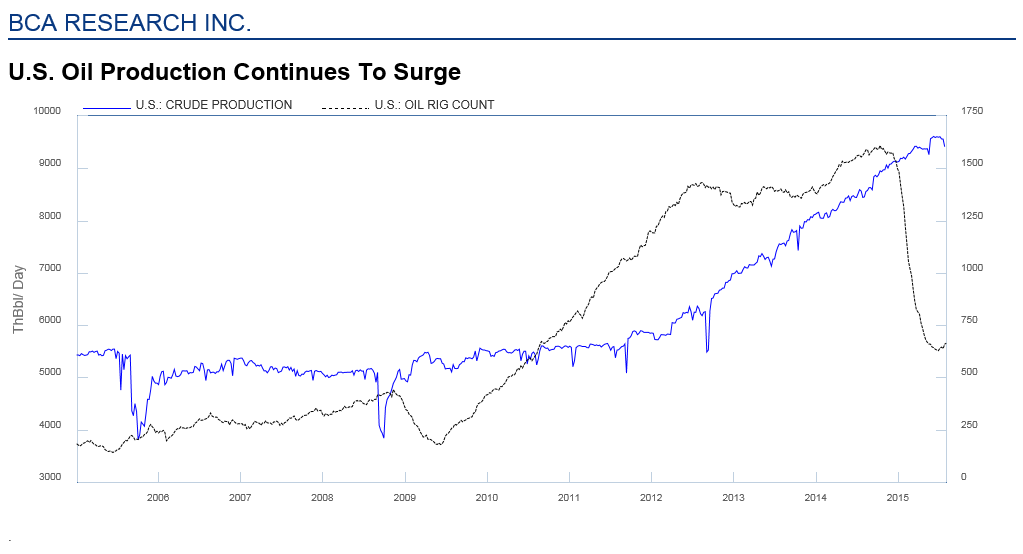 Chart courtesy of BCA Research Inc.
This chart shows that crude oil production has almost doubled in recent years, from 5 million barrels to almost 10 million barrels per day. Even though active rigs have declined from 1600 to less than 700, advances in technology for drilling means that fewer rigs produce more oil.
Predictions about shale oil that forecast sizeable declines in flow rates after the first year have proven to be grossly exaggerated. While there is a decline, further stimulation of the wells can increase the flow rates. Shale oil drilling continues to produce more and more oil as the drillers learn about how to maximize production. Recent reports indicate $40 per barrel can still be profitable for this new source of production.
At the same time as the United States is doing better than expected, countries like Iran that have large deposits of oil are coming back into the export market after years of sanctions.
Canada went all-in on energy at a bad time, just as the predicted worldwide shortage of oil turned into a surplus.
While Canadians will feel the negative impact of this reversal for the next several years, in the long run it will be a good thing. The sooner that Canadians learn to use a highly educated workforce for innovation and technological advancement the better. The loss of the surplus rent earned from exporting crude oil at more than $100 per barrel was necessary to inject a sense of urgency into the rebalancing process.
The opinions expressed in this report are the opinions of the author and readers should not assume they reflect the opinions or recommendations of Richardson GMP Limited or its affiliates. Assumptions, opinions and estimates constitute the author's judgment as of the date of this material and are subject to change without notice. We do not warrant the completeness or accuracy of this material, and it should not be relied upon as such. Before acting on any recommendation, you should consider whether it is suitable for your particular circumstances and, if necessary, seek professional advice. Past performance is not indicative of future results. The comments contained herein are general in nature and are not intended to be, nor should be construed to be, legal or tax advice to any particular individual. Accordingly, individuals should consult their own legal or tax advisors for advice with respect to the tax consequences to them, having regard to their own particular circumstances.. Richardson GMP Limited is a member of Canadian Investor Protection Fund. Richardson is a trade-mark of James Richardson & Sons, Limited. GMP is a registered trade-mark of GMP Securities L.P. Both used under license by Richardson GMP Limited.