Various measures of value in equities and the stock market are flashing warning signs. Stock market prices have rallied for six years now, after bottoming at reasonable prices in March 2009.
Have prices gone too high? It's time to examine a couple of the tools that we as portfolio managers use to decide when stocks are expensive.
From this chart, known as CAPE or cyclically-adjusted price-to-earnings ratio, it seems clear that stock prices have seldom been more expensive than they are now in the U.S., going all the way back to 1880. The author, Robert Shiller - Nobel Laureate in Economics and Professor at Yale - uses a ten-year average for earnings from S&P 500 stocks and deflates the measure by inflation. This makes the CAPE measure more stable over time as short-term fluctuations in stock prices are less important than longer term trends.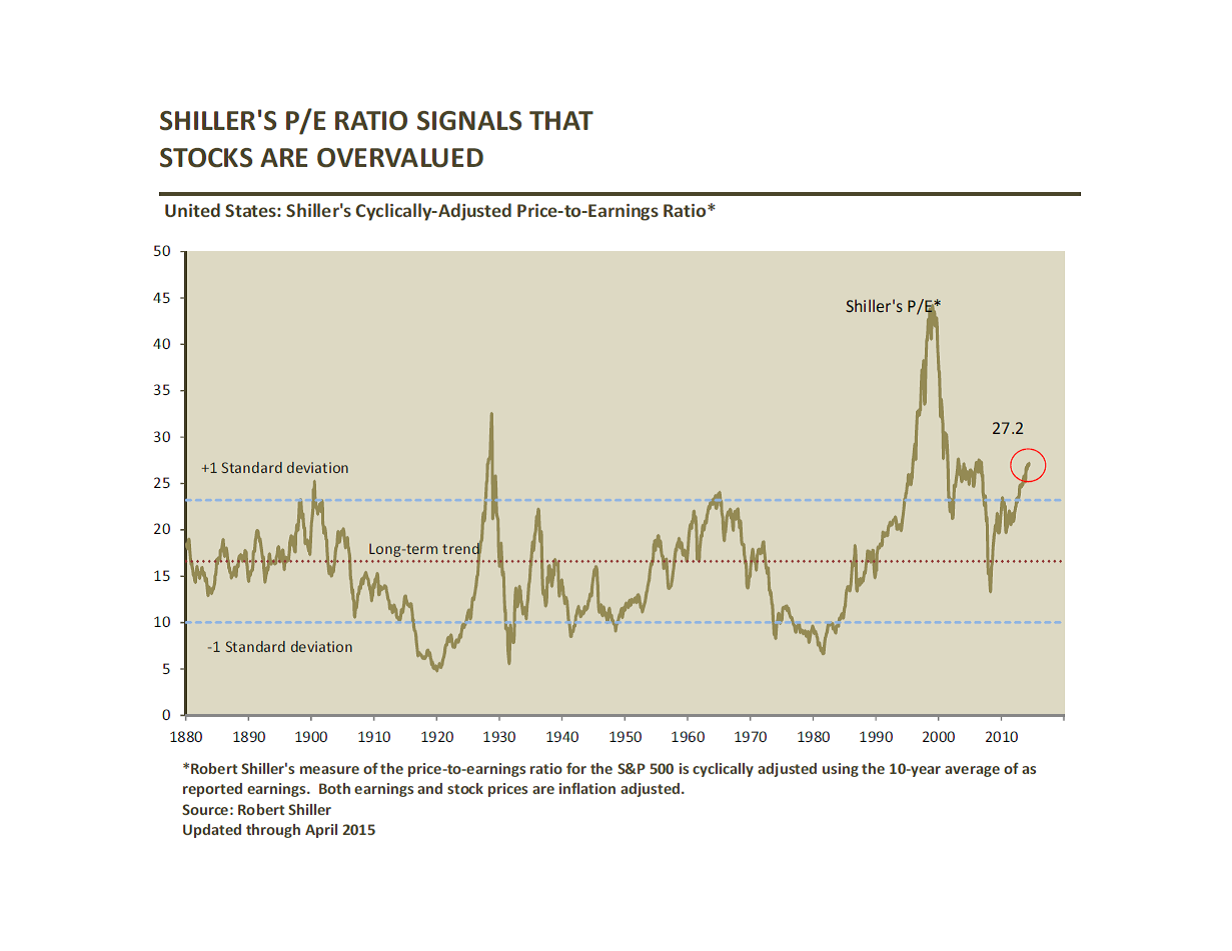 The data from this chart can be found here.
We use this graph when we meet with clients to review their balance of assets and risks. Also it helps us decide how much exposure we wish to have to the most important stock market in the world.
For the last six years we have preferred the US stock market over the Canadian market because it has more diversified and high-quality companies in different sectors outside of financials, energy and materials. Sectors such as healthcare and technology offer many choices among profitable and well-managed companies. However, the chart tells us that it's time to be careful as the market has been more expensive only in bubble years such as 1929 and 2000.
Many analysts, if given the chance, can quickly come up with convincing reasons why this period of extreme valuations makes sense. For example, they might point out the fact that interest rates are very low, making other assets unattractive. They could mention that the Federal Reserve is very accommodating with generous
amounts of stimulation that forced trillions of dollars into stock and bond markets, pushing prices higher. More recently they would point out that low oil prices are positive for the economy for most of North America, except for a places like Alberta, North Dakota and Texas.
While these arguments make sense in explaining what has happened over the last six years of steady gains, they fail to show how the market could make further gains from these levels. None of these factors seem likely to persist for much longer.
In fact, the Federal Reserve ended their QE program in late 2014, meaning that a key support for the market is now removed. The idea is that an increasing rate of growth in the economy would replace the need for extra stimulus. And that may happen.
Jeremy Grantham, head of GMO of Boston, makes a strong case for looking at current values with skepticism in his most recent quarterly letter Q1 2015. He expects that the S&P 500 is about 5 percent from reaching the two sigma level, based on a normal distribution of probability. Two sigma, or two standard deviations, refers to observations that are outside of the normal distribution ninety-five percent of the time. In other words you would expect stocks to be this expensive only in five years out of one hundred. And that matches quite nicely with Shiller's graph.
In spite of Shiller's graph and Grantham's probability-based expectations, the optimistic case prevails because the market does make returns over the decades that are higher than inflation, bonds and real estate assets.
But the market also sends investors a nasty surprise every five to ten years, to remind us that making money from the stock market requires a lot of patience and to test those who aren't committed enough. Investors have to be willing to weather both good years and bad years with stoic determination.