The Japanese stock market peaked in 1989. As measured by the Nikkei market index, stocks are trading at about half of that peak more than two decades ago.
Is it time to dive into the long-depressed Japanese equity market? Or is this just another false dawn, in a long sequence of upturns that fizzle out after a bit?
Japan is one of the most ignored stock markets in the world. For years investors have poured cold water on the idea of investing in Japanese stock markets and most of the time that's been the right attitude. Rigid business structures, overbearing bureaucracy, dreadful demographics and many other macro factors convinced investors that it was safe to skip over the markets there. A February 10, 2011 article in the Economist leads with a discussion of barely profitable Japanese companies, which they call "zombie" corporations. "These things are quivering heaps of excess baggage," said Peter Fuchs, quoted in that article.
But 2011 is now four years into history and a look at recent results in the earnings of Japanese companies reveals signs of life. As BCA Research shows, Japanese shares have seldom been this cheap, as measured by the Shiller P/E methodology.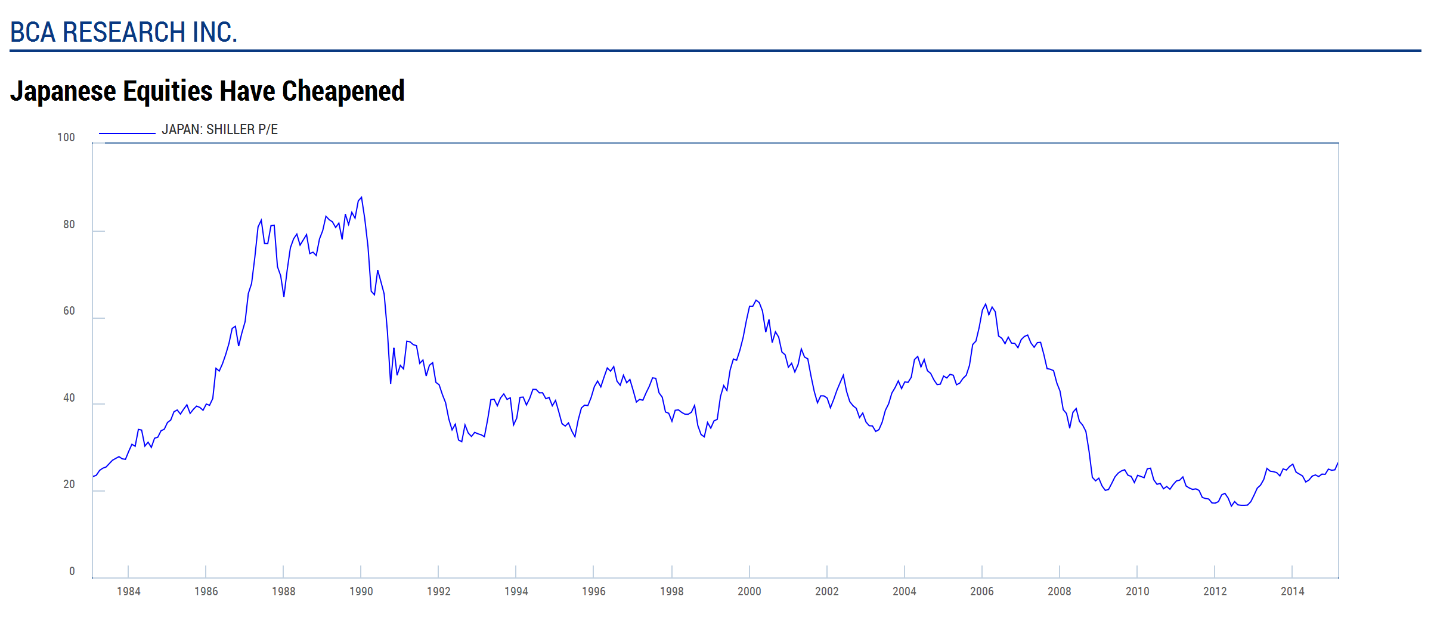 Source: BCA Research
Problems still exist. For example, the Japanese central government carries the highest debt load in the developed world, although they've never had any problem financing the debt. Many successive Prime Ministers have tried to institute reforms but are voted out before anything gets done. The recent re-election of Prime Minister Abe signals a change in that trend and offers some hope.
According to MRB Partners in a recent report (April 21, 2015) profit margins in Japan reached record high levels at the operating level and hit 5% at the pre-tax level. This recent surge in profits is unusual as records going back to the 1970s show profits seldom earning more than 3-4% on sales, much lower than similar US industry norms. Of course, there are differences that make comparisons difficult due to higher corporate taxes in Japan and other accounting differences.
The Japanese government, along with many others, is trying to get Japan's currency, the Yen, to decline in order to regain a competitive advantage in exports. Currency risk is a factor so most investors buy Japanese equities but hedge the currency.
Richard Koo, in his ground-breaking book about "balance sheet recessions" points out that Japanese businesses have been de-leveraging their balance sheets most of the time since the 1990s. But that long period of reducing debt might have run its course as in the last few years businesses are starting to borrow and spend a bit more. If business leaders start to use debt, leverage will rise, improving profit margins even more.
To quote MRB: "Japanese corporate profitability has improved markedly in the current economic cycle … despite tepid revenue growth". That sounds pretty good, at least for Japan.
Before jumping into the Japanese market it's important that investors consult an advisor. There are still some serious risks, not the least being the slowing trend in international trade and the aforementioned currency risk.
But our feeling is that now might be a good time to dip a toe into the water, as Japan is in a different cycle from most of the rest of the world, and that means Japan would add diversification to most portfolios. If corporate leaders become interested in maximizing profits (seldom a priority before) there is still room for substantial further gains in earnings and share prices.