It's about four months since OPEC discipline fell apart with the announcement by Saudi Arabia that they are no longer willing to play the role of "swing producer" in crude oil markets.
On March 23, 2015 the Saudis reiterated that statement saying, "We repeat that, as for prices, the market determines it". See Reuters article here.
What does this mean for the Canadian energy sector and Canadian investors?
Before we know what to do with stocks we need to examine the actions of the Saudis and OPEC. What is Saudi Arabia doing and why?
The Saudis decided to guard the long-term viability of their oil industry by sacrificing short-term revenues and risking the collapse of OPEC. Saudi Arabia can do this because it has advantages that others lack. Elsewhere in the world, producers don't have the luxury of taking the long view, as their daily cash flow is essential to survival. Many companies borrowed to expand their production capacity and thus must keep earning cash to pay interest to the lenders or they will lose control of their companies.
On the other hand, the Saudis have amassed hundreds of billions of dollars during the last fifteen years. They have no debt. And the Saudis have other advantages in the high-stakes poker game that is playing out now. They produce oil at much lower costs. The government-owned Saudi oil company, Saudi Aramco, doesn't reveal their exact costs but the Saudi oil minister, Ali Naimi, says that Saudi Aramco can produce at $5 per barrel.
Here's his December 2014 interview. I urge all readers to take five minutes and read this short, enlightening piece.
On a daily basis the Saudis produce about 10 million barrels/day and can go to 12 million barrels. Russia and the US produce about 9.5-10 million barrels each. Canada's total production is tied with China for 4th place at 4 million barrels.
In North America, the oil industry operates differently. Private sector companies dominate, not government-owned corporations. Most trade on stock markets and must keep shareholders happy on a quarterly basis. Production costs are higher, estimated in a range of $30 up to $60 per barrel depending on the type of rock and formation.
In Canada, Alberta produces most of the oil although there is production in Saskatchewan and Manitoba. Canadian costs are much higher than in Saudi Arabia for heavy oil and bitumen mined or produced by steam injection. Transportation is more expensive by rail or pipeline than ocean-going ships. Most of the new production in Canada comes from heavy oil and oil sands deposits totaling about 2 million barrels per day. Oil sands production, both mining and steam injection, is about $20 to $40 on an operating basis, with $80 and higher needed to cover all capital costs. Although the Saudi minister didn't mention Canada, Alberta's high-cost production is as vulnerable as the Russian production and the US shale that the Saudis are trying to knock out.
What should investors do? Well, first let's look at recent valuation changes in share prices.
The S&P/TSX Capped Energy Index ETF peaked last July at about 20 and recently traded at 13.46 (close on March 20), a decline of about 32%.
Cenovus, a major producer of steam-injected oil, traded at $33 last July and now trades 33% lower at $21.
Suncor, the largest Canadian producer that absorbed Petro-Canada in a 2009 merger, traded at $45 last summer and now fetches $35 per share, a decline of less than 25%.
We can surmise that investors remain optimistic about the short-term future for energy given modest share price declines compared to the 55% drop in oil. Oil seems to be steadily dropping.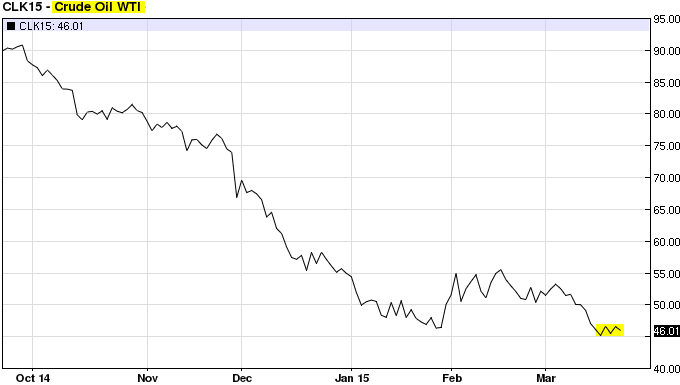 Chart courtesy of The Daily Shot.
Will the drop in crude oil and the build-up in excess inventory of crude lead to another sell-off in share prices? Or will investors' optimism be rewarded by a rebound in the oil price later this year and a turnaround in the bear market for Canadian stock prices?
It matters a lot to Albertans and Canadians as there's a lot riding on the outcome. Not just investment in stock market but also many thousands of jobs in Alberta and Saskatchewan. Home prices are highly correlated with crude oil prices, and real estate makes up a large part of the net worth of most Canadian families. Albertans are heavily indebted borrowers.
In the Global Model portfolio of 24 stocks that we manage for our clients we have a zero weighting in energy shares; preferring to watch from the sidelines for now. Our bet is that there will be better opportunities to buy later this year or next year in the Canadian energy sector.