A glut of condos in Toronto looms as the completion rate soared to an astronomical 10,000 units in January 2015, according to BMO economist Sal Guatieri. People have been warning about condo overbuilding for years but the units were always absorbed, somehow. But this time it might be different.
On Wednesday February 26, 2015 this Global News report appeared, link here.
Written by Jamie Sturgeon the story detailed a record number of condo completions. I heard about it via Twitter; follow me @hmacbe.
How can more than 10,000 units be added in just one month? At 300 units per building, and 10 units per floor that number means that 33 buildings averaging 30 stories were completed. Apparently a very large number of people are about to take possession of a new condo or multiple condos. In some cases the initial down payment was made several years ago, in 2011, and construction was delayed. After all, the building can't go ahead until enough units are "sold" for the developer to obtain construction financing. We can guess that financing requires that about 60-70% of the units be supported by a down payment and must be registered to an owner, whose commitment includes a non-refundable deposit. Then the bank or alternative lender will forward money to the developer to complete construction.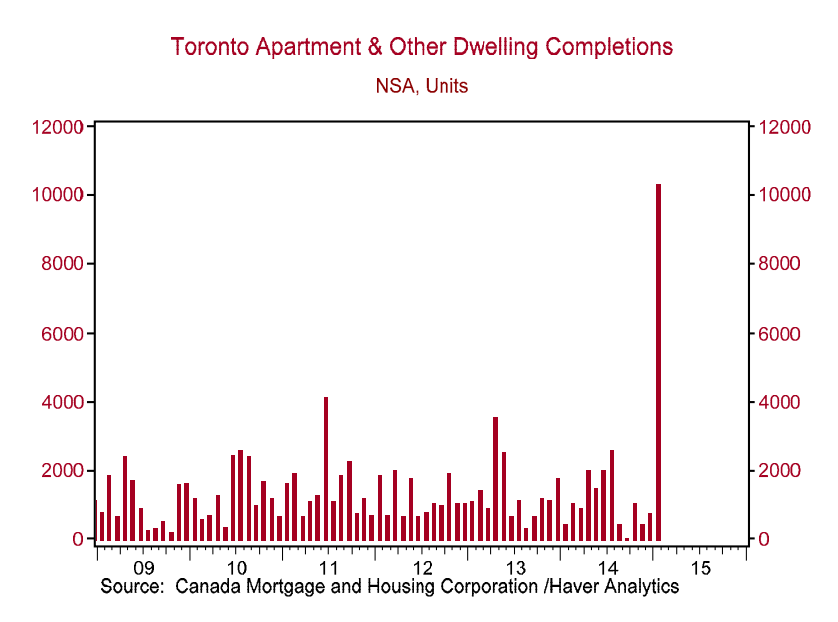 In January 2015 the balance of the money was due. If the units average 300k, the total cost would have been $3 billion.
According to Susan Pigg, The Toronto Star, in a December 22, 2014 article, about 16,500 units were completed in calendar year 2013 and about 20,000 to 25,000 in 2014. So in just one month in 2015 about the one half to two thirds of a full year were delivered. And 2013 and 2014 were close to record years!
What does this mean for demand and supply? Can the GTA absorb such a large number of new dwellings?
News stories over the last few years highlighted the frenzied nature of condo construction and sales. Introductory sales events, attended only by the privileged few, identified as "Platinum" buyers and agents, often resulted in a sold-out building in a few hours. Anecdotal stories abounded of buyers putting deposits on 20 units at a time. Usually these "heavy hitters" were described as Asian or Russian or even Iranian. But that was 2011. And we have to assume that some, even a majority, of those buyers, of multiple units were intending to flip the units for a quick profit before actually taking possession, which means putting up the balance of the money for the units. Did they come through? Did they try to walk away, leaving their deposits behind and risking legal action?
We will know in a few months as this vast number of completions works its way through the system, like a monthly meal through a large snake. Will it go smoothly or will there be a serious case of indigestion?
It seems likely that a lot of those condos will end up in the rental pool. And according to Ben Rabidoux, President of North Cove Advisors, almost all owners of rental condos are experiencing negative cash flow on a monthly basis, due to depressed rents, high leverage and rising condo fees.
Here is Ben's take:
"The financial staying power of amateur speculators to incur increasingly punitive negative monthly cash flow will be a key determinant of how the condo markets in major Canadian metros fare over the next couple years." — Ben Rabidoux, "Weekly Wrap", August 2014
So it seems that Torontonians who are feeling pressure to buy into an extremely expensive housing market would be better off to rent a brand new condo and wait for the housing correction to bring prices back down to affordable levels.