Tesla, the world's leading electric automobile manufacturer, announced a sales record for the quarter ending December 31.
The share price of Tesla is up about 10-fold since March 2020.
Is competition from Volkswagen and Toyota about to derail Tesla's dominance?
The stock market valuation for Tesla hit $1 trillion, around the same time Apple's total worth reached $3 trillion. But Apple makes about $100 billion in annual profit, giving a Price to Earnings ratio of about 30.
Tesla will make $9 billion profit, for a PE ratio of 110.
Obviously Tesla is in an impressive growth phase. Annual deliveries for 2021 were about 936,000 vehicles, giving Tesla a top-of-the category profit of $10,000 per unit.
The two largest OEMs, Volkswagen and Toyota, each produce around 9 million units per year, and profit is $20 billion and $27 billion respectively. So Tesla made about 1/3 to ½ the profits of those companies with sales that were only about 10 percent of their totals.
The stock market gives Tesla a lot of credit for its unusual ability to make profits and for its leadership position in EVs.
Tesla has two new Gigafactories currently under construction, in Austin, Texas and Berlin, Germany.
Both of these factories will add a material amount of production to Tesla's annual total. Tesla could be selling 2 million units by the end of 2022, and profits could double, if demand for Tesla cars remains strong. People ordering the Model 3 are facing wait times of six months.
Elon Musk estimated that by 2030 Tesla will be selling 20 million vehicles. Musk is known for throwing out "stretch targets" that seem too ambitious. That means about 15 more Gigafactories like Shanghai, which is expected to eventually produce 1 million vehicles per year. Since 2030 is 8 years away, that means building at least 2 Gigafactories per year. As there are two currently under construction, and they take about a year to complete, it could be done.
It will get easier to build new EV factories. Assembly lines can be standardized as Henry Ford did in the 1920s. And EVs are much less complicated to manufacture.
Tesla's target of 20 million would be less than ¼ of the total vehicle sales in 2030, estimated to be 95 million. In the BEV space Tesla would supply about ½ of the 40 million total estimated by BNEF.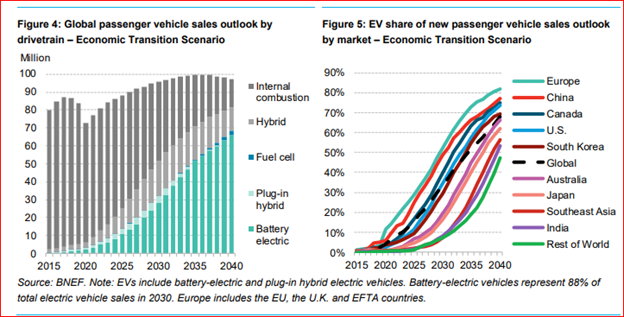 Source: Bloomberg, BNEF
Volkswagen and Toyota have work to do to challenge Tesla's dominance.
Volkswagen said recently they will invest Euro 89 billion EVs, about 56 percent of total investment by 2025. About ¼, or 2.5-3 million cars, will be fully electric by 2025.
Toyota is further behind in the pure BEV segment, although the Prius Hybrid is a Toyota. They announced 30 new BEV models by 2030 with a 3.5 million sales target in a major shift.
These plans from those two leaders are not nearly ambitious enough to knock Tesla off the podium.
But a lot will change in the EV market by 2030.
Hilliard MacBeth
The opinions expressed in this report are the opinions of the author and readers should not assume they reflect the opinions or recommendations of Richardson Wealth or its affiliates. Assumptions, opinions and estimates constitute the author's judgment as of the date of this material and are subject to change without notice. We do not warrant the completeness or accuracy of this material, and it should not be relied upon as such. Before acting on any recommendation, you should consider whether it is suitable for your particular circumstances and, if necessary, seek professional advice. Past performance is not indicative of future results. The comments contained herein are general in nature and are not intended to be, nor should be construed to be, legal or tax advice to any particular individual. Accordingly, individuals should consult their own legal or tax advisors for advice with respect to the tax consequences to them, having regard to their own particular circumstances.. Richardson Wealth is a member of Canadian Investor Protection Fund. Richardson Wealth is a trademark by its respective owners used under license by Richardson Wealth.