Canada's statistics bureau, StatsCan, says that CPI-measured inflation is running hot. Year-over-year gains were 4.4 percent for September 2021, one of the fastest rates among developed countries.
News reports highlighted rising food and gasoline prices, but house prices are soaring, by 18 percent from a year ago.
Why is CPI inflation only 4.4 percent with housing costs soaring?
Since 2000 the CPI has seldom been above 3.5 percent and only once, in 2003, has inflation breached the 4 percent boundary.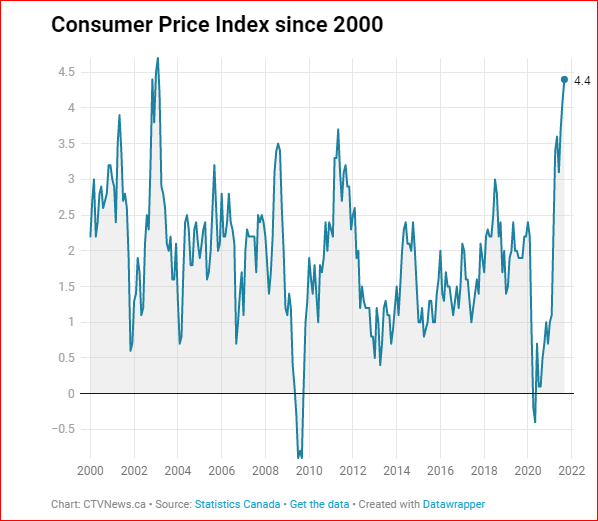 Source: CTV News, Statistics Canada
Month-over-month growth has been positive for nine consecutive months. This casts doubt on the popular argument that inflation is temporary and soon the CPI will drop back to a more reasonable number. Markets are ignoring that view but Tiff Macklem, governor of the Bank of Canada was sticking to the "inflation is temporary" narrative last week:
"Bank of Canada governor Tiff Macklem says high inflation will likely recede once global supply chains normalize, but noted that supply bottlenecks are looking to be more complicated, more persistent than we previously thought." Globe and Mail October 14, 2021
Why is the BOC governor talking "supply chain" issues when house prices rose 18 percent?
The largest weighting (30 percent) in the CPI is called "shelter" and that component increased at a rate of 4 percent.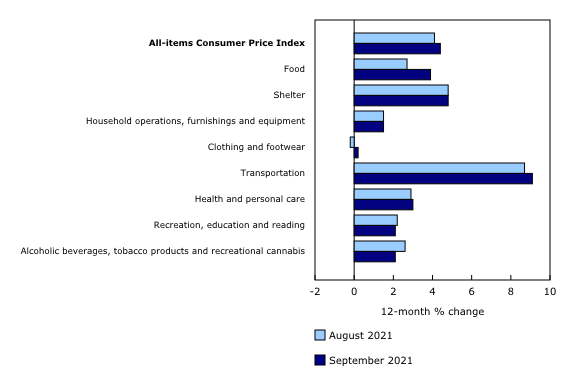 Source: Statistics Canada
Shelter is calculated using indicators like rent, replacement cost of housing, mortgage interest and about 2/3s is "owned accommodation" (OA). About 70 percent of Canadians live in "owned accommodation" and the rest would like to buy a home.
It is a little-known fact that StatsCan does not include the cost of buying a home or a condo in the CPI, even though shelter is the biggest component of the CPI, and OA is the majority of that component. Imagine how much higher the CPI would be with 18 percent annual housing price gains! They do include cannabis, though.
Mortgage interest is included, at a weighting of about 4 percent. Mortgage interest rates have been falling for the last few years and were a major downward force on the cost of shelter in the last year.
Regarding the omission of house prices in the calculation, StatsCan explains that they take, like other countries, the "payments approach" to measuring housing costs. This is like saying, "what's my monthly payment?" for shelter.
There is an alternative method, which includes the purchase cost of housing, called the "net acquisition" approach. StatsCan admits that this alternative has "interesting characteristics for measuring price inflation and monitoring monetary policy".
The more popular "payments approach" is "based on … the user cost concept. The basic principle is to treat homeowners as if they were renting their own dwelling."
Rents do not rise as fast as home prices which reduces volatility in the CPI.
If the CPI measured housing prices, inflation would have been much higher.
Monetary policy would have been different, interest rates would have been higher, and the housing bubble could have been avoided.
Hilliard MacBeth
The opinions expressed in this report are the opinions of the author and readers should not assume they reflect the opinions or recommendations of Richardson Wealth or its affiliates. Assumptions, opinions and estimates constitute the author's judgment as of the date of this material and are subject to change without notice. We do not warrant the completeness or accuracy of this material, and it should not be relied upon as such. Before acting on any recommendation, you should consider whether it is suitable for your particular circumstances and, if necessary, seek professional advice. Past performance is not indicative of future results. The comments contained herein are general in nature and are not intended to be, nor should be construed to be, legal or tax advice to any particular individual. Accordingly, individuals should consult their own legal or tax advisors for advice with respect to the tax consequences to them, having regard to their own particular circumstances.. Richardson Wealth is a member of Canadian Investor Protection Fund. Richardson Wealth is a trademark by its respective owners used under license by Richardson Wealth.