China is being hit by the double whammy of a real estate slowdown and electrical power shortages. The Chinese system will be put to a severe test.
Will China's twin challenges impact the world economy?
Since China was initiated into the WTO in 2001 the Chinese economy has led the world in economic growth. In 2008-09 during the Global Financial Crisis the Chinese government chose to provide a stimulus that was so massive that growth in China lifted the world's GDP as well.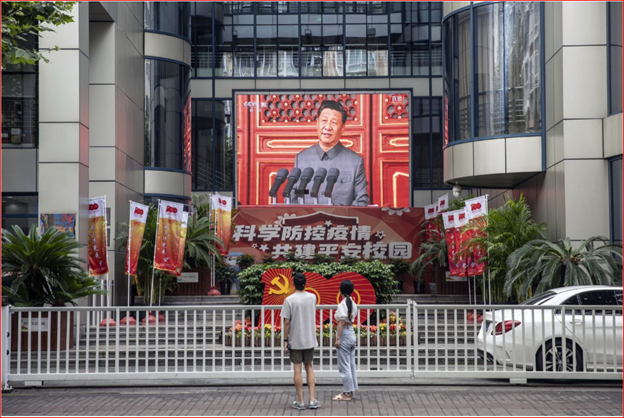 Source: Bloomberg
China is regarded as the second largest economy after the U.S. and China's growth rate has outpaced the rest of the world for two decades.
Real gross domestic product growth for China - year-on-year percentage change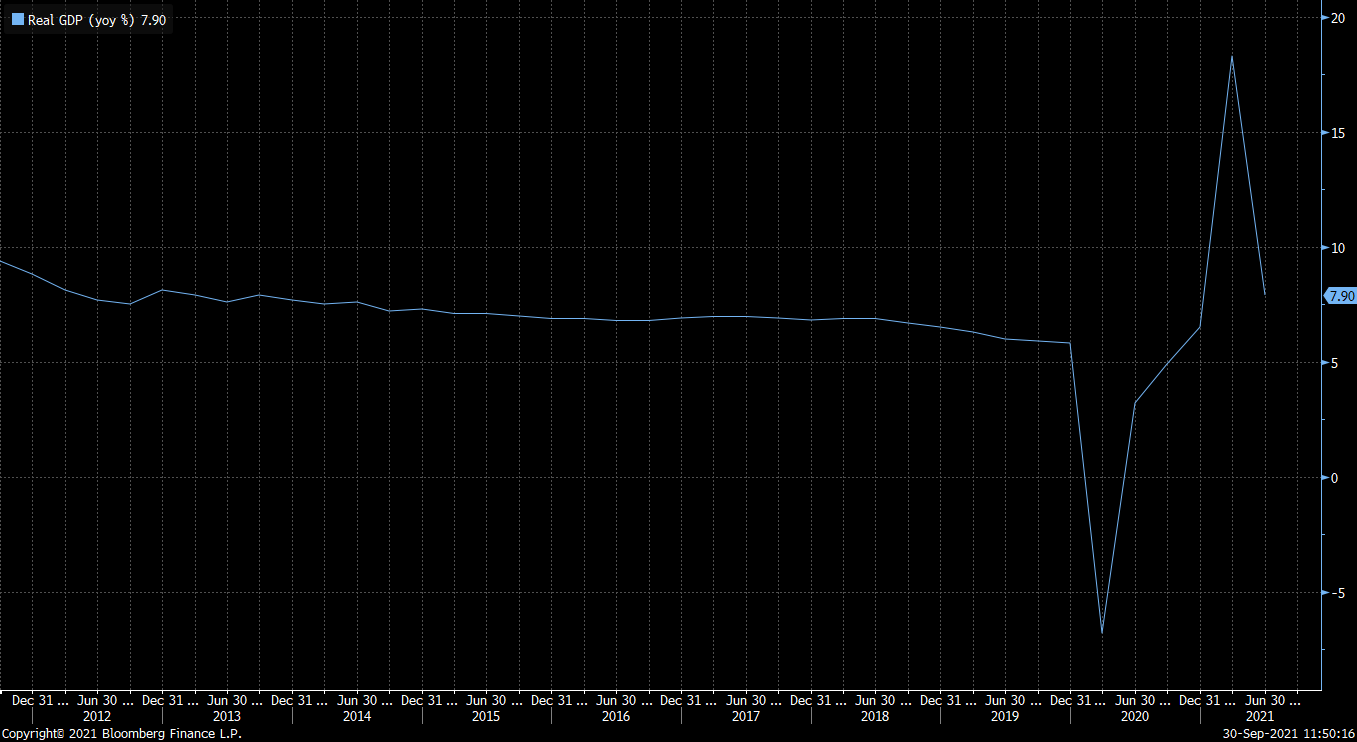 Source: Bloomberg, China National Bureau of Statistics
In 2007 to 2009 China growth hit 15 percent annually, while in the recovery from the 2020 recession the annualized rate of growth hit close to 20 percent. But we see also that the trend prior to the COVID recession was to lower growth in GDP from 10 percent annually to about 5-6 percent.
Real estate activity was a favorite stimulus lever. Construction employs nearly 20 percent of China's workforce. Land sales account for 1/3 of local government revenue. Housing vacancy rates are estimated as high as 20 percent as the lack of property tax encourages households to hold real estate. More than 90 percent of urban households own a home, and many own more than one.
The real estate sector is faltering. This will hurt GDP as Kenneth Rogoff, Harvard economist, estimates that real estate has contributed 30 percent of the growth of the economy in the years since the GFC. A recent report on China real estate by Rogoff and Yang can be found here.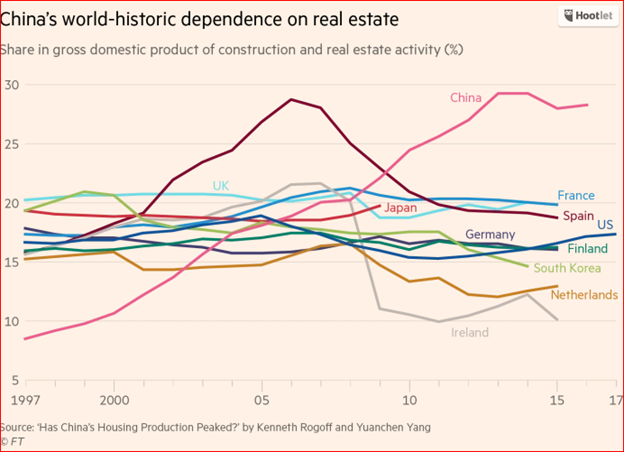 According to Rogoff and Yang even a small contraction in the real estate sector would lead to a 5-10 percent decline in GDP growth, which could mean close to zero growth for a time.
As discussed in recent notes on China Evergrande, most observers and market analysts are convinced that the Chinese government will not allow China's economic growth to collapse because they have the ability to add stimulus, as they have done in the past.
But now China faces a second threat — a lack of electricity forcing a slowdown in industrial activity. This new threat might make it difficult to stimulate the economy enough to balance the slowdown in real estate.
Electrical power shortages will undoubtedly severely affect manufacturing activity which has already contracted, according to data out this week.
To single out one sector, steel makers have been told to curb production. Iron ore prices have plummeted as a result to $100 versus a price in May of $230 a tonne.
The main cause of the power shortage is a shortage of coal. Watch for coal prices to rise as China bids for supplies ahead of winter. Australian and Canadian coal mines will be busy as China demand soars.
The impact of these twin challenges will be felt around the globe.
Hilliard MacBeth
The opinions expressed in this report are the opinions of the author and readers should not assume they reflect the opinions or recommendations of Richardson Wealth or its affiliates. Assumptions, opinions and estimates constitute the author's judgment as of the date of this material and are subject to change without notice. We do not warrant the completeness or accuracy of this material, and it should not be relied upon as such. Before acting on any recommendation, you should consider whether it is suitable for your particular circumstances and, if necessary, seek professional advice. Past performance is not indicative of future results. The comments contained herein are general in nature and are not intended to be, nor should be construed to be, legal or tax advice to any particular individual. Accordingly, individuals should consult their own legal or tax advisors for advice with respect to the tax consequences to them, having regard to their own particular circumstances.. Richardson Wealth is a member of Canadian Investor Protection Fund. Richardson Wealth is a trademark by its respective owners used under license by Richardson Wealth.