Inflation worries are getting to the Bank of Canada. In an unusual move for a central banker, the current Governor, Tiff Macklem, took to the print media to express a controversial point of view.
Macklem wanted to reassure Canadians that inflation is under control, and if ever it is not, the Bank of Canada can fix it.
Is the Bank of Canada on the verge of losing control of inflation?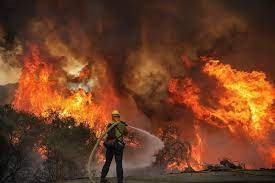 Source: shine.cn
This fire is not under control.
Years ago I spent every Thursday afternoon watching for signs of a change in policy at the Fed. In those days the news came on paper, with a printer punching out the latest headlines from the wire. If there was breaking news a bell would ring. My self-assigned job as a junior was to monitor the news and announce important items to the other stockbrokers in the office.
The particular news event each Thursday was money supply growth — M2 especially. The Fed never told us if there was a change in monetary policy, but if there was it would appear on Thursday afternoon. If the Fed had "tightened" M2 would grow slowly and that was bad. If the Fed stayed "loose" then M2 would grow faster and that was good. As the Fed tried to control inflation there was a lot of "tightening" and markets went to record lows in 1982, with the S&P 500 at about 100.
In 1981-82 inflation was peaking above 10 percent and long-term bonds were 14 percent. Now those long-term US Treasuries are trading at 1.83 percent.
In 2021 the Bank of Canada and the Fed are experimenting with allowing inflation to run hot, betting that they can bring it under control before expectations get out of hand. But it is risky. If people expect inflation to be high they will do everything to move their money into assets that appreciate in value such as houses and land. This could become a big headache for central banks.
In an unusual move last week, Macklem wrote an op-ed for a newspaper stating that things are still under control and the central bank is very much on top of inflation, just as house price growth surpassed 20 percent.
Tiff Macklem: The Bank of Canada remains firmly committed to keeping inflation under control
There is no question that inflation is becoming a concern:
Sources: Statistics Canada and Bloomberg
And that number, 3.6 percent, does not account for house price growth.
One of the things we were taught in graduate school in economics (aka training for central bankers) was that it is very difficult to get inflation back under control once expectations for higher inflation are unleashed. In the 1980s interest rates had to be pushed well above the rate of inflation, as high as 20 percent, before the tide turned.
Macklem et al are playing with fire. They act confidently in public, but they know that it will be a problem if people start to behave as if inflation is here to stay.
Hilliard MacBeth
The opinions expressed in this report are the opinions of the author and readers should not assume they reflect the opinions or recommendations of Richardson Wealth or its affiliates. Assumptions, opinions and estimates constitute the author's judgment as of the date of this material and are subject to change without notice. We do not warrant the completeness or accuracy of this material, and it should not be relied upon as such. Before acting on any recommendation, you should consider whether it is suitable for your particular circumstances and, if necessary, seek professional advice. Past performance is not indicative of future results. The comments contained herein are general in nature and are not intended to be, nor should be construed to be, legal or tax advice to any particular individual. Accordingly, individuals should consult their own legal or tax advisors for advice with respect to the tax consequences to them, having regard to their own particular circumstances.. Richardson Wealth is a member of Canadian Investor Protection Fund. Richardson Wealth is a trademark by its respective owners used under license by Richardson Wealth.