A turning point for interest rates may have arrived. Federal Reserve members hinted at raising their official interest rate above zero sooner than expected.
Until now the Fed had maintained that rates will stay "lower for longer" without any hint imminent increases.
How significant is this subtle shift in the Fed forecast for future interest rates?
The Federal Reserve Open Market Committee has eighteen members and, in a major change, 13 of them indicated that interest rates could be headed higher sooner than expected. Although this change in forecast is significant for interest rates in 2023, the meeting ended with the decision to keep interest rates at zero — officially 0 to 0.25 percent — for a while longer. But this week's shift in forecast had more impact on markets than the Fed decision to keep rates at zero.
Financial media reported that this forecast shift was more extreme than anyone expected, especially the forecast of a 50-basis point move higher for 2023.
As discussed last week, officially reported consumer prices as measured by CPI rose by 5 percent to the end of May so the Fed may not be able to keep saying that inflation is under control. If inflation shows increased signs of getting out of hand rates will rise very quickly. For now the Fed is clinging to its view that the recent rise in inflation, although significant, is only "transient" and "temporary" and therefore can be ignored by policy makers.
The Fed members claim that they can tolerate inflation moving above their official target of 2 percent and still keep interest rates at zero, but, in practice, this would be impossible if people started to believe that inflation is going to remain at 4-5 percent. If the Fed did not react markets would move rates higher anyway and the Fed would lose credibility.
So the Fed could panic and suddenly change policy direction if reports show that inflation is heading even higher. The market reacts quickly to signs of higher inflation, especially for wages and salaries.
Open Market Committee members publish their projections, anonymously, for GDP, inflation, unemployment and interest rates for the next few years. Market participants are especially interested in their projections for the fed funds rate.
Here is a table of the latest projections, called the "dot plot":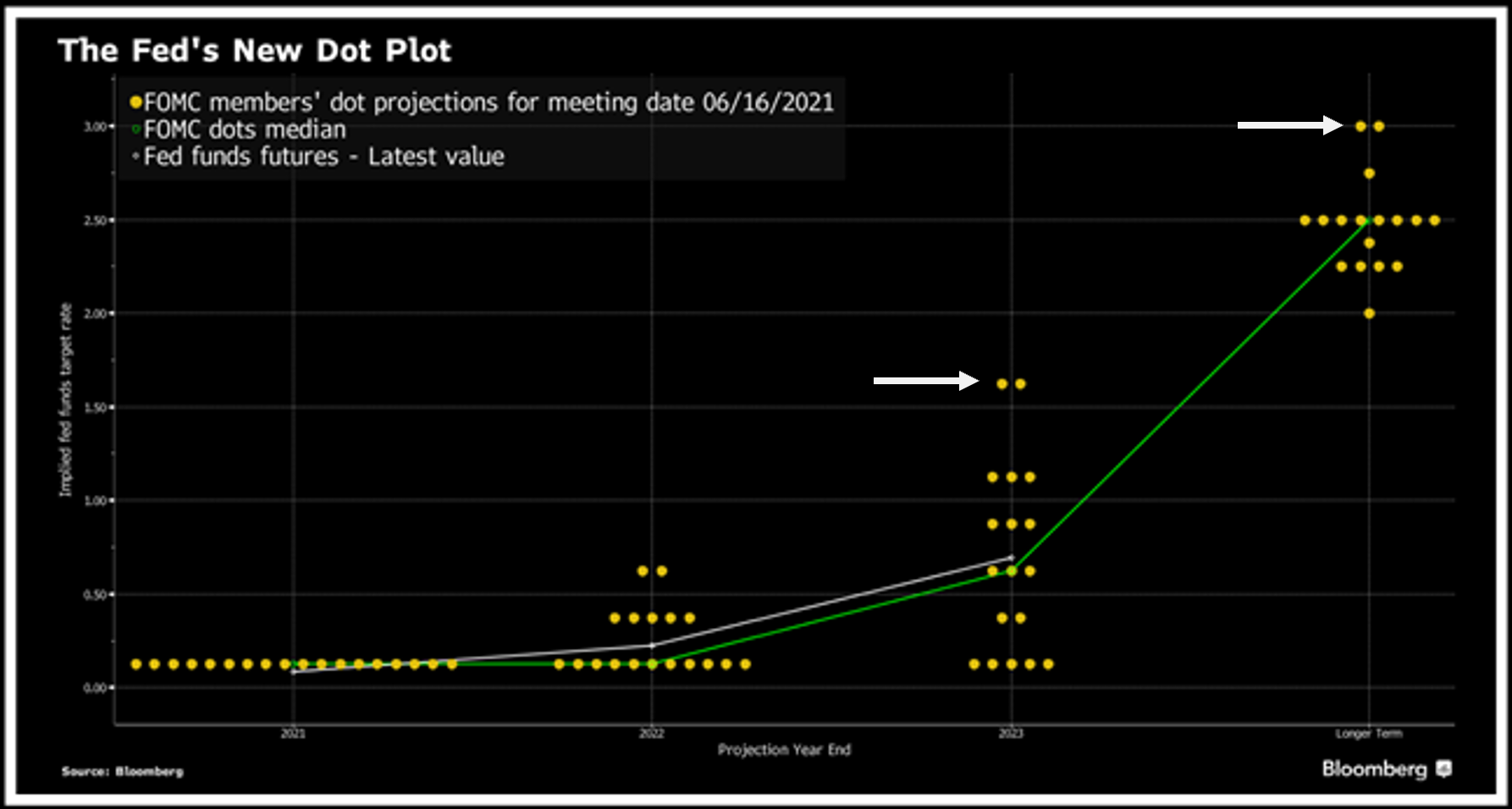 Each dot represents a forecast by one committee member.
The two highest plots in 2022 and especially 2023 are new and were noticed by market participants.
This subtle shift hints at more rapid policy changes. The Fed committee members know that, at some point, the markets will not be able to ignore inflation and the probability of higher rates, and that would be a major change in a decades-long trend to lower and lower rates. They do not want to be left behind in adjusting their forecast.
When central bankers make such a shift, even a small change of less than one percent, market participants can make large adjustments in bond and stock prices.
Hilliard MacBeth
The opinions expressed in this report are the opinions of the author and readers should not assume they reflect the opinions or recommendations of Richardson Wealth or its affiliates. Assumptions, opinions and estimates constitute the author's judgment as of the date of this material and are subject to change without notice. We do not warrant the completeness or accuracy of this material, and it should not be relied upon as such. Before acting on any recommendation, you should consider whether it is suitable for your particular circumstances and, if necessary, seek professional advice. Past performance is not indicative of future results. The comments contained herein are general in nature and are not intended to be, nor should be construed to be, legal or tax advice to any particular individual. Accordingly, individuals should consult their own legal or tax advisors for advice with respect to the tax consequences to them, having regard to their own particular circumstances.. Richardson Wealth is a member of Canadian Investor Protection Fund. Richardson Wealth is a trademark by its respective owners used under license by Richardson Wealth.