The price of base metals, especially copper and nickel, are known as indicators of future economic growth. While the validity of that relationship is in doubt, it makes sense that base metals would move higher with an expectation for rapid economic growth.
Is the recent surge in these metal prices predicting a robust economy?

Source: Bloomberg
Since March 2020 and the COVID-19 outbreak the price of copper on the London Metal Exchange (LME) has gained about 85 percent. This move is unusual given the weakness of the world economy during that period. The recession in 2020 was the most severe since the 1930s, and unemployment continues to be weak by any measure of employment.
Some analysts are suggesting that we on the verge of another commodities super-cycle. While commodity prices have been moving lower over the decades, there have been several cycles lasting 30 to 40 years when commodities are in a price uptrend.
Since 1865 there have been 4 of these super-cycles. A paper studying these cycles was published in 2012, and can be accessed here.
If we are at the start of one, we can expect much higher prices for non-oil commodities such as copper and nickel.
There are some valid reasons for this to happen now. Most of the strength has been caused by buying of copper in China, with India and other emerging economies expected to add to that demand.
But for copper and nickel the electrification of the economy, and the de-carbonization of the energy supply could be the biggest factor. Nickel is used in batteries and copper is used in electric motors and cars. There is about 3.5 times as much copper used in a battery-powered electric car versus an ICE vehicle. In buses and delivery vans the amount of copper is even greater in proportion to a traditionally powered vehicle, according to Wood MacKenzie.
Since copper conducts electricity better than any viable alternative its place in the auto of the future seems certain.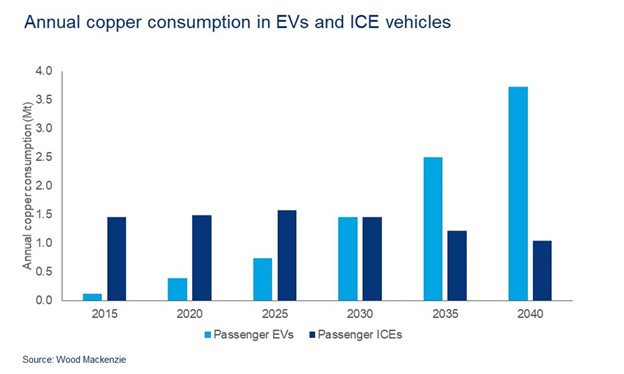 Nickel is used in making batteries for electric vehicles and grid storage. The amount of nickel varies with battery design. Rapid advancements in design are underway, including the possibility of solid-state batteries, but nickel is used extensively in most designs.
Tesla and other industry leaders forecast growth in battery production for electric vehicles that could overwhelm the supply of critical commodities like lithium, nickel, cobalt, graphite, copper and manganese.
Benchmark Mineral Intelligence is forecasting a four-fold increase in battery production by 2030, from about 740 gigawatts of annual capacity to 3,100 gigawatts, or 3.1 Terawatts.
This type of growth implies a massive shortage of nickel and other components by 2030.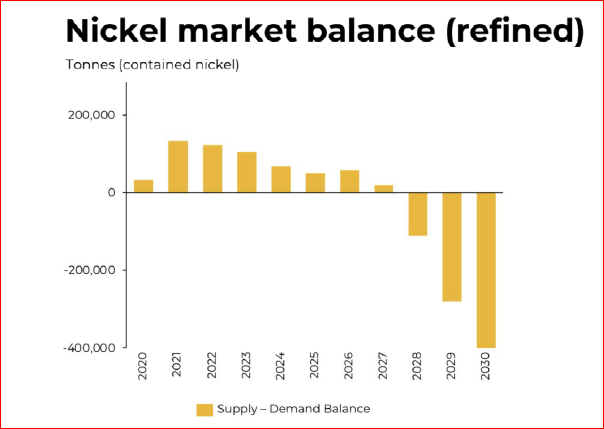 Source: Benchmark Minerals Intelligence
The projected 2030 battery capacity would be enough to provide for 50 million vehicles, compared to the auto production worldwide today of about 80 million. There are about 169 battery factories in various stages of development. Eventually each country that makes vehicles will host several facilities.
Today, about 6% of world production of nickel goes into batteries, out of a total nickel supply of approximately 2.5 million tonnes. If battery production expands seven-fold as forecast, nickel producers will struggle to meet demand. And prices will rise.
Higher prices bring out additional supply from new mines, mines that are shut down and parts of ore-bodies that were neglected due to low prices. Undoubtedly with higher prices more supply will appear. But new mines take a decade or longer to develop.
There may be a commodity super-cycle in the near future, and it could be triggered by surging demand for key components in the clean energy arena.
Hilliard MacBeth
The opinions expressed in this report are the opinions of the author and readers should not assume they reflect the opinions or recommendations of Richardson Wealth or its affiliates. Assumptions, opinions and estimates constitute the author's judgment as of the date of this material and are subject to change without notice. We do not warrant the completeness or accuracy of this material, and it should not be relied upon as such. Before acting on any recommendation, you should consider whether it is suitable for your particular circumstances and, if necessary, seek professional advice. Past performance is not indicative of future results. The comments contained herein are general in nature and are not intended to be, nor should be construed to be, legal or tax advice to any particular individual. Accordingly, individuals should consult their own legal or tax advisors for advice with respect to the tax consequences to them, having regard to their own particular circumstances.. Richardson Wealth is a member of Canadian Investor Protection Fund. Richardson Wealth is a trademark by its respective owners used under license by Richardson Wealth.