Many corporations are announcing new sustainability or net-zero emissions targets, by a set date, usually 2050. More than 620 companies announced a science-based target in 2020. The total for 2021 will be even higher.
As they struggle to meet these targets billions of dollars will be invested to reduce carbon emissions and to purchase offsets.
Has the corporate world reached a tipping point on the transition to green energy?
Investment returns for companies operating in the clean energy sector in 2020 were outstanding. For oil and gas companies the results were abysmal.
Here is the gap between the two: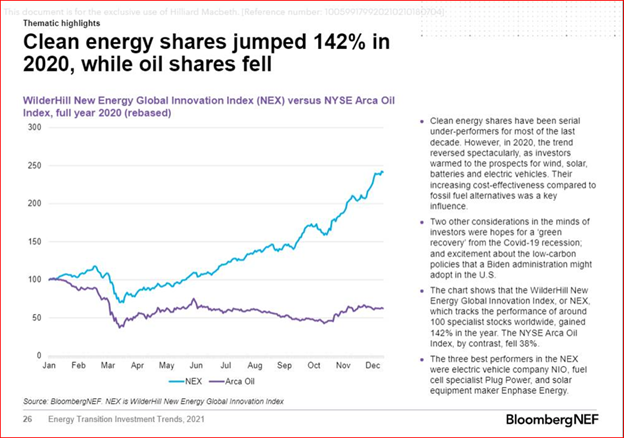 Clean energy shares more than doubled and some like Tesla (not in that index) did much better, while the oil and gas lost about 38 percent in 2020.
The market value of clean energy ETFs grew ten-fold, from about $2 billion to $20 billion. But this publicly traded market is actually quite tiny compared to massive investments that are happening in the worldwide transition to a lower-carbon world for corporations.
The cost to meet aggressive, science-based targets that companies are adopting will be in the trillions of dollars between now and 2050. The term "science-based" means a reduction of emissions in line with a global temperature increase of 1.5 degrees Celsius, as outlined in the Paris Agreement. Now that the U.S. is planning to rejoin that agreement the pace of adoption will speed up.
Companies like General Mills, General Motors, eBay, PepsiCo and Hon Hai Precision (Apple's largest supplier) have taken the net-zero carbon pledge.
As the decade unfolds we will see how these ambitious goals will be met. Some companies may be able to reduce their carbon emissions to zero, but most will have to purchase carbon-offsets, at least temporarily. It is likely that providers of carbon offsets will not be able to meet the demand.
According to Bloomberg New Energy Finance, offsets were purchased for 185 million tons of CO2 in 2020. That has grown from about 30 million in 2016. Expectations are high for a large increase in 2021, doubling to 385 million tons.
Some activities, like making oil, steel and concrete, are very difficult without using lots of carbon. For example, coking coal is used in steel and the process requires a lot of high-quality heat. So those companies will use offsets for their carbon emissions until other solutions, like hydrogen, are available.
According to the UN, so far 1,100 companies have set targets for net-zero carbon emissions. For oil and gas companies it will be especially difficult, but some European giants have announced impressive targets.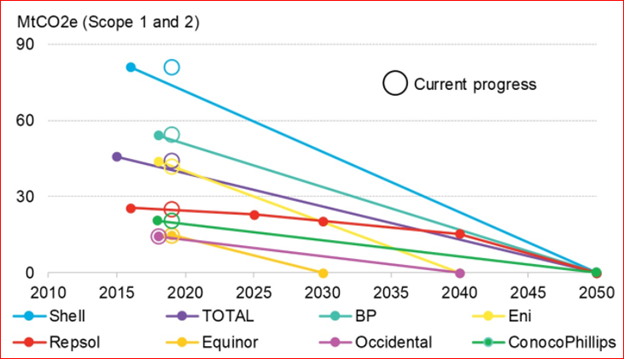 Source: BloombergNEF
Shell is the largest emitter in that group (blue line). Shell expects its production to decline 1-2 percent per annum but needs to access carbon capture and "nature-based solutions". Shell's long-term plan calls for the removal of 13 gigatons of carbon in 2060, partly met by planting trees on 700 million hectares of land, about the size of Brazil.
Many terms like "carbon neutral", "zero carbon", and "net-zero" are used. There is no standard definition of what they mean.
The "Science-Based Target Initiative" will set tough standards for a net-zero target. Microsoft and Amazon are leaders in this initiative. Many of the net-zero announcements so far might not meet that standard.
In the short term, corporate demand for carbon offsets will explode as companies try to meet these goals. But the expected standard for net-zero status will require carbon removal or sequestration, not just offset.
There will be more announcements and continuing controversy over net-zero targets, but most companies will join the movement to green energy, even if it takes a decade.
Hilliard MacBeth
The opinions expressed in this report are the opinions of the author and readers should not assume they reflect the opinions or recommendations of Richardson Wealth or its affiliates. Assumptions, opinions and estimates constitute the author's judgment as of the date of this material and are subject to change without notice. We do not warrant the completeness or accuracy of this material, and it should not be relied upon as such. Before acting on any recommendation, you should consider whether it is suitable for your particular circumstances and, if necessary, seek professional advice. Past performance is not indicative of future results. The comments contained herein are general in nature and are not intended to be, nor should be construed to be, legal or tax advice to any particular individual. Accordingly, individuals should consult their own legal or tax advisors for advice with respect to the tax consequences to them, having regard to their own particular circumstances.. Richardson Wealth is a member of Canadian Investor Protection Fund. Richardson Wealth is a trademark by its respective owners used under license by Richardson Wealth.