The Greater Toronto Area condominium boom is nearing the edge of a cliff.
The number of condos listed for sale hit record highs recently.
Is the GTA condo market headed for a crisis?
The number of condos sold has cratered recently while new supply has hit the market.
The number of condo listings has been elevated for months. Over the last decade or so average condo prices almost doubled, although the mix of luxury apartments may have skewed that number higher. But even allowing for that, price increases have been impressive. Now the momentum has turned, and the price trend is down.
Recent numbers provided by realtors on Twitter show a price decline of 13.9 percent from early March, with listings up and sales down. The TREB shows a jump in new listings year-over-year with sales slumping.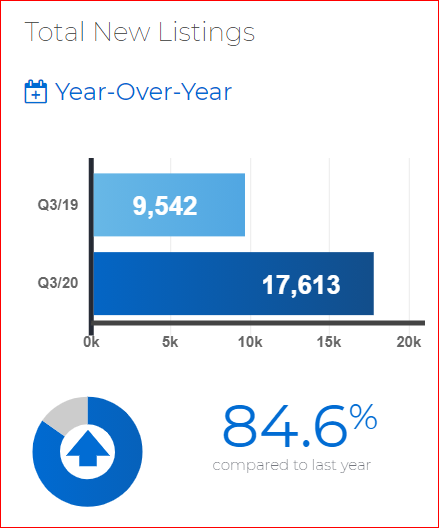 Source: TREB
That kind of supply can lead to lower prices; perhaps much lower, depending on how desperate sellers are.
Some of the new listings come from panicked sellers who have bought a single-family home and now own at least two properties. They bought a single-family home in reaction to health concerns about living in high rises and the opportunity to work from home. If one does not need to live downtown, why live there? But now those people are stuck with too much real estate and some of them to have to sell in haste, forced to lower their price. But by acting quickly, they might avoid an even bigger loss next year. Things might get even worse for the patient seller who can afford to wait.
The amount of new supply of condos that will hit the market in the next few years is nothing short of mind-boggling. This chart is from Ben Rabidoux: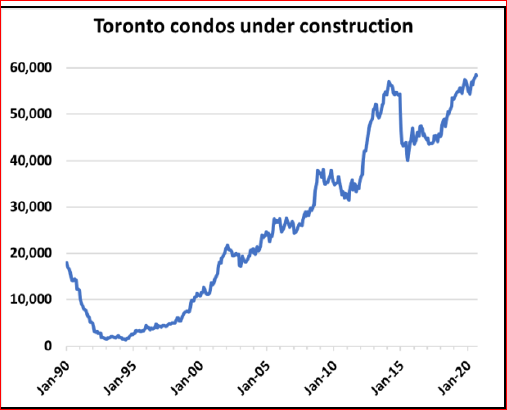 Source: Ben Rabidoux, North Cove Advisors
That number, 60,000, represents up to 200 new high-rise towers in Toronto, if we assume an average of 300 units per building. The tallest condo in Toronto, at 95 stories, will be the Sky Tower, part of a three-tower complex. The first tower in that complex is the 65-storey Prestige, housing 497 units.
We can confirm there are many more towers and units by counting the cranes. The RLB index, reported by Better Dwelling, shows that Toronto, with 124 active cranes, surpasses all other cities: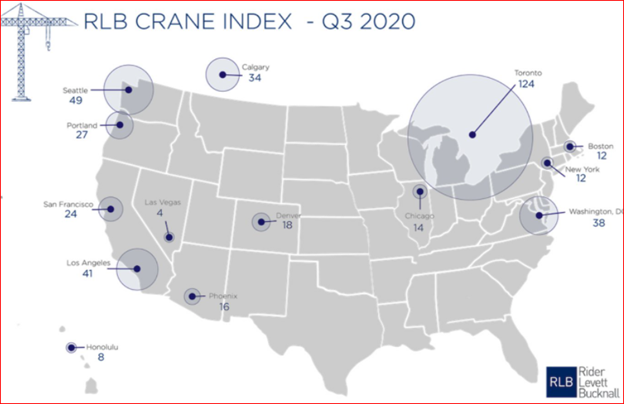 Source: Rider Levett Bucknell
Even Calgary, at 34 cranes, ranks fifth, though Alberta is in the deepest recession since the 1930s. In-migration to Toronto has dropped, but migration to Calgary has gone negative due to the absence of jobs.
So, condos will be well supplied in both Calgary and Toronto.
Even in good times condos are a bad investment. Land is the part of real estate that appreciates while buildings depreciate, as a rule. Developers sell their land to the condo project, often taking an ownership position. But the unit owner gets only a little land when buying a condo. About 10-15 percent of the final price is in land. The purchase price covers soft costs, such as profit, advertising, architect fee, insurance premiums, sales commission, and hard costs, mostly construction. The soft costs are consumed when the sale closes. The hard costs -- the building – which is 85-90 percent of the total, depreciates, perhaps 2 percent per year on a 50-year lifespan if steel and concrete is used.
A new condo might cost $600,000. On a building costing $510,00 to $550,000, $10-11,000 is lost to depreciation annually, almost $1,000 per month. This is in addition to mortgage interest, insurance and condo fees and does not include major repairs.
It will be difficult to avoid losing money in the Toronto condo market over the next decade.
Hilliard MacBeth
The opinions expressed in this report are the opinions of the author and readers should not assume they reflect the opinions or recommendations of Richardson GMP Limited or its affiliates. Assumptions, opinions and estimates constitute the author's judgment as of the date of this material and are subject to change without notice. We do not warrant the completeness or accuracy of this material, and it should not be relied upon as such. Before acting on any recommendation, you should consider whether it is suitable for your particular circumstances and, if necessary, seek professional advice. Past performance is not indicative of future results. The comments contained herein are general in nature and are not intended to be, nor should be construed to be, legal or tax advice to any particular individual. Accordingly, individuals should consult their own legal or tax advisors for advice with respect to the tax consequences to them, having regard to their own particular circumstances.. Richardson GMP Limited is a member of Canadian Investor Protection Fund. Richardson and GMP are registered trademarks of their respective owners used under license by Richardson GMP Limited.