Six months after the COVID-19 pandemic started, reports abound of significant increases in cases in some countries. The United Kingdom, for example, shows new daily cases higher than any previous peak.
How big is this second wave? How will it affect the economy?
As recently as mid-September pundits were forecasting a recovery in the economy as establishments were able to reopen gradually. Restaurants had some diners sitting at tables in most countries, although patios were most popular. Open Table bookings were down about 42 percent year-over-year on a global basis, while Canada was down 50 percent.
Within Canada Calgary bookings were down only 33 percent but Toronto was down 83 percent. London England was like the Canadian average at -47 percent.
But now there is a second wave coming in some countries with the United Kingdom leading the way. The United Kingdom is reporting more than 40,000 active cases, more than double the level in April during the initial outbreak.
The UK stock market index is down 25 percent year-to-date compared to the US which is up 7 percent. Both countries have serious levels of COVID-19 cases, with cases rising recently.
In the US, the cost of the recession created by restrictions to fight the pandemic have been estimated by David Cutler and Lawrence Summers in JAMA October 12, 2020 to be about 90 percent of GDP, or about $200,000 per US family.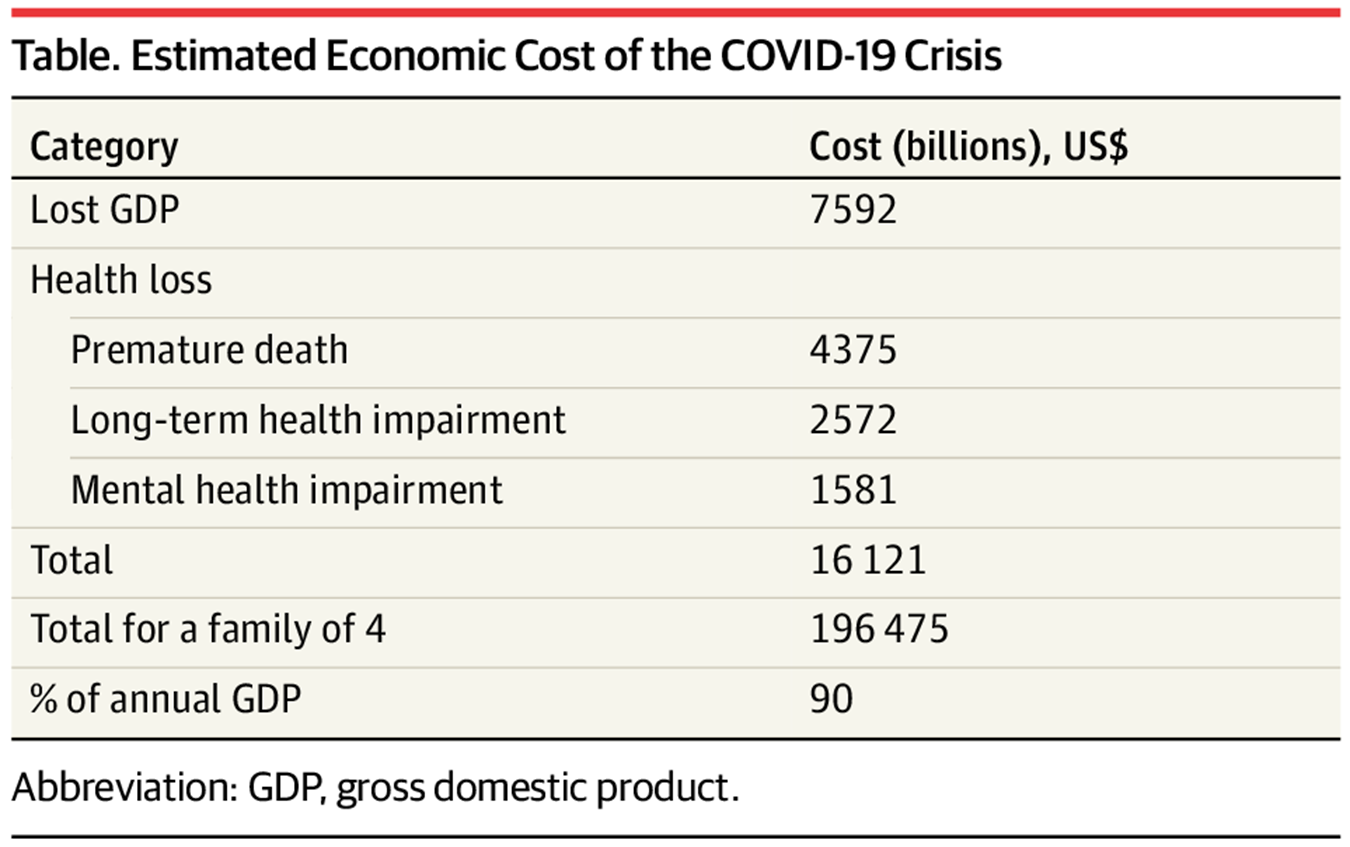 Source: Cutler and Summers, 2020
The economic loss in this recession in the US is predicted to be FOUR TIMES larger than the Global Financial Crisis in 2008-09.
This chart shows the number of cases, with the blue line at the bottom representing the UK. If you look closely you can see China at the very bottom with very few cases.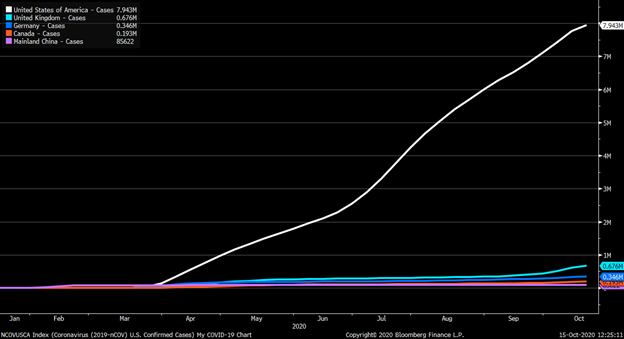 Source: Bloomberg
Before the second wave hit last week, the UK forecast showed a sharp GDP decline of about 10 percent, slightly worse than the US. China's GDP is expected to grow a bit this year, and that country has already achieved a return to pre-COVID activity levels.
In London the cries of pain are loud as Tier 2 measures are expected to be imposed this week. No indoor crowds will be allowed, which means restaurants and pubs will be hit hard now that patios will be closed. There are several publicly traded pub chains, and their shares were down from 37 percent to 68 percent from the onset of COVID in February.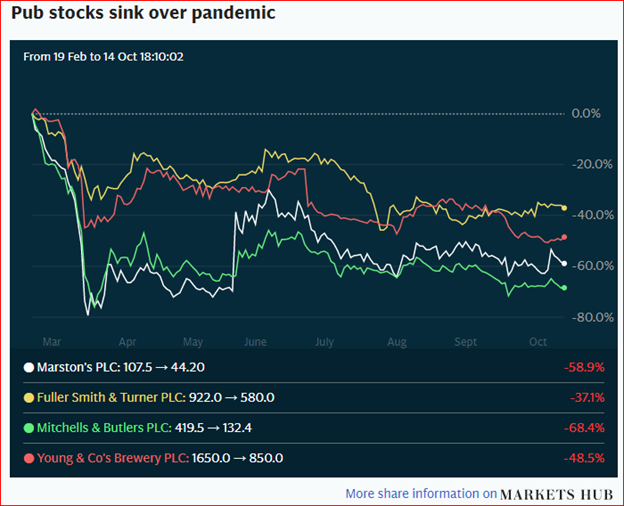 Source: Markets Hub
Marston's is the largest pub owner, with 1,400 pubs and protested that there is no clear evidence that pubs are causing the increase in infection levels.
More than 10 million people in the London area, including Essex, will be under the new rules. The pubs had reopened on July 5 and business levels were back to February levels by September.
The mayor of London, Sadiq Kahn, is pushing for a lockdown, saying that "it was inevitable that the city would pass the trigger point. The threshold is 100 cases per 100,000 people, or about .1 percent of population.
Restrictions restrict gatherings in private homes for anyone outside the immediate household.
The Prime Minister Boris Johnson supports the "rule of six," although weddings have a special limit of 15.
The contrast with China's growth is stark. GDP will be up this year, and by end of 2021 will be 11 percent higher than pre-Covid while the UK, US, Canada, and Japan will still be below that level. The Chinese used a small amount of stimulus, about 3.6 percent GDP.
China's rebound in economic activity as well as its success in containing the virus raises many questions.
Hilliard MacBeth
The opinions expressed in this report are the opinions of the author and readers should not assume they reflect the opinions or recommendations of Richardson GMP Limited or its affiliates. Assumptions, opinions and estimates constitute the author's judgment as of the date of this material and are subject to change without notice. We do not warrant the completeness or accuracy of this material, and it should not be relied upon as such. Before acting on any recommendation, you should consider whether it is suitable for your particular circumstances and, if necessary, seek professional advice. Past performance is not indicative of future results. The comments contained herein are general in nature and are not intended to be, nor should be construed to be, legal or tax advice to any particular individual. Accordingly, individuals should consult their own legal or tax advisors for advice with respect to the tax consequences to them, having regard to their own particular circumstances.. Richardson GMP Limited is a member of Canadian Investor Protection Fund. Richardson and GMP are registered trademarks of their respective owners used under license by Richardson GMP Limited.