Canadian banks have yet to feel the full impact of loan losses in this recession. Quarterly earnings for all Canadian banks appeared this week and showed hints of what is to come, although extreme outcomes were not reflected.
Are bank earnings showing the full impact of the current recession yet?
In May 2019, the Bank of Canada produced a staff note, 2019-16 authored by Charles Gaa et al. The note can be found here.
"Assessing the Resilience of the Canadian Banking System" used several scenarios for a recession. The parameters for the "adverse scenario" (first line in the table) appear to be chosen by looking at the U.S. recession during Global Financial Crisis in 2008-09 and making assumptions that model something slightly worse on each metric. The model assumptions are much worse than recent Canadian recessions shown in the table.
In 2020 Canada has entered a recession that is at least as bad as the "adverse scenario" in this paper, except for one parameter -- house prices. The BOC assumed a decline in house prices of 40.9 percent, which has not happened, yet.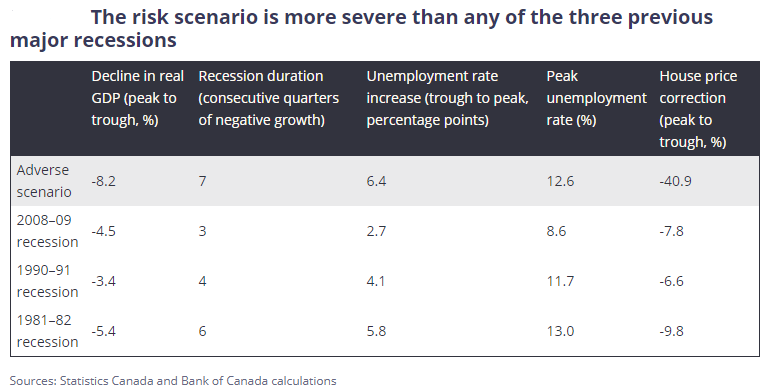 It is difficult to measure the full extent of the recession as it is only about six months old. But already three of the five metrics -- GDP decline and both unemployment measures -- have exceeded the worst-case scenario.
As Statistics Canada reported in May, real GDP declined at a rate of 8.2 percent annualized, exactly the peak decline contemplated in the worst-case scenario. The unemployment rate hit 13.7 percent in May 2020, surpassing the target. The unemployment rate was 5.5 percent in January 2020 for an increase of 8.2 percentage points trough-to-peak, exceeding the worst-case scenario.
Most observers expect that GDP will not recover to 2019 levels before 2022 or 2023, exceeding the 7 quarters of recession parameter.
The last parameter, a decline in house prices of 40.0 percent is the only one that, so far, is not near the worst-case scenario model.
The BOC concludes that most of the losses in the worst-case scenario would come from consumer and business loans. According to BOC assumptions, very few Canadians would default on their mortgages, even with a 40.9 percent drop in prices.
The model shows losses of $116 billion, almost all coming from consumer loans (not including mortgages) and business loans.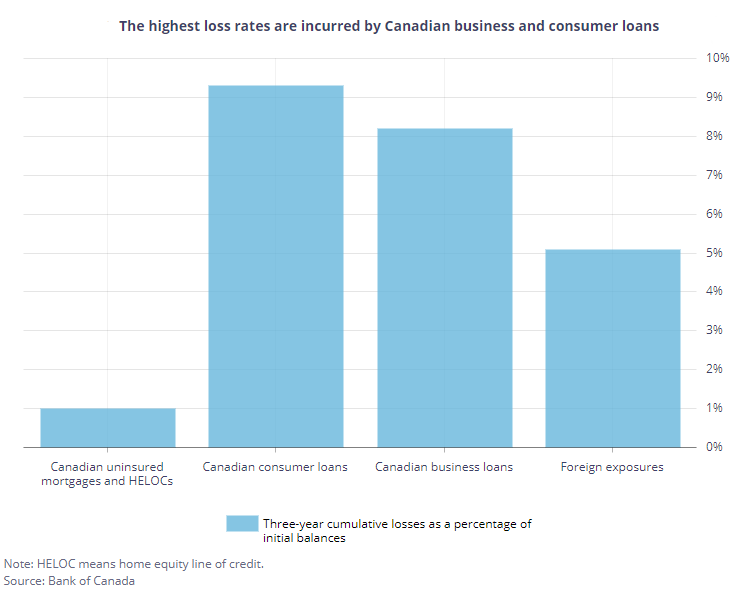 We can see also the cumulative total of the losses over three years as a percent of loan balances, with an assumption of 4 percent: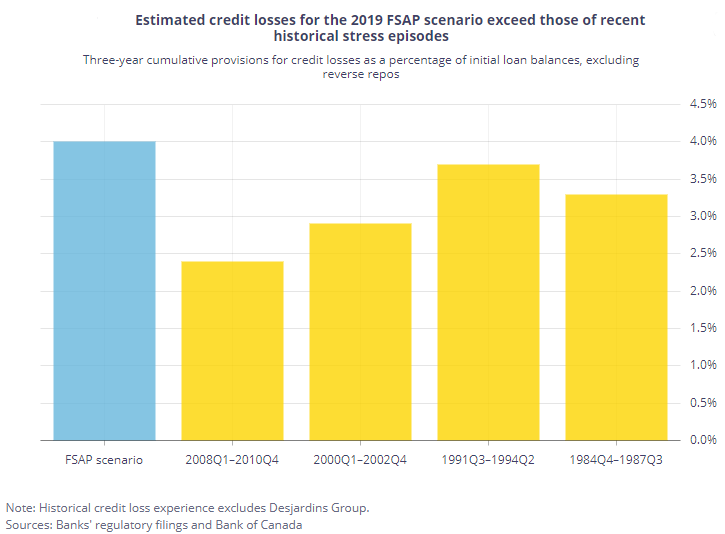 The losses range from a low of 2.5 percent in the most recession Canadian recession to 3.7 percent in the worst of the four recessions, in 1991.
How do provisions for credit losses reported this week compare to the worst-case scenario?
Here are the provisions reported this week for the Canadian banks: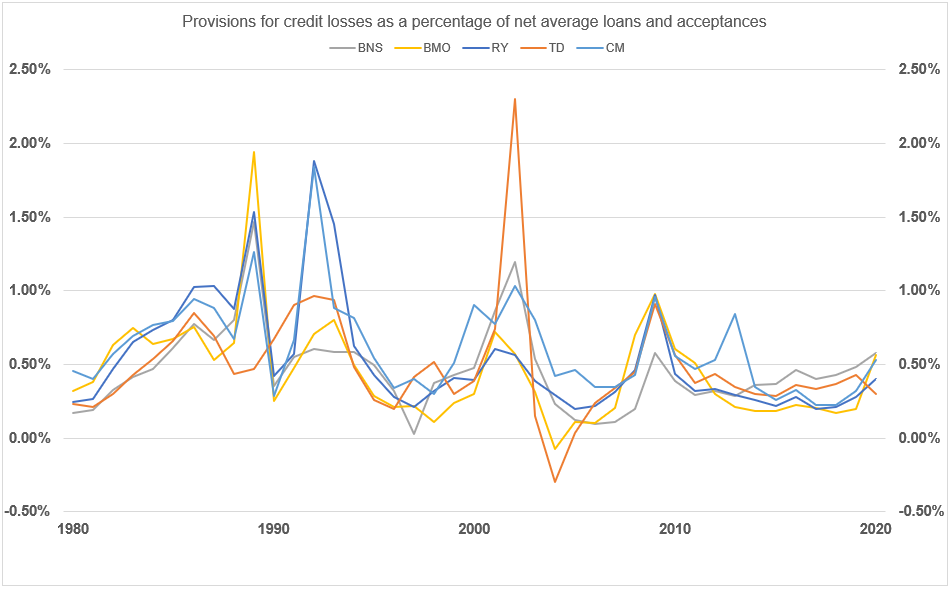 Source: Company reports, Q3 2020
This recession will be much worse than any of the four Canadian recessions shown. Credit loss provisions peaked at about 2 percent in two cases and in all cases reached at least 1 percent. If the current recession is like the worst-case scenario provisions will peak above 2 percent.
Canadian banks are unprepared in their provisions for the size of losses that appear in an average recession, much less the more severe one contemplated by the BOC.
We can expect that as mortgage, credit card, business and consumer loan deferrals start to expire in about one month, impaired loans will soar and in the next reporting cycle in late November, or perhaps in February 2021, Canadian banks will have to get more realistic about the severity of the current downturn and substantially increase their provisions.
Hilliard MacBeth
The opinions expressed in this report are the opinions of the author and readers should not assume they reflect the opinions or recommendations of Richardson GMP Limited or its affiliates. Assumptions, opinions and estimates constitute the author's judgment as of the date of this material and are subject to change without notice. We do not warrant the completeness or accuracy of this material, and it should not be relied upon as such. Before acting on any recommendation, you should consider whether it is suitable for your particular circumstances and, if necessary, seek professional advice. Past performance is not indicative of future results. The comments contained herein are general in nature and are not intended to be, nor should be construed to be, legal or tax advice to any particular individual. Accordingly, individuals should consult their own legal or tax advisors for advice with respect to the tax consequences to them, having regard to their own particular circumstances.. Richardson GMP Limited is a member of Canadian Investor Protection Fund. Richardson and GMP are registered trademarks of their respective owners used under license by Richardson GMP Limited.