The economy is sagging badly during the unusual times brought on by the combination of a recession and the impact of COVID-19. Consumers and businesses have cut spending while government deficits have increased exponentially.
But the net result is a severe decline in U.S. Gross Domestic Product (GDP) that will impact us for some time. Depending on how quickly people can get back to work, the recession could last a year or longer.
Is the government reacting properly?
The consensus forecast from economists who submit their guesses to Bloomberg is a contraction of 5.7 percent in 2020 in the U.S. Measured from peak-to-trough the decline will be close to 10 percent followed by a recovery starting in the summer, according to them.
For the 3-month period from April 1 to June 30 the consensus is a contraction of 8.25 percent, or 35 percent annualized (these numbers always are reported on an annualized basis).
From the same quarter a year ago, the decline is about 10 percent, with consumer spending declining at a whopping 40 percent annual rate, or 10 percent in the quarter. These amounts are hard to comprehend, and it seems that people are ignoring them with the idea that it is only temporary.
Government expenditures, on the other hand, are expected to increase at the modest rate of 2.3 percent, perhaps not enough to offset the declines in business and consumer spending.
The U.S. government deficit is exploding. The monthly deficit was about 400 billion dollars recently, with the accumulated deficit up to almost $1.9 trillion. It was not just the increase in spending that caused this but also a collapse in tax receipts.

Source: Bloomberg LP
Already this recession is worse than the Global Financial Crisis of 2008-09 which was triggered by a collapse in the housing market. Nobody could have predicted that we would experience another crisis just eleven years later.
Industrial production, defined as total output from mines and factories, has slumped about 20 percent from the recent peak.

Source: FRED, St. Louis Federal Reserve
These charts show that the current decline is like that of the Global Financial Crisis, but less than the decline during 1929 to 1933 when it was close to 50 percent.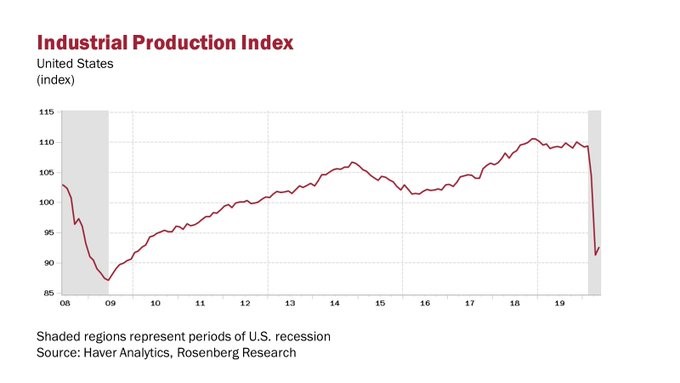 Despite this there are signs that some U.S. politicians think that they have done enough spending already. But some of these sobering numbers suggest that government spending might need to increase even more to offset declines in consumer and business spending
Recent news highlighted the size of the federal debt in the U.S., reaching $26 trillion for the first time. The 2020 deficit is expected to be $4 trillion.
The U.S. government has spent about $3.5 trillion so far to help people, businesses, cities and states survive this recession. Republicans slammed the door shut on new spending packages because of the speed of the increase in debt. Democrats argued that more needs to be done, proposing a $3 trillion package of further spending. It seems unlikely that more spending will be approved before the November elections as elected people have returned to their home ridings to campaign.
But with unemployment at 13.3 percent, higher than any time since the Second World War, there will be pressure to expand government spending.
As Jerome Powell said last week, "there will be a significant chunk, well into the millions, who don't get to go back to their old job, and, in fact, there may not be a job in that industry for some time."
If millions are unable to go back to work soon, watch for more government spending announcements and even bigger deficits next year.
Hilliard MacBeth
The opinions expressed in this report are the opinions of the author and readers should not assume they reflect the opinions or recommendations of Richardson GMP Limited or its affiliates. Assumptions, opinions and estimates constitute the author's judgment as of the date of this material and are subject to change without notice. We do not warrant the completeness or accuracy of this material, and it should not be relied upon as such. Before acting on any recommendation, you should consider whether it is suitable for your particular circumstances and, if necessary, seek professional advice. Past performance is not indicative of future results. The comments contained herein are general in nature and are not intended to be, nor should be construed to be, legal or tax advice to any particular individual. Accordingly, individuals should consult their own legal or tax advisors for advice with respect to the tax consequences to them, having regard to their own particular circumstances.. Richardson GMP Limited is a member of Canadian Investor Protection Fund. Richardson and GMP are registered trademarks of their respective owners used under license by Richardson GMP Limited.