The disconnect between the stock market and the economy has never been greater.
While the U.S. economy is expected to post one of the worst declines in memory, far surpassing the 2007-09 decline, the stock market has surged higher, within reach of all-time highs.
Are stock market investors ignoring reality?
The revenue flowing to businesses, governments and consumers has collapsed. And forecasts for GDP growth for the second quarter ending June 30 are very grim.
GDP plunged at a 5.0 percent annual rate in the first quarter of 2020, which covers the period from January 1 to March 31. That decline was as severe as things get, even during the worst recessions since WWII. But that period only incudes two weeks of the impact of COVID-19 lockdown in the U.S.
The second quarter GDP will come in at an annual rate of -32 percent, according the consensus of Wall Street forecasters.
The same forecasters expect a sharp rebound in economic activity in the second half of 2020, when they predict 9 percent growth in the third quarter and 7 percent in the last three months. Taking all these forecasts together, we get -5, -32, +9 and +7 sequentially and the economy ends the year 5.5 percent smaller than when it started. Compare that to worst year ever, 1931, when GDP declined by 9.3 percent.
The most recent recession, in 2008-09, lasted about a year and a half, while GDP declined about 4.3 percent from peak to trough. So, this year's recession, forecast to decline by about 9 percent from January peak to June trough, would be more than twice as severe.
The stock market dropped 57 percent during the period of October 2007 to March 2009, before it started to recover.
This year's stock market crash occurred in about one month, from February 20 to March 23, declining by 35 percent from peak to trough.
So, the stock market crash has been much milder than the decline in economic activity this time.
The valuation of the stock market can be compared to the past 30 years. This covers a period that includes the most expensive stock market ever, in terms of the Price-to-Earnings ratio: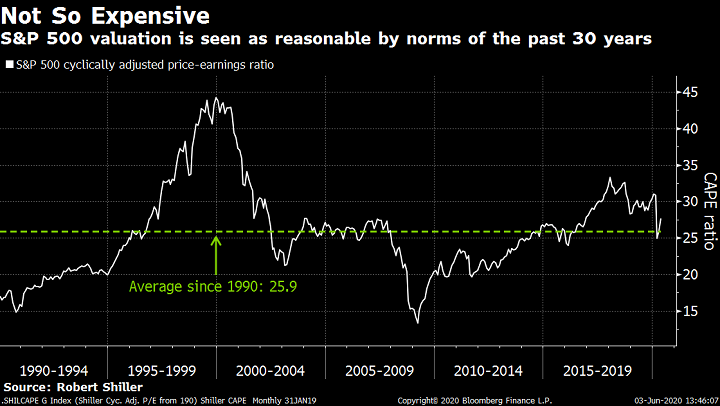 The Shiller CAPE ratio shows that the recent years of stock market valuations are high relative to the long-term average (1880-2020) from the full series of about 16 (not shown). But in the period from 1990 to June 2020 the average is 25.9, so the current valuation of 27.6 is just slightly above that. By trading stocks at these elevated valuations, investors are showing their extreme optimism and recency bias.
Not all investors are ignoring the weak economy. Bond market investors, who tend to be right about the reality of the economy more often than stock traders, expect a very weak economy and deflation.
One of the highest correlations with bond yields is inflation, at +.60 (1.00 would be perfect correlation), according to A. Gary Shilling who is predicting deflation will appear soon.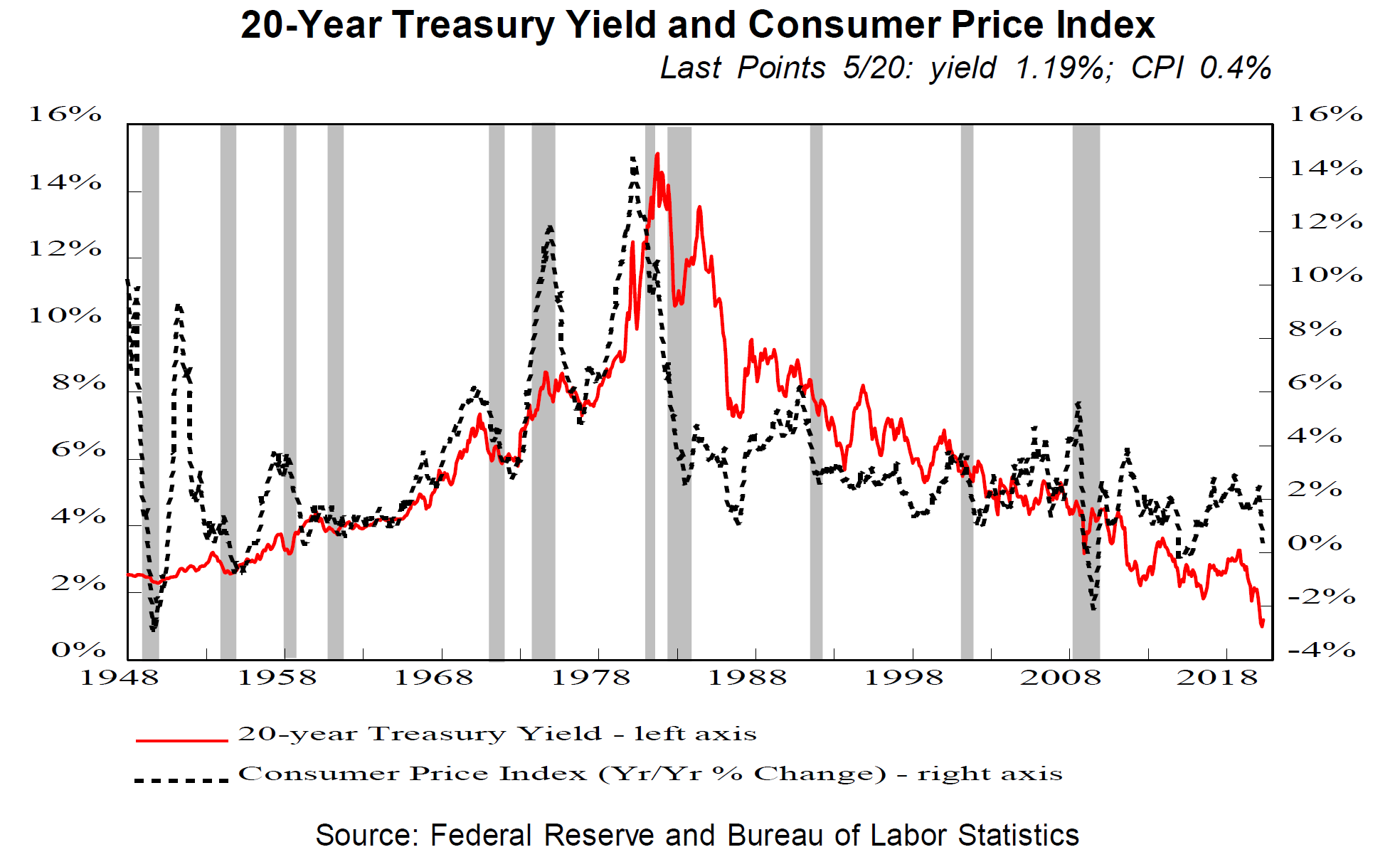 This chart, from A. Gary Shilling's report in June 2020, shows that bond yields have reached record low levels in the post-WWII era. The implication is that the CPI will go negative if it follows bond yields.
The Federal Reserve Chair, Jerome Powell, says that the economy could contract by up to 30 percent on a quarterly basis, and unemployment could reach 25 percent, as bad as happened in the 1930s.
Stock market investors are acting very irrationally by ignoring the economic recession but, as John Maynard Keynes said, "the stock market can stay irrational longer than you can remain solvent."
Hilliard MacBeth
The opinions expressed in this report are the opinions of the author and readers should not assume they reflect the opinions or recommendations of Richardson GMP Limited or its affiliates. Assumptions, opinions and estimates constitute the author's judgment as of the date of this material and are subject to change without notice. We do not warrant the completeness or accuracy of this material, and it should not be relied upon as such. Before acting on any recommendation, you should consider whether it is suitable for your particular circumstances and, if necessary, seek professional advice. Past performance is not indicative of future results. The comments contained herein are general in nature and are not intended to be, nor should be construed to be, legal or tax advice to any particular individual. Accordingly, individuals should consult their own legal or tax advisors for advice with respect to the tax consequences to them, having regard to their own particular circumstances.. Richardson GMP Limited is a member of Canadian Investor Protection Fund. Richardson and GMP are registered trademarks of their respective owners used under license by Richardson GMP Limited.