Canadian banks reported their results this week and, as expected, took substantially higher provisions for credit losses. Most of the increase in provisions came from estimates for future losses on performing loans.
Banks are required to estimate future losses, based, in part, on a forecast for the economy and unemployment. Many Canadian households will face financial challenges during this recession. But household debts and mortgages will be especially problematic if house prices decline.
Did the banks incorporate a housing crash in their estimates of loan losses?
It is too early to see significant loan losses for the banks, given multiple government programs for income assistance and mortgage payment deferrals.
However, the ability of Canadian consumers to handle their elevated debt loads will be tested soon. Some households will default on their mortgages, credit cards and automobile loans.
Under new rules, banks estimate future losses on all loans. The Canadian banks use internal econometric models to forecast, using inputs that include GDP growth, interest rates, unemployment, house prices and other factors.
A large correction in house prices is forecast by many non-bank analysts. Even the CMHC forecasts average price declines of 9 to 18 percent. Other macroeconomic researchers expect price declines of 30 to 40 percent, in line with past crashes in Canada and other countries. According to MRB Partners the average decline in housing bear markets is 36 percent: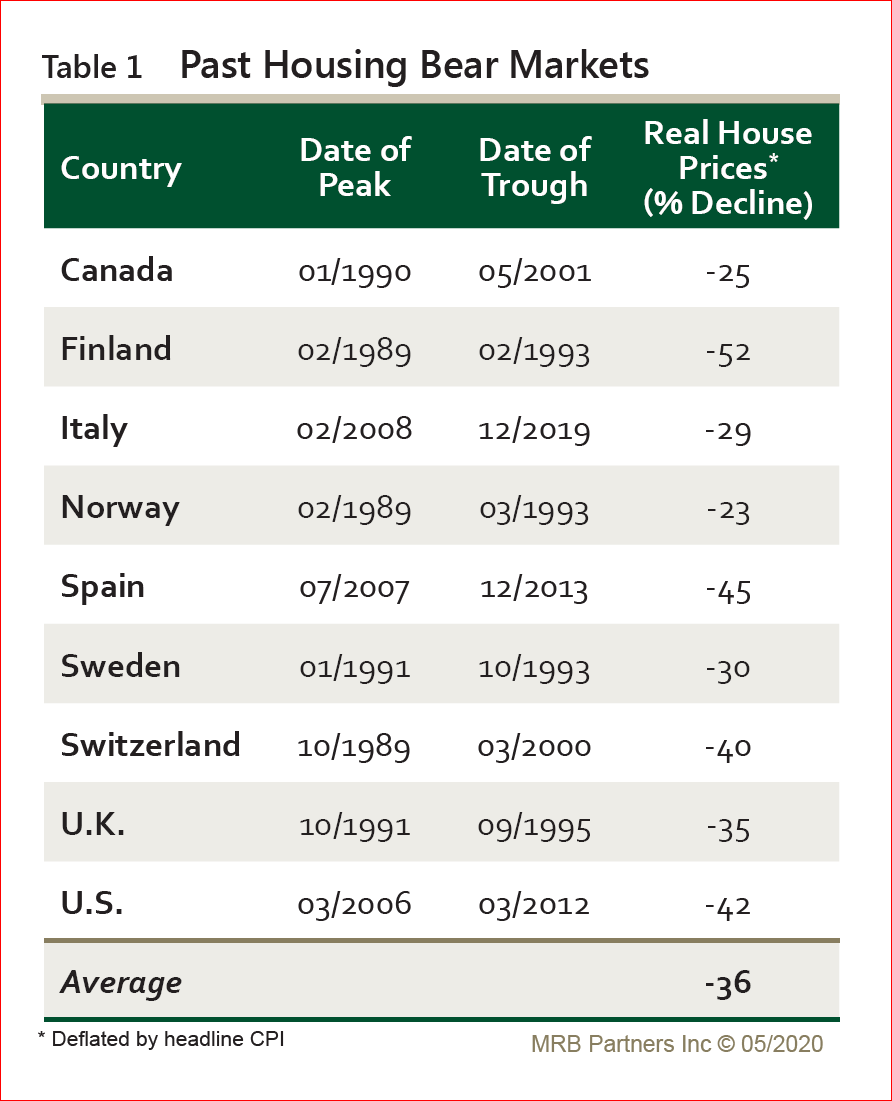 Here are notes from the largest 3 banks this week:
Royal Bank:
"We built a 7% decline in house prices with kind of a recovery period taking over about 2 years."
The bank reported that ~20 percent of loans in certain categories, including mortgages, are in deferral.
Total allowance for credit losses is $5.9 billion.
TD Bank:
Provisions jumped to $1.1B in Canadian retail. Total allowance for credit losses is $7.9 billion.
Deferrals of mortgage payments are about $36 billion, or 14 percent of residential mortgages.
The TD macroeconomic model expects house prices to rise 4.9 percent in the next year.
Bank of Nova Scotia:
Provision for credit losses during the second quarter jumped to $1.8B, compared to $926M, and mentioned the "unfavourable macroeconomic outlook". About 17 percent of mortgage loans are in deferral. Total allowance for credit losses is about $6 billion.
Scotiabank said that "residential mortgages and consumer loans make up 59 percent of the value of all loans, or $384 billion.
On risk the bank said, "The Bank undertakes regular stress testing of its mortgage book to determine the impact of various combinations of home price declines and unemployment increases. Those results continue to show that credit losses and impacts on capital ratios are within a level the Bank considers manageable."
So, these banks are not worried about mortgages. But others are.
The CMHC warned recently about the "deferral cliff":
"A team is at work within CMHC to help manage a growing debt 'deferral cliff' that looms in the fall when some unemployed people will need to start paying their mortgages again. As much as one-fifth of all mortgages could be in arrears…"
One-fifth of all mortgages ($1.6 trillion) is $320 billion of loans at risk of default!
But the combined total allowance for all credit losses, including loans in all other categories such as energy, international, wholesale banking, for the three largest Canadian banks is $20 billion.
The executives and management of the Canadian banks believe that highly indebted Canadians will keep making their mortgage payments, even during the worst recession since the 1930s.
But prudent investors will wait until at least October to see what impact the "deferral cliff" has on bank earnings.
Perhaps then bankers will start to recognize the growing risk of default in housing and mortgage loans.
Hilliard MacBeth
The opinions expressed in this report are the opinions of the author and readers should not assume they reflect the opinions or recommendations of Richardson GMP Limited or its affiliates. Assumptions, opinions and estimates constitute the author's judgment as of the date of this material and are subject to change without notice. We do not warrant the completeness or accuracy of this material, and it should not be relied upon as such. Before acting on any recommendation, you should consider whether it is suitable for your particular circumstances and, if necessary, seek professional advice. Past performance is not indicative of future results. The comments contained herein are general in nature and are not intended to be, nor should be construed to be, legal or tax advice to any particular individual. Accordingly, individuals should consult their own legal or tax advisors for advice with respect to the tax consequences to them, having regard to their own particular circumstances.. Richardson GMP Limited is a member of Canadian Investor Protection Fund. Richardson and GMP are registered trademarks of their respective owners used under license by Richardson GMP Limited.