The Bank of Canada (BOC) cut its policy interest rate on Wednesday to 1.25 percent, the first cut in rates since 2015.
The drop of 50 basis points was like Tuesday's move by the U.S. Federal Reserve, which was done as an emergency response to risks related to the impact of COVID-19 on the global economy.
Is the BOC justified in making an emergency rate cut? Is there a risk of negative consequences for housing markets?
The possibility of global recession due to disrupted business activities and supply chain disruptions forced the hand of the Canadian central bank, led by Governor Stephen Poloz. Here's the explanation provided on March 4.
"COVID-19 represents a significant health threat to people in a growing number of countries. In consequence, business activity in some regions has fallen sharply and supply chains have been disrupted. This has pulled down commodity prices and the Canadian dollar has depreciated. Global markets are reacting to the spread of the virus by repricing risk across a broad set of assets, making financial conditions less accommodative. It is likely that as the virus spreads, business and consumer confidence will deteriorate, further depressing activity."
Monetary policy is a very blunt instrument and, if it works at all, it affects activity through the transmission mechanism of debt markets. The primary impact of lower rates is to boost household spending. This is done through loans to households. The largest economic impact is through mortgages, as households can borrow larger amounts with lower rates at the same monthly payment, triggering higher house prices.
Starting last year and continuing into the first 60 days of this year, Toronto real estate professionals have been pounding the table about a turnaround in the housing market, exhorting buyers to get into the housing market before a new cycle of price increases leaves buyers behind.
Here's an excerpt from the Toronto Real Estate Board March 3 press release:
"As market conditions tightened over the past year, competition between buyers has clearly increased. This resulted in a further acceleration in year-over-year price growth in February. The MLS® Home Price Index Composite Benchmark was up by 10.2 per cent. The average selling price for all home types combined was up by 16.7 per cent to $910,290. Double-digit average price growth was experienced for most major market segments, including detached houses and condominium apartments."
The Toronto real estate industry is hyping a housing market rebound at every opportunity, but prices as of January 2020 for single family homes are still slightly below the peak reached in early March 2017.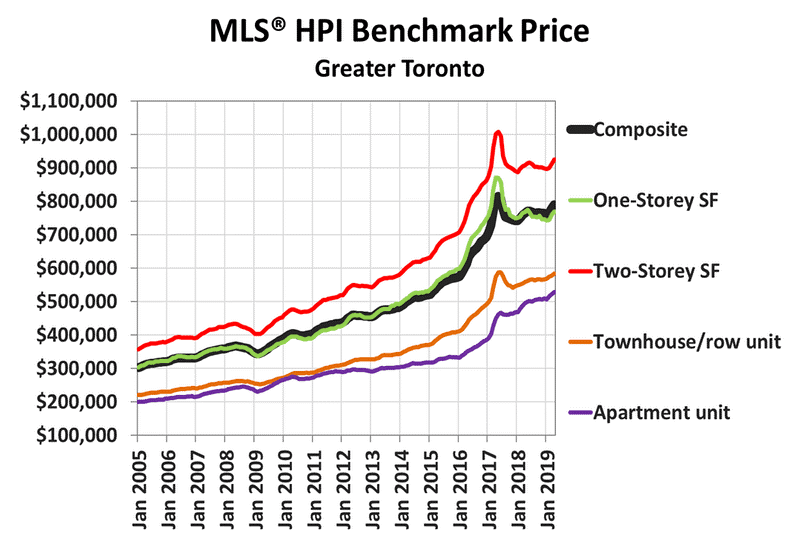 Source: The Canadian Real Estate Association
If policymakers believe that housing unaffordability in the Greater Toronto Area is a serious business headwind as well as a large risk for hundreds of thousands of Canadian families dealing with excessive debt burdens, then the BOC policy decision to lower rates at this time looks like a mistake. This move that could be an overreaction and will have negative consequences by delaying the deflation of the housing bubble and pushing the financial condition of more households into jeopardy.
For the BOC to make such a move that is clearly counter to the BOC's prior policy of containing the housing bubble in Greater Toronto there would need to be an emergency. Otherwise it looks like they panicked in a reaction to recent moves by the U.S. Fed.
The next few months will tell if the new corona virus causes such major disruptions to daily activity that there is a significant deterioration in business activity in Canada and abroad.
If this happens, then an emergency interest rate cut was justified.
Hilliard MacBeth
The opinions expressed in this report are the opinions of the author and readers should not assume they reflect the opinions or recommendations of Richardson GMP Limited or its affiliates. Assumptions, opinions and estimates constitute the author's judgment as of the date of this material and are subject to change without notice. We do not warrant the completeness or accuracy of this material, and it should not be relied upon as such. Before acting on any recommendation, you should consider whether it is suitable for your particular circumstances and, if necessary, seek professional advice. Past performance is not indicative of future results. The comments contained herein are general in nature and are not intended to be, nor should be construed to be, legal or tax advice to any particular individual. Accordingly, individuals should consult their own legal or tax advisors for advice with respect to the tax consequences to them, having regard to their own particular circumstances.. Richardson GMP Limited is a member of Canadian Investor Protection Fund. Richardson and GMP are registered trademarks of their respective owners used under license by Richardson GMP Limited.